A Touch of Paris Arrives in Sydney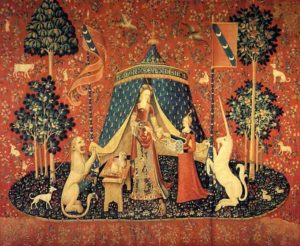 On Sunday evening we attended the members' free viewing of the 'Lady and the Unicorn' series of tapestries on loan from the Musée de Cluny in Paris to the Art Gallery of NSW.  And what a visual treat it is!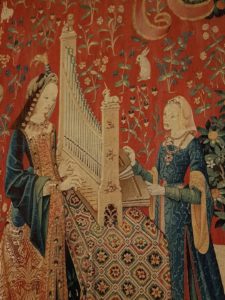 The series of six large tapestries was created around 1500, just at the moment when the Medieval period was transitioning into the Renaissance.  They are full of symbolism and meaning, and have been the subject of scholarly study, mystery and inspiration since being rediscovered in the 19th century, languishing and badly neglected in a chateau in the Limousin region of France.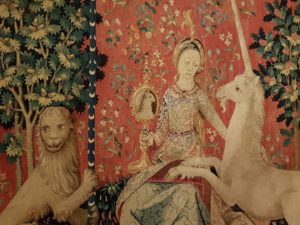 The beautiful young Lady is flanked by a lion on one side—symbol of strength, vigilance and faithfulness, and bearing the coat of arms of the La Viste family—and on the other by the mythical unicorn, representing chastity, purity, courage and compassion, among other attributes.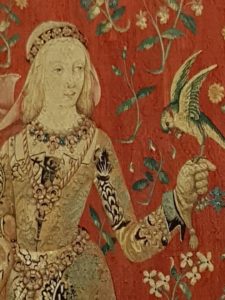 The background of each tapestry is a masterpiece of delicate flowers, or millefleurs (thousand flowers), small animals and birds, populating an exquisite garden setting.  The technical skill of the weaving, the composition and the vibrant colours are visually stunning.
It was clear from Sunday evening's crowd that everyone else felt as we did, mesmerised and drawn back to each time and time again.
Five of the tapestries represent the senses of smell, touch, taste, hearing and sight, while the sixth, bears the inscription 'A Mon Seul Desir' (My sole desire).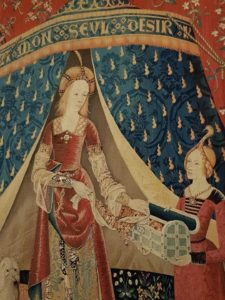 The ambiguity of the scene is puzzling to the viewer:  is the Lady rejecting the gorgeous jewels offered to her, or is she choosing which to wear? Are we looking at a renunciation of earthly pleasures, by her own free will, or is she taking the necklace as she prepares for marriage?  Go and decide for yourself.  This beautiful exhibition is on until 24 June.  Don't miss it if you have the opportunity.
If you can't get to Sydney for the show, there's always Paris!  The Musee de Cluny – Musee National du Moyen Age, is scheduled to re-open in mid July 2018 after extensive renovations. 
It's located at 6 Place Paul Painlevé, 5th arr. on the edge of the Latin Quarter and St Germain des Pres.