PARIS—AND THE REST OF FRANCE—ARE BACK IN BUSINESS!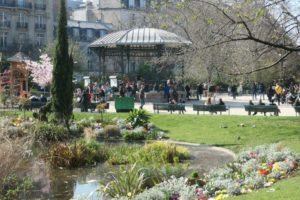 As some of you know, we have just returned from 5 weeks in France.  It was a truly wonderful trip, spending 3 weeks in Paris before heading down to the glorious Burgundy district for almost 2 weeks.  Like everyone for whom travel is an essential part of life, we were anxious to spread our wings and head back to our favourite destination after the COVID-induced lockdowns of the last 2 years or so.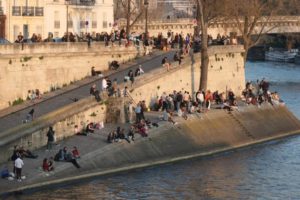 Although those who know us well weren't surprised at our announcement that we were heading off, quite a few of our friends and colleagues expressed their own reservations about overseas travel just yet.  Let me reassure everyone, it was not only a joy to be on the move again, but at all times we felt absolutely safe and comfortable with the public health precautions and the ability to access everything we wanted to see and do, without any restrictions.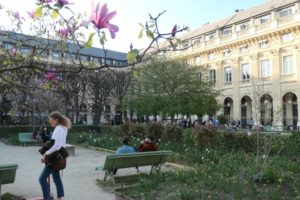 Our flight to Paris was packed, with not a vacant seat in any class.  We knew it was mandatory to wear a mask during the flight, which as an asthmatic, I was not looking forward to, given the flight's long duration.  However, it was not nearly as bad as I was expecting, which I suppose was due to having become so used to it at home for so long.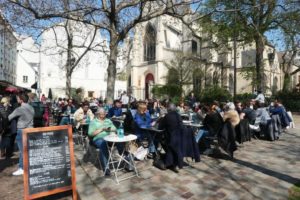 Being fully vaccinated, we were able to enter France without impediment.  However, although we had the Australian International Vaccination Certificate, it was not accepted by any EU country—we were aware of this situation, so it didn't come as a surprise.  Fortunately, this didn't prevent us from clearing Immigration at CDG on arrival, but it was necessary to go to a local pharmacy asap to have our Australian document converted to a French-EU version, in the form of a QR code on our phones and a paper version.  This was no great imposition, as we have a good pharmacy a few doors away from our apartment in the Latin Quarter.  The whole procedure took about 20 mins. and cost us 36 Euros each.  We were then able to enter every café, bar and restaurant we wished.  Waiters were diligent in checking our phones for the QR code, and without it we wouldn't have been able to enjoy so much as a coffee at a sidewalk café—such an essential part of any visit to Paris.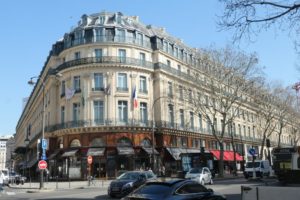 The good news is that these obligations ceased just two days after we arrived!  From then on, it was as though they had never existed.  Mask-wearing also ceased, with the exception of all forms of public transport, just as it still is here in Sydney.  It was fascinating to see how compliant the French have become about adhering to this obligation, especially since they are not known for readily complying with orders from anyone, least of all government decrees!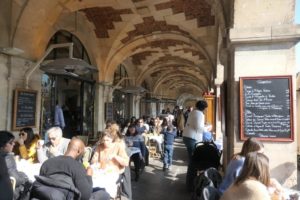 With a week-long burst of warm sunny weather and absolute freedom of movement, we hurled ourselves into the whirl of catching up with friends, attending to various business matters, trying to fit in as many things on our wish-list as we could, and simply enjoying being able to walk, walk and walk some more in our favourite city.  We were very keen to see how our own street had weathered the COVID storm, and were so delighted to discover that all our friendly neighbourhood cafés, restaurants and shops have survived, as have our favourite traders in our local outdoor market at Place Monge.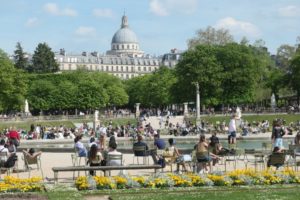 The parks, gardens and cafés everywhere are all full again, queues for every gallery and museum are as long as they've ever been, department stores are full of customers, the outdoor markets are thriving, and every language under the sun can be heard in the tourist hot-spots.  The world is once again in thrall to Paris.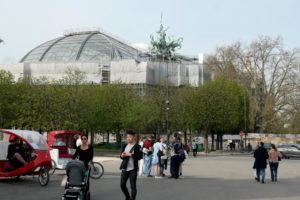 On the cultural front, the French certainly didn't let the grass grow under their feet during the long period of enforced lockdowns.  There are so many new or updated projects to visit, we couldn't fit them all in—they're on our list for our next visit later this year.  Here are just a few exhibitions and shows we managed to see.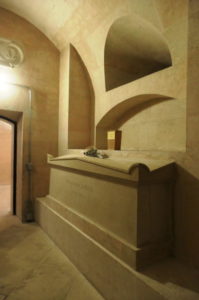 Close to the top of our list was a visit to the Panthéon, which is less than a 10 min. walk from our apartment.  Our mission was to pay our respects to the great cabaret star and Resistance heroine, Josephine Baker, who was honoured there last November with a ceremony, led by President Macron, and a commemorative plaque.  Indeed, this is no small wall plaque as we expected, but rather a huge sarcophagus-style memorial, one of many in the labyrinth-like crypt.  It was quite a moving sight, and fresh flowers had been placed on the memorial by another admirer.  To read more about her, check out a recent blog:  https://parisplusplus.com/paris/the-remarkable-life-of-josephine-baker-cabaret-star-resistance-heroine-activist-owner-of-a-dordogne-chateau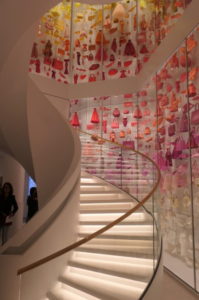 As soon as we could, we were determined to visit the new Christian Dior museum, La Galerie Dior, which is housed in a section of the couture house on Ave. Montaigne.  A French friend of ours, the manager of the Zegna shop next to the Hotel Georges V, raved about it, and urged us not to delay, as it's becoming increasingly popular as visitor numbers are increasing daily to Paris, and word spreads.  As I've remarked to some of you already, it's as near as I'll ever get to crossing the threshold of the famous couture House!  A truly breathtaking experience, and you'll read more about that in a future Blog post.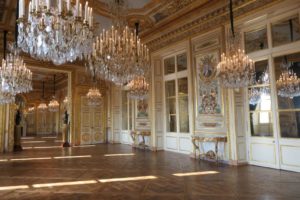 The former French Naval Headquarters, occupying a prominent location right on the Place de la Concorde, has recently been transformed into the Hôtel de la Marine, showing the historical background of the building and its former occupants.  Many of the reception rooms and private quarters would certainly give Versailles a run for its money!  I'll also talk about this shortly.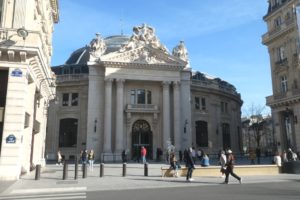 Paris' old stock exchange, the Bourse de Commerce just off rue du Louvre, is now the Bourse de Commerce – Pinault Collection.  Restored and re-modelled by a hot-shot Japanese architect, it is a wonderful space to see and experience, even though we could take or leave the actual exhibits (purely a matter of personal taste).  We were both very keen to see this, and were most impressed with how it has turned out.  An exciting, new art venue.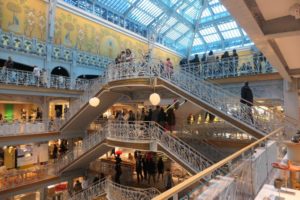 Many of you will recall the enormous old department store, La Samaritaine, on the rue de Rivoli not far from the Louvre, which has been closed for decades.  Occupying 3 large buildings, it was such a forlorn sight.  A few years ago, Bernard Arnaud, who owns LVMH, Christian Dior and over 75 other luxury brands, purchased the entire site.  It re-opened a few months ago after a massive renovation of the old buildings and construction of a new one.  The old buildings have been totally restored to their Art Nouveau splendour, and full of designer label fashions, plus a café spread around one of the floors.  It's gorgeous! Check it out when you're there.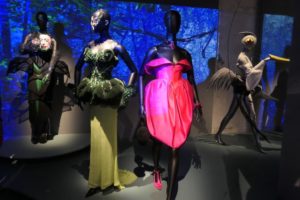 There were exhibitions galore—as has always been the case with Paris.  We took in a stunning Thierry Mugler Retrospective at the Musée des Arts Decorative (known as MAD), part of the Louvre, which for an old rag-trade girl like me, was totally enthralling.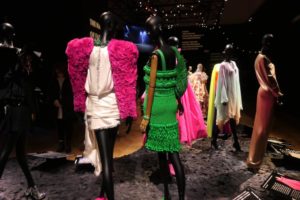 Still on a fashion theme, there was a very moving fashion tribute at the Palais Galliera museum of fashion to the late designer Alber Elbaz, who died of COVID in November.  He had been the creative director of Lanvin for 15 years until 2015, after having done stints at numerous prestige fashion houses, including Guy Laroche and Yves Saint Laurent.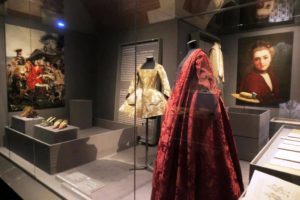 We returned to the museum before we came home to visit the newly opened Galeries Gabrielle Chanel that now occupy the former cellars.  This huge space now enables the museum to display more of their amazing collection on a rotating basis.  Ranging from the early 17th century to present day, it was a very special treat.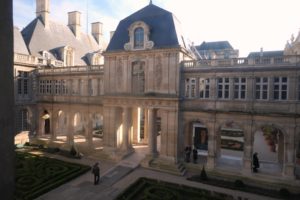 The Musée Carnavalet, the museum for the history of the city of Paris, recently re-opened after a couple of years' closure for a massive, long-overdue overhaul and renovation.  It is now such a pleasure to visit and see how well all the objects are displayed and shown to their best advantage—which was certainly not the case in the past.  It's a credit to the city.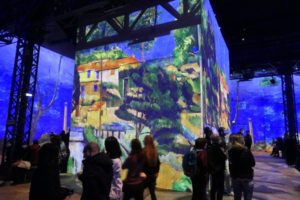 One of our favourite exhibition spaces is the Atelier des Lumières in the 11th arr.  In a former iron foundry, this extraordinary venue is a unique setting for presenting great artworks in a monumental, immersive, multimedia format, with an accompanying soundtrack.  The current exhibition comprises two shows, firstly there's 'Cezanne, Lumières de Provence' for the longer program, followed by 'Kandinsky, The Odyssey of the Abstract' for the short program after that.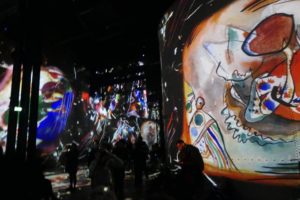 Once you're in the venue, you can stay to watch the shows again and again, for as long as you wish.  This show is on until 02 January 2023, so if you're going to be in Paris during this time, put it on your "must see" list.  It's extremely popular, so if you'd like to see it, I urge you to pre-book tickets online before you go, as the queues are always very long.  I wrote a Blog story about this remarkable art space in 2018 when it first opened, but as the general info. is still valid, if you'd like to know more, have a look at:  https://parisplusplus.com/paris/atelier-des-lumieres-the-new-digital-art-centre-in-paris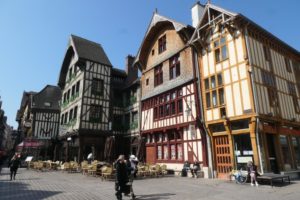 What about the countryside further afield, I hear you ask?  One of our favourite medieval towns not far from Paris is Troyes.  On a whim, we took a train there for a day trip from Gare de l'Est, which only takes 1 hr 34 mins., each way.  One of the most delightful places for simply strolling around the quaint cobblestone streets, admiring the many fine historic buildings, impressive churches and the lively atmosphere in the medieval core.  To read more, check out: https://parisplusplus.com/beyond-paris/discover-the-fascinating-medieval-city-of-troyes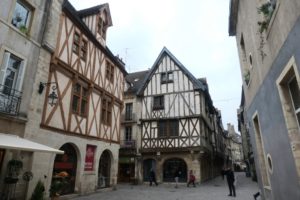 After 3 weeks in Paris, we took a train from Gare de Lyon down to Dijon from where we picked up a rental car after a day or two, renewing our acquaintance with this lovely medieval city.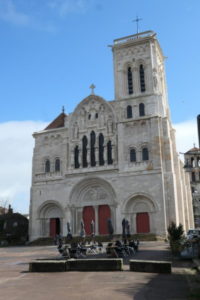 We headed off to visit Beaune, Chalon-sur-Saone, Cluny and its Abbey, Autun, Saulieu, Semur-en-Auxois and masses of pretty little medieval villages, as well as the great World Heritage Sites of the magnificent Abbey of Fontenay and the unforgettable Basilica of Vezelay, one of the glories of medieval France.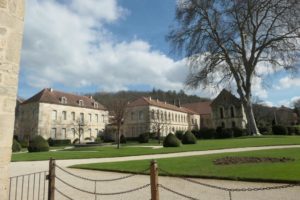 The entire region is one of lush green rolling hills, either covered in vineyards of some of the greatest wines in the world (although we were too early for bud-burst), grain crops or grazing cattle.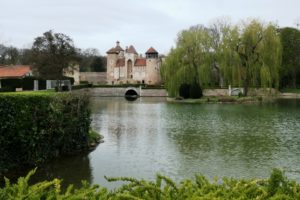 The food in Burgundy is some of the best in the country, which is saying a lot.  Not only is it superb quality, but incredibly well-priced.  Read more about the region:  https://parisplusplus.com/beyond-paris/burgundy-land-of-fine-art-and-fine-living  and  https://parisplusplus.com/beyond-paris/more-gems-of-the-burgundy-district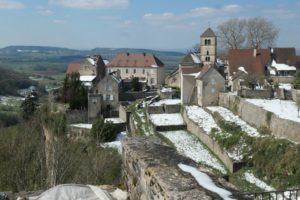 The wines on offer in Burgundy, even in tiny little out-of-the-way village cafés, are magnificent.  Everywhere, wine lists are made up of Premier Crus, Grand Crus and Vieille Vignes (Old Vines—highly prized), not only from world famous vineyards but tiny little local vineyards.  In restaurants these aren't exactly bargains, but still at a much lower price than Paris or anywhere else we can think of, especially here in Australia.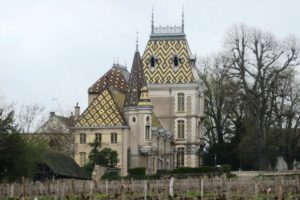 In Burgundy itself, one can well afford Montrachets, Clos de Vougeot, Gevrey-Chambertin, Savigny-les-Beaune, and even the occasional Romanée-Conti or Pommard as an extra-special treat.  The real pity for us is that we couldn't load up the car with boxes of wine to take back with us!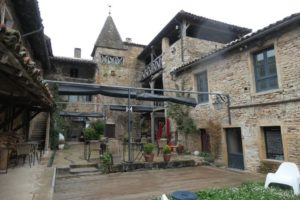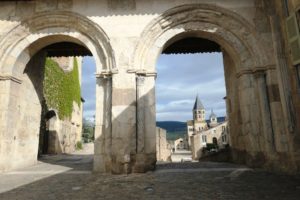 It was a cheering, optimistic feeling everywhere we went, and country people were quite clearly delighted to see visitors once more.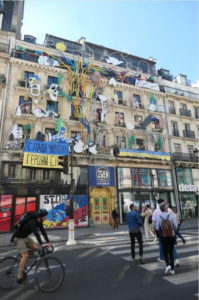 If you're thinking about your first travel adventure after such a long absence, I hope I've given you the confidence to finally activate your longed-for travel plans without any qualms.  As a certain sportswear label says, "Just Do It"!