GREAT FOOD MARKETS TO DISCOVER IN PARIS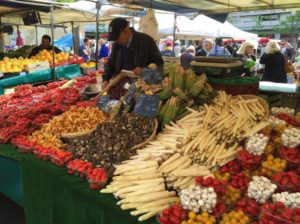 One of the great pleasures of a visit to Paris is spending time exploring the many wonderful food markets.  You can take your pick from 69 open-air and 13 covered markets in the city, meaning that some arrondissements have more than one market.  Everyone has their personal favourites, and we certainly have ours, but we also love to visit other markets in various parts of the city to see what's on offer.  Produce is always seasonal and high quality, and one of the fascinating things is to observe which vendors attract long queues while others are slower.  Each market's produce will usually reflect the profile of its neighbourhood, which means you can find the flavours of the West African community in the Marché Dejean in the 18th arr. or German smoked ham at Marché Saint-Martin in the 10th.  So take plenty of cash, a big supply of re-usable shopping bags, and head off to discover some edible delights.
In a recent blog of 04 April, I wrote about our own fabulous outdoor market at Place Monge in the Latin Quarter just around the corner from our apartment, and again in my blog of 24 January this year I talked about some of the city's highly specialised food shops.  This time, I'll take a look at a number of markets that aren't on the usual tourist track that will open up a new world of gastronomic experiences known mostly only to locals.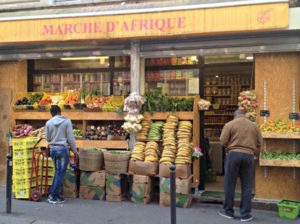 The mission to track down an unknown market will very likely take you to a neighbourhood you don't know, which is a great way to expand your horizons.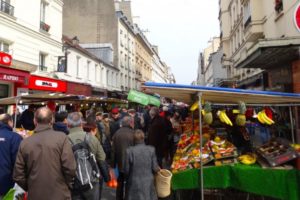 One market that very few visitors know is the incredible Marché d'Aligre in the 12th arr.  Said to be the city's biggest market, It's located in the vicinity of the Bastille, between the Place de La Bastille and the Place de la Nation, the Marché Beauvau—also called Marché d'Aligre—is held 6 days a week (not on Mondays).  Foodies flock to this lively, authentic market, with its barking vendors, basket-loads of produce and rich cultural mix.  Many assert that this is home to the best food market in Paris, and if you arrive early in the morning, you will be rewarded with a riot of colour and flavour—anything from fish to fromage!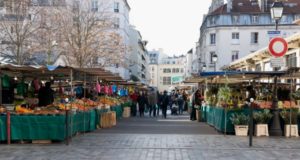 Aligre, is in a sense, three separate markets.  First off, the street is lined with small shops specialising in cheese, fish, and meat, plus some boulangeries and patisseries.  This is what's typical of most Parisian market streets, such as rue Poncelet in the 17th (read about it in my blog of 08 Jan. 2019) and rue Mouffetard in the 5th.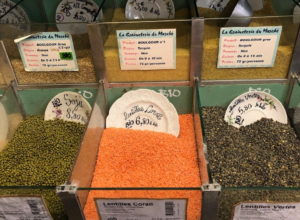 But here you'll also find specialties such as Merguez, a spicy North African sausage made with veal or lamb, a Tunisian grocer who sells Middle Eastern spices such as the best quality saffron, and a fascinating shop called La Graineterie, with the old-fashioned atmosphere of a hardware store, but selling a variety of grains and different flours for cooking, as well as bird seed for your canary.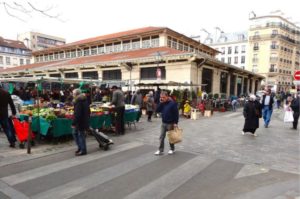 At the end of the street you'll find the historic Marché Couvert Beauvau.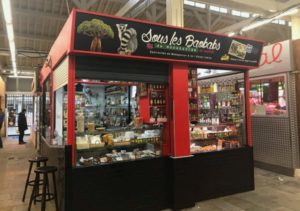 It's dedicated to permanent food stalls with an array of butchers, fromageries, and other vendors selling wine, exotic spices, coffee, flowers, and boucheries offering a selection of traditional, old-school French cuts of meat (think cervelle de veau and langue de veau) and poultry.  It's a quick education in French foods you may not be familiar with.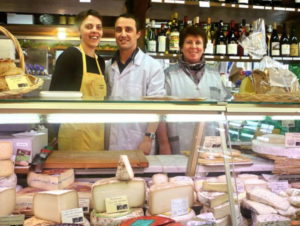 The covered market, housed inside 3 beautiful halls constructed in 1779, much admired for its architecture, is dedicated to food vendors with a mix of stalls including the long-established, highly regarded Langlet-Hardouin fromagerie that has an enormous selection of the best French cheeses including the sought-after Lait Cru (raw milk), mild Brie de Meaux and the stronger Brie de Melun, Mimolette from Lille, Brebis from the Pays Basque, and Saint Nectaire from the Auvergne, among so many others.  You can also find internationally-sourced cheeses, butter and other dairy products, and make a point of checking out La Boucherie Végétarienne, a vegetarian butcher (yes, I know, a real contradiction in terms!).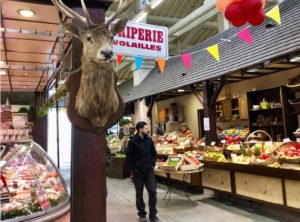 There's also an excellent "proper" butcher, Boucherie Les Provinces, which offers an impressive selection of their own home-made terrines and other charcuterie.  You can also find the best quality foie gras from the Périgord, duck rillettes and wild game pâté, eat oysters while enjoying a glass of chilled Sancerre, and take away a delicious rotisserie chicken from a North African butcher for your Sunday lunch.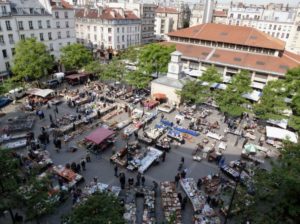 Outside Marché Couvert Beauvau on Place d'Aligre, you'll see the third part of the market:  a flea market filled with antiques, bric-a-brac, collectibles, vintage and new clothing, African art, used books, and surprisingly, lots of shoes!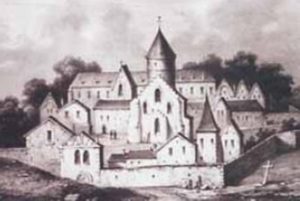 Before this neighbourhood was part of the 12th arr. it was an area (faubourg) called Faubourg Saint-Antoine, named after an abbey that was once located here, the Abbey Saint-Antoine-des-Champs.  At that time, the Aligre market was the primary source of food for the faubourg as well as where craftsmen—carvers, gilders, polishers, and cabinetmakers—sold their wares.  The area still has a number of such craftspeople and furniture stores.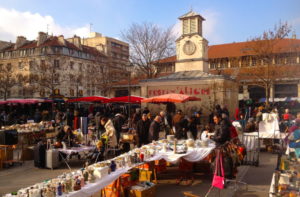 At the beginning of the 20th century when the nearby Gare de Lyon opened, the area attracted North African immigrants (called maghrébins) who arrived from Marseille by train.  Some of these new arrivals established market stalls at Aligre, and in fact, most of the current vendors there are 3rd or 4th generation who have followed the family business.  The blend of Arabic and French voices is the spirit of this market.  Nearest metros:  Ledru-Rollin or Faidherbe-Chaligny.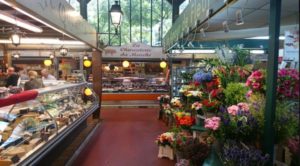 Marché Couvert Saint-Quentin on the corner of rue de Chabrol, rue des Petits Hotels and Bvd Magenta in the 10th arr. is in an area you're likely only to have passed through either coming or going to Gares de l'Est and du Nord.  This covered market has everything: food stalls selling African (check out 'Oh Africa'), Thai (see 'Thai Street Food'), Italian, Portuguese, Asian, Moroccan, Lebanese specialities and ingredients, several butchers, a couple of florists, a cafeteria, and even a clothing alteration stand and a shoemaker.
This market is one of the city's oldest and most striking.  Constructed in 1866 in the Baltard style of architecture (Victor Baltard designed the original Les Halles central market in Paris built 1853-70), made from pink brick crossed by graceful green cast iron arches, timber and huge glass panels, the heart of the market resembles a village square.  In 1835, a market called Saint-Laurent was built on the site of the former Saint-Laurent fair, attached to Saint Lazare house, a leper colony run by a religious community.  That hall was demolished in 1852 during the construction of Bvd de Strasbourg, and the current market was built a little further north, on the newly created Bvd Magenta.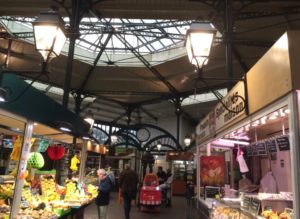 Lots of natural light streaming in through the large glass windows will surely cause you to gasp as you look up at the soaring ceiling.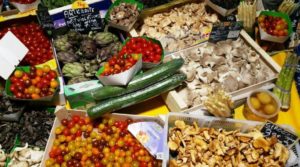 As for produce, the maze of aisles is filled with vendors selling the freshest fish, brought in daily from the coast; there are superb cheeses, breads, all sorts of patisserie, eye-catching displays of rabbits and game at Rotisserie Volaille, any number of stands marked "AB" (agriculture biologique = organic), great takeaway food offers as mentioned, and of interest to beer drinkers, a stand that specialises in small-batch brews.  The Saint-Quentin covered market operates Tues-Sat. until 8.00pm and on Sundays until 1.00pm.  Nearest metro:  Gare de l'Est.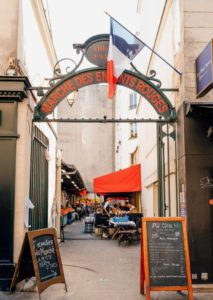 At 39 rue de Bretagne in the increasingly chic Haut Marais (3rd arr.), you'll find the oldest covered market in Paris.  Created in 1628 (some say 1615) as the Petit Marché du Marais, it's now known as the Marché des Enfants Rouges.  This name comes from the 16th century orphanage established by Marguerite de Valois that once occupied the site, where the children used to wear red uniforms (the colour of Christian charity).
Hidden behind two rather anonymous old iron gates, this small market is easily missed from the street.  Once inside, you enter a teeming maze of food stalls, always busy with crowds eating at noisy communal tables.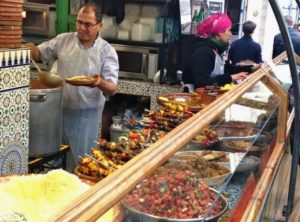 As well as the expected selection of fresh produce, flowers and bread, this market is an eater's market.  There's a wide choice of cuisine to take away or enjoy there, including tasty Japanese bento boxes at Chez Taeko; classic French bistrot fare at L'Estaminet (The Tavern) or La Petite Fabrique; organic and vegetarian burgers and organic coffee at Au Coin Bio; fresh pasta with black truffles, white truffles in the season, and excellent antipasti at Mangiamo Italiano; fabulous crêpes and sandwiches at Chez Alain Miam Miam; great couscous, tagines and mint tea at Le Traiteur Marocain, as well as an impressive selection of Lebanese and African dishes to tempt you.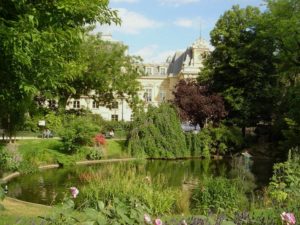 If it's too crowded to eat in the market—especially on Sundays—instead, if it's a nice day, take your selection to the nearby pretty Square du Temple to enjoy.  As you leave the main entrance, don't miss popping into the little shop selling a fascinating selection of beautiful old photos of Paris, portraits of Parisians, and pictures of famous actors of the past.  A very pleasant way to end a visit to the Marché des Enfants Rouges.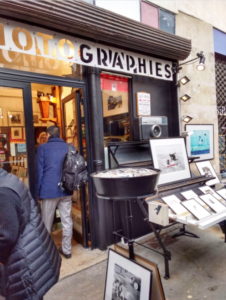 Although the Marché had been listed as a historic monument since 1982, it was threatened with demolition at the end of the 1990s by the then-mayor of Paris, who wanted to turn the site into a parking garage.  Neighbourhood residents banded together to save it, even chaining themselves to the gates to prevent any demolition going ahead.  The site languished, boarded up and abandoned for six years, but its supporters eventually triumphed, the market was renovated, and reopened in 2000. It's open every day until around 7.30pm (except Monday), but closes at 2.00pm on Sundays.  Nearest metro: either Filles du Calvaire or Temple.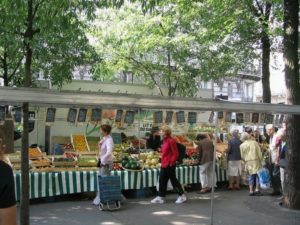 For 100% natural products, there are 3 organic markets (marchés biologiques):  Bvd. Raspail in the 6th arr., open Sundays; Brancusi, near the Montparnasse Tower in the 14th, on Saturdays; and Batignolles in the 17th bordering the 8th, also on Saturdays.  The hours at all 3 are 9.00am – 3.00pm.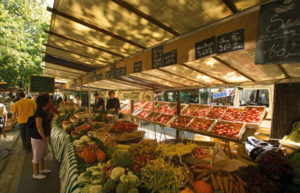 Not to be confused with the Batignolles covered market that operates 6 days a week, Le Marché Biologique des Batignolles is located on the wide median strip of Bvd. des Batignolles starting at no. 34.  Founded in 1994, this was the very first totally organic market in Paris.  From stalls offering organic fruit and vegetables, to pasta, fish, meat, bread, patisserie, and baked produce, this is a little gem.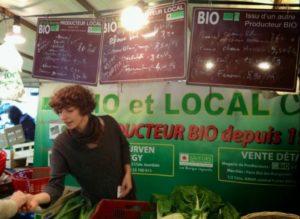 It's not one of the usual markets filled with stallholders crying out their wares, rather, the ambience is friendly and a little more peaceful even if quite crowded at times.  You will discover that it attracts mostly Parisians and very few tourists.  While seasonal fruit and vegetables are the main drawcard, you can also buy flowers, olive oil soaps, traditional cider, organic Sardinian antipasti and other foods, cheeses and jams, all of it straight from the farm and or/producer.  This market operates from 9.00am – 3.00pm only on Saturdays.  Nearest metros:  Place de Clichy or Rome.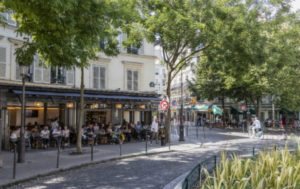 After browsing through the market, spend some time discovering the area with its small shops and excellent cafes and restaurants, especially around the charming little Place du Dr Félix Lobligeois and the utterly delightful Square des Batignolles park, at the far end of which you will find the local pétanque club, 'La Batignollaise', such as you come across in country towns and villages.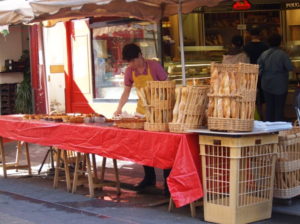 The rue de Lévis, just a stone's throw from the market, has a delightful village atmosphere.  As a commercial street, rue de Lévis dates back at least to the 1600s.  The identity of this bustling and tenaciously independent street was forged during the 1800s, when butchers, bakers and produce vendors first grouped together there, transforming the street into the primary market street for the burgeoning expanse of western Paris.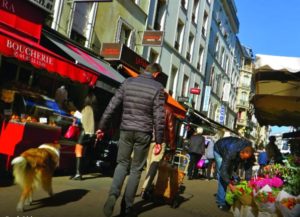 According to historians, the local merchants developed a notoriously stubborn sense of ownership, even sovereignty.  During the 19th century, at a time when entire neighbourhoods were being cleared to make way for railway stations and grands boulevards, no politician, financier, or industry baron could lay a finger on rue de Lévis and the nearby streets.  The feisty merchants could not be either persuaded or bribed, making it impossible for train tracks to be laid through the street.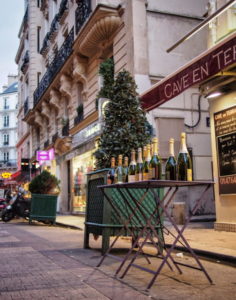 The food tradition of this neighbourhood runs deep, and the independent nature of the locals have fought to ensure that it has not been "invaded" by chain stores, opticians, perfumeries and suchlike, like so many other Parisian neighbourhoods.  Fortunately, a new wave of artisanal food shops, such as Les Grands d'Espagne premium hams at 21 rue de Lévis, Cave en Terrasse wine business and Les Douceurs d'Alys chocolatier (both in rue de la Terrasse just off rue de Lévis) has brought hope that its traditions will remain for a long while yet.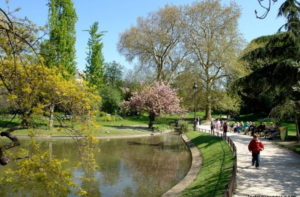 These are just a couple of terrific Paris markets which are mostly unknown to visitors but beloved of Parisians.  I'll look at a few more of these in a future blog post.  Let me know if you've got a favourite!