EXPERIENCE THE UNIQUE ATMOSPHERE OF A CONCERT IN A PARIS CHURCH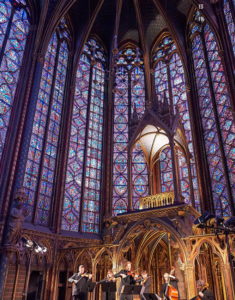 If you've never attended a concert in one of the many historic churches in Paris, you're in for a very special treat.  The wonderful acoustics, soaring ceilings, beautiful stained-glass windows, timeless stone sculptures and sometimes priceless paintings, all combine to create an atmosphere that cannot be experienced in a regular concert venue.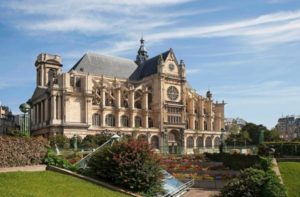 Paris has an abundance of magnificent churches that hold regular concerts throughout the year.  These vary from ancient, early Gothic abbeys that were restricted to religious orders and smaller parish churches, to extravagant Baroque extravaganzas once patronised by royalty.  These days, anyone is welcome to attend a concert.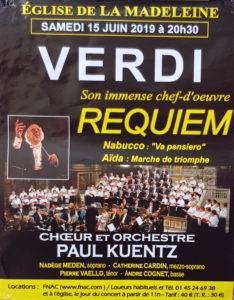 The programs are mostly from the classical music repertoire, typically featuring works by composers such as Bach, Handel, Vivaldi, Mozart, and Chopin for example.  There are often concerts devoted to French composers such as Ravel, Saint-Saëns and Fauré, but you'll also find concerts of Gregorian chants, choral works, Christmas and Easter music, as well as some modern composers.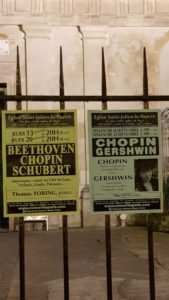 The performers are always professional musicians, who relish the churches' splendid acoustics and more intimate atmosphere where they are generally closer to their audience than most concert halls allow.  It's a more relaxed, less formal event and we've often attended concerts where the musicians or soloist stays on afterwards to chat with the audience and never seem to be in any rush to leave.
Another great bonus with concerts in churches is that they are very reasonably priced—some venues such as Saint-Julien-le-Pauvre priced from only €16 in low season, although others such as La Madeleine start at €35 or Saint-Germain-des-Pres which starts at €69 for high season.  Some churches even offer series of free concerts, sometimes to showcase their magnificent, historic organs.
Seating preference is a personal choice, and although many people tend to sit as close to the front as possible as they would in a regular concert hall, the best spot for experiencing the superb acoustics of most of these churches is about mid-way back, where the amplified sound of each note blending together is an unforgettable experience.  By the way, don't be concerned about sitting in a icy cold, stone church for a winter concert.  We've been to numerous concerts in the depths of winter, and the churches are very well heated so you can settle back and enjoy in cosy comfort.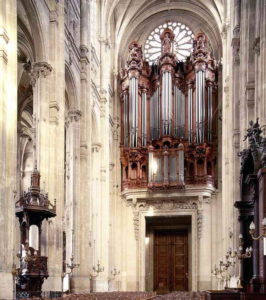 Some of the Paris churches are renowned for their magnificent organs.  The best of which are said to be those designed and built by Aristide Cavaillé-Coll in the mid 1800s, and considered the finest examples of the instrument produced in the 19th century.  A number of Paris churches still have their Cavaillé-Coll organs, as noted on the list below.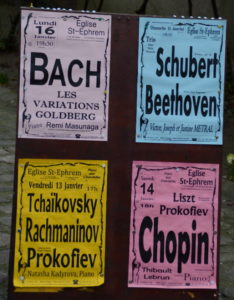 To find out what concerts are on in a particular church, there are always notices on their noticeboards or railings, as well as many local businesses will have an A4-sized poster in their windows advertising them.  Also check out websites such as www.classictic.com where you can buy tickets online, although it's often just as easy to go straight to the venue a few days ahead of the concert date—just bear in mind though that churches have much less seating capacity than most concert halls, and a popular concert program will book out quite early.
Here are just some of our favourite church venues for concerts: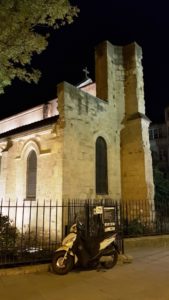 Saint Julien-le-Pauvre
This church is one of the oldest in Paris, built in the late 12th century.  Its plain exterior was re-built in 1651, but the interior is a mix of traditional Romanesque and Gothic architectural styles.  Have a look at the elaborate carved capitals of the columns which date back to the 12th century and feature floral motifs and harpies, the half-human half-bird creatures that in Greek and Roman mythology personified storms and winds.  Although it began as a Roman Catholic church, it was re-consecrated in 1889 as a Melkite Greek Catholic church.  It's on the Left Bank, diagonally opposite Notre Dame, next to Square René Viviani, and up a pedestrian walkway to the side of Shakespeare & Co. bookshop.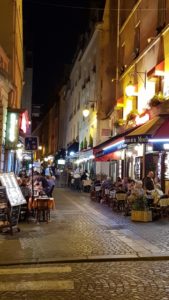 There are lots of bistros in the area where you can find a meal or a drink after the concert.  The small, intimate size of the church makes it an ideal concert venue.
Location:  1, rue Saint-Julien-le-Pauvre, 5th arr.
Seating capacity:  100
Nearest metro:  Maubert Mutualité or Saint Michel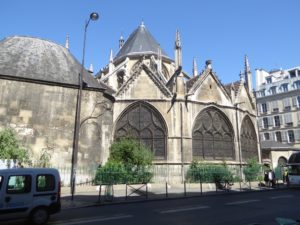 Église Saint-Séverin
Close to Saint-Julien-le-Pauvre, and regarded as one of the most beautiful Gothic churches in Paris.   Saint-Séverin was built in the 11th century after the invading Vikings destroyed an earlier church on the same site dating from the 6th century that was associated with a very pious hermit named Séverin.
Location:  1, rue des Prêtres-Saint-Séverin, 5th arr.
Seating capacity:  200
Nearest metro:  Saint-Michel
Église Saint-Ephrem (L'église Saint-Ephrem-le-Syriaque)
This church is located on a quiet street near the Pantheon.  Superb acoustics make it an ideal setting to hear works by Chopin, Bach, Beethoven, Satie or Debussy among other favourites, performed by musicians from the Paris Conservatoire.  The current church, built in 1733, occupies the site of two earlier chapels dating back to 1334.  A beautiful rood screen of carved timber is one of the very few in Paris to have escaped destruction during the Revolution.  This screen forms a backdrop for the musicians.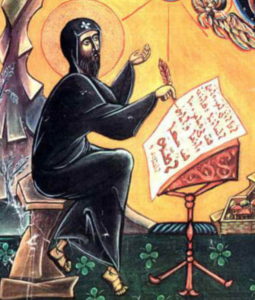 Since 1925, the church has been a Syrian Catholic church, and Sunday services are conducted in Syrian Aramaic.  Beautiful Byzantine-style icons hang on several walls.  Look out for occasional candlelight concerts on their program.
Location:  17, rue des Carmes, 5th  arr.
Seating capacity:  400
Nearest metro:  Maubert Mutualité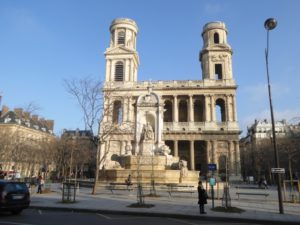 Église Saint-Sulpice
This imposing late Baroque church, almost as large as Notre Dame, was built in the 17th and 18th centuries on the foundations of a Romanesque church dating back to the 12th century.
The interior is filled with magnificent treasures including one of the renowned Cavaillé-Coll organs, which is regarded as the best in Paris as well as internationally.  It produces an unbelievably majestic sound, amplified perfectly by the church's wonderful acoustics.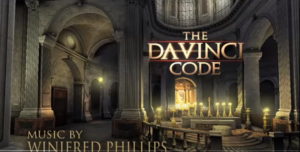 Fans of the novel The Da Vinci Code will remember the organ as the site of a violent attack in the story.
You can hear the organ before, during and after some of the masses, as well as on one Sunday afternoon each month at 4.00pm.  There are regular Classical music concerts, including one on New Year's Eve—we've been to one of these, which was a beautiful thing to do for that evening.  Programs often include choral music by composers such as Brahms, Beethoven, Ravel and Fauré.
Location:  Place Saint-Sulpice, 6th arr.
Seating capacity:  600
Nearest metro:  Saint Sulpice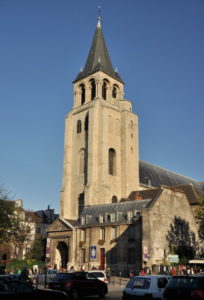 Église Saint-Germain-des-Prés
This fashionable church is the oldest church in Paris.  Founded in the 540s by Childebert I, son of Clovis I, as the Abbaye Sainte-Croix-Saint-Vincent, and under its royal patronage, it became one the richest in France.  Its name changed in the 8th century to Saint Germanus, after the then bishop of Paris.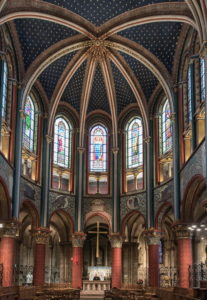 Even the 19th century frescoes can't quite obscure the church's earlier Romanesque style, and if you look closely, you can see the architectural features dating back 1,500 years.  Concerts here are wonderful, and very popular.  Works by Vivaldi are a perennial favourite, and if you're lucky enough to be in Paris over the Christmas period, catch one of the special Christmas concerts or perhaps Handel's Messiah.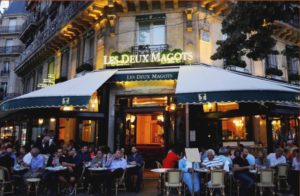 Afterwards, why not adjourn for some refreshment to Café les Deux Magots, which is virtually next door, or Café de Flore, a few doors away.
Location:  3, place Saint-Germain-des-Prés, 6th arr.
Seating capacity:  460
Nearest metro:  Saint-Germain-des-Prés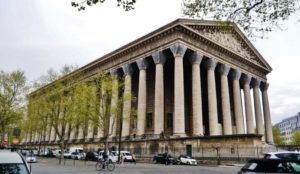 Église de la Madeleine  (La Madeleine)
Built on the site of numerous earlier false starts to construct a church, Napoleon commissioned a temple in 1806 to pay homage to his army.  Designed in the Greco-Roman style, it's reminiscent of the ancient 'Maison Carrée' in Nîmes.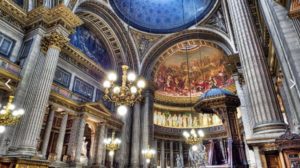 After the fall of Napoleon, the temple was finally consecrated as a church in 1845.  The building is encircled by 52 Corinthian columns, each 20m high, with a pediment sculpture at the entrance of the Last Judgement and huge bronze doors bearing reliefs representing the Ten Commandments.
The interior has spectacular neo-Byzantine mosaics, sculpture and other artworks.  It has a magnificent Cavaillé-Coll organ and superb acoustics, making attendance at a concert here an unforgettable experience.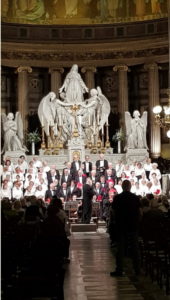 French composers Camille Saint-Saëns and Gabriel Fauré were past organists here.  You'll typically hear works by those composers as well as Gounod, Mozart, Schubert, Vivaldi and Bach including their choral works.  We attended an outstanding performance of Verdi's 'Requiem' here in late 2019.
This church is very fashionable for high society weddings and funerals, especially State funerals, and there's a good chance of seeing the interior decorated with beautiful floral arrangements left over from one of these services.
Location:  Place de la Madeleine, 8th arr.
Seating capacity:  200
Nearest Metro:  Madeleine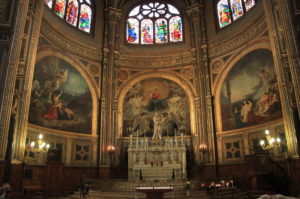 Église Saint-Eustache
Built between 1532 and 1640, Saint-Eustache is one of the great landmark churches in Paris.  Situated adjacent to the site of the city's medieval marketplace, Les Halles, its sheer size dominates its surrounding neighbourhood just near the Pompidou Centre.  It's a mixture of architectural styles.  Designed by an Italian architect, its structure is Gothic while its interior decoration and other details are Renaissance and classical.  It was the last Gothic church to be built in Paris.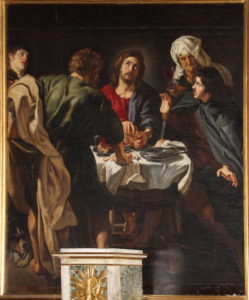 Saint-Eustache is also famous for the painting 'The Disciples at Emmaus' by Rubens and in the chapel of St Madeleine is the 'Ecstasy of the Madeleine' by Manetti, while in the chapel of the Virgin the frescoes are by Thomas Couture, Manet's teacher.
After last year's fire at Notre Dame, Easter Mass and other important services are now held at Saint-Eustache.  Many celebrated Parisians of the past had a connection with the church.  Louis XIV made his First Communion there in 1649, Cardinal Richelieu, Madame de Pompadour and Moliere were all baptised there—Moliere was also married there in 1662, Mozart held his mother's funeral there, and French composer Jean-Philippe Rameau is buried there.  Jean-Baptiste Colbert, Louis XIV's finance minister is buried her.  Due to its magnificent organ, said to be the biggest in Europe, the church was the location for the premiere of Hector Berlioz's titanic Te Deum, and later, Liszt's Grand Mass and Christus.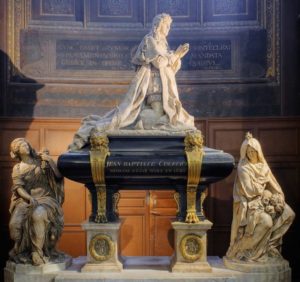 Its great musical tradition continues today, with year round concert programs including symphony orchestras, particularly the Orchestra National de France, choral ensembles such as Choeurs de Radio France, and prestigious music festivals like the Festival d'Automne à Paris and Paris Quartier d'Été.  There are free organ concerts on Sunday afternoons, given by the resident organist.  Tickets for its renowned New Year's Eve and New Year's Day concerts sell out fast, so book early if you want to attend on those date.
Location:  2, rue du Jour, 1st arr.
Seating capacity:  500
Nearest metro:  Les Halles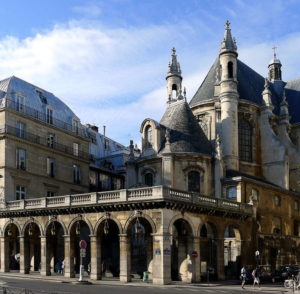 Église de l'Oratoire du Louvre (also known as Le Temple de l'Oratoire du Louvre)
Across the rue de Rivoli from the Louvre, this church mixes baroque and classical elements reflecting the architectural styles in fashion when its construction began in 1621 and completed in 1745.  It became the royal chapel of the Palais du Louvre during the reign of Louis XIII, and hosted the funerals of both Louis and Cardinal Richelieu.  In 1811 it was placed at the disposal of the Protestant church by Napoleon Bonaparte.  At one time it was home to the American Church in Paris and later, the Scots Kirk in Paris.
The soaring height of the vaulted ceiling provides wonderful acoustics for concerts, which focus on sacred choral music from the Renaissance, Classical and Baroque periods.
Location:  145, rue Saint Honoré (front), 160 rue de Rivoli (back), 1st arr.
Seating capacity:  400
Nearest metro:  Louvre-Rivoli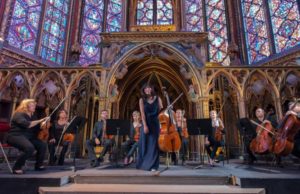 La Sainte-Chapelle
This is no longer a functioning church, but rather, an historic monument.  Commissioned by Louis IX in 1240 to house relics from the Holy Land, this exquisite chapel is one of the greatest achievements of Gothic architecture, and with its breathtaking stained glass windows, is one of the most exhilarating places to visit in Paris.  It has been designated a World Heritage Site by UNESCO.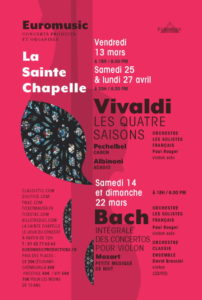 It holds over 100 classical musical performances by soloists and ensembles each year, including Christmas Eve and New Year's Eve.  It's a wonderful, intimate venue, and concerts are held most evenings in the summer months and weekends year round.  The program often includes favourites such as Vivaldi's 'Four Seasons' and Pachelbel's 'Canon', as well as works by Bach, Mozart, Handel among others.  If you're in Paris during the summer months when there are long hours of daylight, plan your concert visit for an early evening so you'll enjoy the benefit of the sun shining through those wonderful stained glass windows.  Because it is an extremely popular venue with a relatively small seating capacity, book as far in advance as possible, especially during holiday times.
Location:  8, Boulevard du Palais, Ile de la Cite, 1st arr.
Seating capacity:  200
Nearest metro:  Cité or Saint-Michel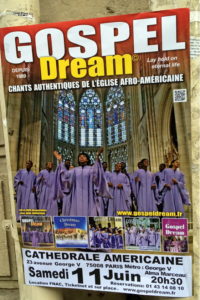 A very popular concert series is given by an incredible choir called 'Gospel Dream'.  As their name suggests, they're an African-American group of great singers and skilled musicians who bring the unmistakable rhythms and harmonies of the sacred music of their culture to the churches of Paris.  They appear regularly at Église Saint-Germain-des-Pres, L'Église de la Madeleine, Église Saint-Roch in the 1st arr., and especially the American Cathedral just off the Champs Elysees.  Keep your eye out for advertising posters that you'll see throughout the city.  Ticket prices usually around €28.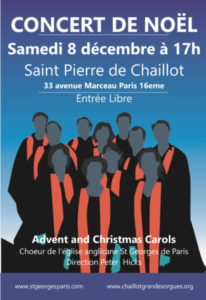 There are various other churches in Paris that offer occasional concerts such as the Église de la Trinité d'Estienne d'Orves in the 9th arr., the Église Saint-Roch in the 1st arr. (also known for its incredible art collection) and the Église Saint-Merri in the 4th arr., among others.
You'll find unique beauty, art, history and amazing music in all the church venues, so add it to your Must Do list for your next visit to Paris.