'Don Quixote': a perfect, festive season ballet in Paris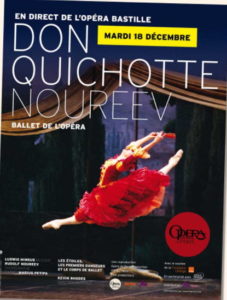 In Paris during the Christmas/New Year season, we were thrilled to see the latest revival of this much-loved ballet at Opera Bastille.  Choreographed by Rudolf Nureyev for the Vienna State Opera in 1966, his version was inspired by the original of Marius Petipa, Maître de Ballet of the Tsar's Imperial Ballet, with music by Ludwig Minkus.  'Don Quixote' was first performed by the Imperial Bolshoi Theatre  Moscow, in December 1869.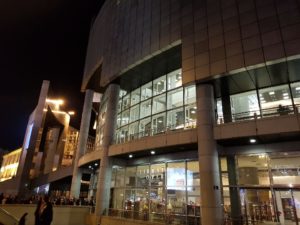 It was just as well that I had booked our tickets months ago, as the 'house full' signs had been up for the entire season some weeks before our arrival.  My sisters and I had seen Nureyev dance the virtuoso principal role of Basilio in Sydney back in 1970 with the Australian Ballet, whose star ballerina was the brilliant Lucette Aldous as Kitri, and the unforgettable Robert Helpmann in the role of the knight errant of La Mancha, Don Quixote.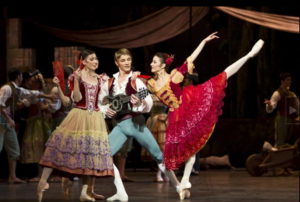 The choreography requires bravura dancing—naturally a great showcase for Nureyev in his heyday—and a toe-tapping score, matched by fabulous costumes and striking sets which transports the audience to a bright, sunny and carefree provincial Spain.
This revival of 'Don Quichotte' (as it's known in French) by the Paris Opéra National de Paris ballet company, was staged at the Opéra Bastille, where we've been on numerous occasions for opera or concerts, but had yet to experience ballet at this venue.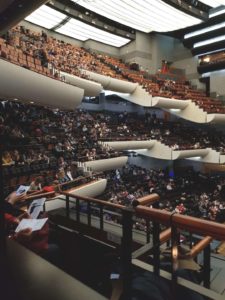 Much as we love the elegance and atmosphere of historic theatres such as the glorious Palais Garnier, with its spectacular ceiling by Chagall, there's a lot to be said for modern theatres with excellent acoustics, great sightlines (critical for ballet!), comfortable seats and effective air-conditioning—sometimes sadly lacking in older, albeit much loved, venues.  Right at the Bastille, Opéra Bastille is easily accessible via a number of metro lines and buses.  As well, there are lots of brasseries and restaurants close by that cater very well to theatregoers.
If you're heading to Paris and intend to go to a concert, opera or the ballet, I urge you to book online well in advance to save disappointment.  Entire seasons are not only heavily subscribed, but the few non-subscription places sell out very quickly.  The same goes for any major exhibition that's on during your visit.  Virtually all websites have an English language version, and the booking procedure is reliable and straightforward.
'He convinced himself that he lacked nothing more, unless it was to seek a lady with whom to fall in love, for, in his eyes, a knight errant without love was a tree without leaves and without fruit; a body without a soul.'
Miguel de Cervantes, Don Quixote.