DISCOVER THE RICHES OF THE MARCHÉ AUX PUCES, PARIS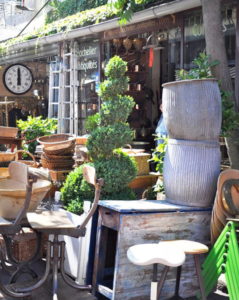 To call the Marché aux Puces in Paris a "flea market" is an understatement.  Regarded as the largest market of its kind in the world and with around 180,000-200,000 visitors each weekend, at first sight its sheer size can be a very daunting prospect.  It is in fact a whole series of markets, segmented according to category and price level, ranging from vendors selling museum-quality pieces (at museum prices!), to sought-after collectables, through to inexpensive household bric-a-brac items.  Paris has a couple of smaller, lesser-known markets, but if you want to see the biggest and best, the Marché aux Puces Clignancourt-Saint-Ouen is where to go.  It's a great experience—and you just may find that special something you didn't even know you wanted until you saw it there!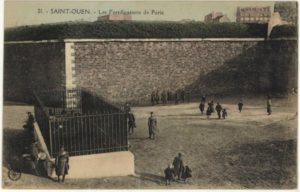 In the twenty years or so before 1900, the visitor who left the city via the Porte de Clignancourt, on the northern edge of Paris, would pass the fortified city walls erected in the time of Louis-Philippe, but by 1925, the city's fortifications had been almost completely demolished.  Today, the Peripherique, or ring road, encircling Paris follows the line of the old ramparts.  There would have been little to attract these first visitors who probably would have hurried past the lean-to shacks of the rag-and-bone men and the makeshift market stalls and inns set up among the open fields and market gardens.  This rough and tumble "passageway", which separated the capital from the village of Saint-Ouen, was the precursor to today's market.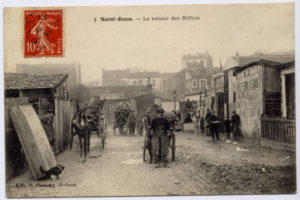 The story of the flea market dates back several centuries, starting with the chiffonniers (rag pickers), biffins (rag-and-bone men) and low-level criminal element of chiftires, crocheteurs (picklocks, housebreakers), who were often rather poetically known as pêcheurs de lune (moonlight fishermen).  The chiffoniers worked their way through the city at night, searching for old objects that had been tossed out with the rubbish, which they would try and re-sell at the markets.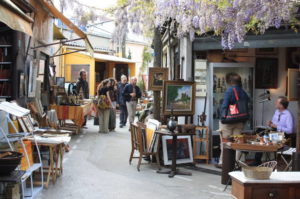 An outbreak of cholera in 1832 prompted the city's authorities to ban markets in the capital.  Later, between 1853 and 1870, Baron Haussmann's aggressive urban planning drove many of the rag-and-bone men out of Paris.  These people resumed their activities outside the city's fortifications near the gates of Montreuil, Vanves, Kremlin Bicêtre and Clignancourt, and over time even those who operated on the edge of the law became bric-a—brac traders.  Many banded together, and set up more permanent stalls just beyond the gate at Clignancourt.  At first, the vendors simply piled their wares directly onto the dirt, often towered in stacks, along the road.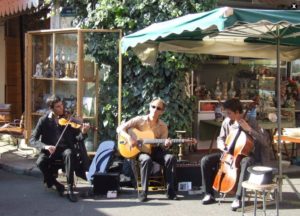 Around 1885, the municipality of Saint-Ouen set about rectifying the chaos, firstly paving the roads and created walkways along the main streets to help the traders organise themselves better.  The authorities provided them with water and electricity, and the possibility to rent a wooden stand to display their goods.  Needless to say, the traders were now required to pay a fee in order to have the right to set up their stalls.
In 1901, a town planning project was submitted to the local council that showed plans for a Flea Market on the corner of rue Marceau and rue des Rosiers.  The visitor would encounter a market that was half-rural, half-urban, with flea market vendors side by side with travelling salesmen selling new goods.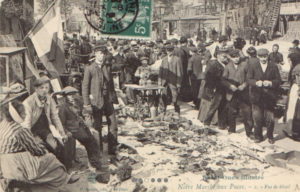 In 1908, with the opening of a near-by metro station, the Saint-Ouen flea market became a highly popular attraction and quite a fashionable destination on Sundays for genteel Parisians to come and fossick for bargains among the bric-a-brac.  The Marché aux Puces was born!  Gradually, as the little market grew and grew, with a growing number of bargain-hunters, it became obvious that it was time the area was reorganised into several markets, starting along rue des Rosiers.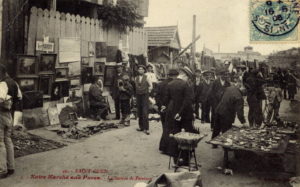 Shortly after WWl, around 1920, Romain Vernaison, who owned nearly 10,000 sq.m. of land between ave. Michelet, rue des Rosiers and rue Voltaire, decided to set up a whole series of huts to be rented to the bric-a-brac dealers and rag-and-bone men.  The first covered marketplace was born.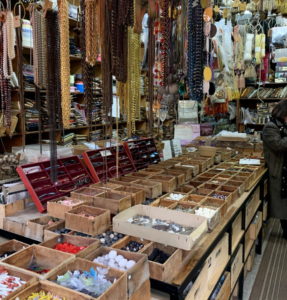 Today, it remains closest to its original function.  It's a wonderful hodgepodge of goods ranging from random collections of old dolls, china and glassware, a menagerie of taxidermy, old beads, textiles, beautiful old household linens, vintage jewellery, weird and wonderful old scientific instruments, to Japanese woodcuts.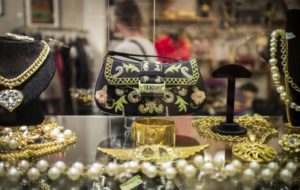 If you're interested in vintage fashion jewellery, Vernaison is the place to go.  Look for Au Grenier de Lucie in Allee 1.  They stock vintage Chanel, Lanvin, Schiaparelli, Lacroix and many other top designer labels.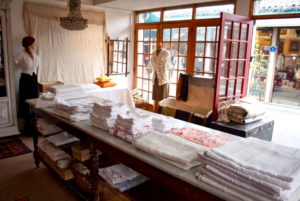 Janine Giovannoni, Stand 141, cnr. of Allées 3 & 7, is the place to visit for beautiful vintage French household linen.  If you love old travel posters, take a look at Paul Maurel in Allée 1, Stand 41, to see a good selection of colourful Air France posters, Art Deco prints and 19th century Art Nouveau original posters by famous printers such as Cheret and Chaix.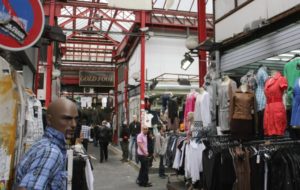 Around the same time as Romain Vernaison set up his covered market, a self-described Albanian prince named Malik bought up an old restaurant nearby.  He transformed the building into a marketplace with around 100 stalls, naturally naming the space Malik Market.  This became, and remains, the place to come for second-hand clothes, young streetwear, old uniforms, helmets, cameras and suchlike.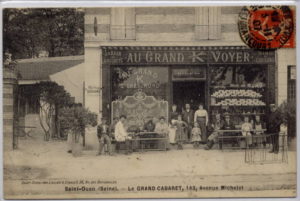 With a steady flow of patrons to the flea markets, "Guinguettes"—a type of small bar and café where one could eat and drink cheaply—along with other entertainment venues began appearing.  Music, especially jazz, became an important part of the atmosphere.  Timeless venues like La Chope des Puces, hosted famous parties where Django Reinhardt and his Hot Club de France quintet and generations of gypsy musicians raised the rafters.  These days however, the market has grown more businesslike and somewhat more touristy in certain areas, with entire areas selling nothing but t-shirts, hippy jewellery and streetwear.  Don't let this put you off though, it just means you're in the wrong part of the market.
In 1925 a group of traders took over the Champ des Rosiers and set up a third marketplace, the Marché Biron.  Now consisting of around 220 stands, it quickly became the most upmarket or "distinguished" of the markets, specialising in top quality antique furniture, gilt wood, fine glassware, porcelain, expensive vintage jewellery, even stained glass windows.  Think Louis XlV and Louis XV, Napoleon lll and Art Deco sold by niche vendors who are specialists in their fields.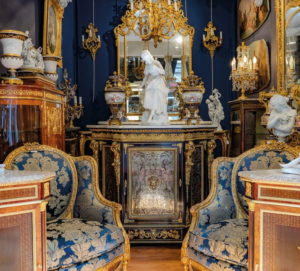 Don't expect to find too many bargains at Marché Biron—it's famous for "museum quality pieces at museum prices".  There's a well-known saying, "What you can't touch in Versailles…you can get in Biron."  Besides, we've observed that the massive size of many pieces here would require a space the size of a museum to house them!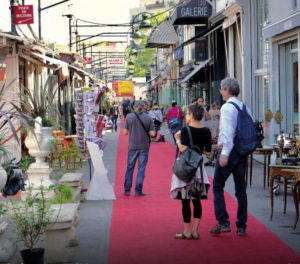 Even if what's on sale is perhaps outside your budget, it's great fun strolling along the sprawling labyrinth of treasures.
Biron even has an events manager, who organises star-studded parties, particularly the themed, all-night Champagne-fuelled soirée called the "Nuit des Puces" that takes place every autumn.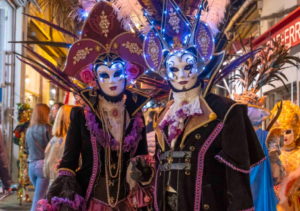 Every one of these parties has a theme, such as Bollywood, Venice Carnivale or Cannes Film Festival.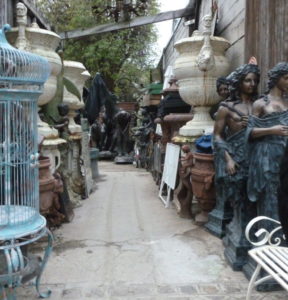 Along rue des Rosiers there are several interesting shops, selling Art Deco furniture, fireplaces, mirrors and interesting decorative furniture.  Further down on the left, before Serpette, is a shop that sells interesting garden pieces, paintings and other decorative items.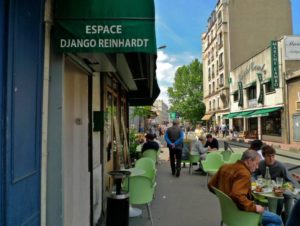 Marché Cambo, 75 rue des Rosiers, is a market with approximately 20 dealers, mostly selling quality 18th and 19th century furniture and art objects from the 20th century. You'll see many of the traders eating together outside one of their stalls at lunchtime.  It's a little harder to identify as it looks like a warehouse, so watch for the sign after Marché Biron.
At 99 rue des Rosiers you'll find the small Marché Antica, which has a few dealers, a good Art Deco stand, and several more selling paintings, porcelain and a larger stand that sells Chinese furniture.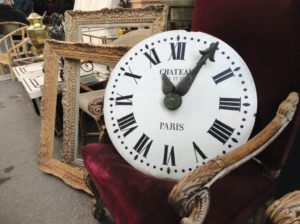 Some of the best marchés are to be found in the labyrinth of little streets and alleys running off rue des Rosiers.  We particularly like Marché Paul Bert, which specialise in good quality antique and vintage merchandise and more artful pieces than the serious Marché Biron.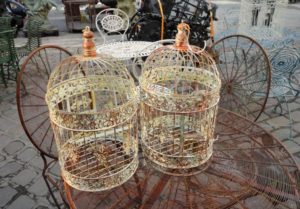 You'll tend to find French country and provincial-style furnishings here, as well as 20th century American, Italian and Scandinavian furniture.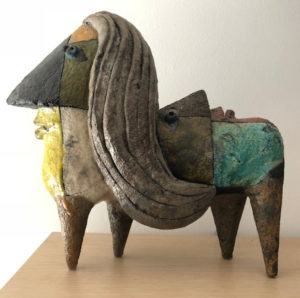 If you're interested in collectable ceramics from the Art Nouveau period, the innovative 1950s, or Pablo Picasso ceramics from his Vallauris days, look for 'Adjolate' in Allée 6 and 'ArtoCarpus' in Allée 2.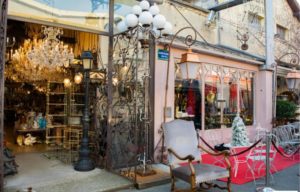 I've heard Marché Paul Bert described as "flea chic", since it attracts designers and decorators looking for something a little unusual perhaps or a new take on things.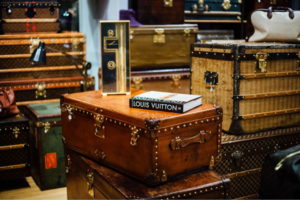 For fashionistas who love vintage, the adjacent Marché Serpette has three stands, 'Des Voyages', 'Le Monde du Voyage' and 'Pierre L' in Allée 3, that have a good selection of Louis Vuitton and Hermès trunks, suitcases, bags and small travel accessories, as well as other luxury brands such as Chanel.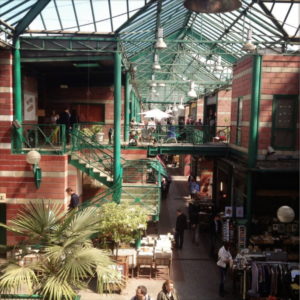 Marché Dauphine, 140 rue des Rosiers, is the newest, most eclectic market, where you'll find everything from rare antiques to decorative furniture pieces, books, paintings, prints, funky art and vintage clothing to rugs and garden pots.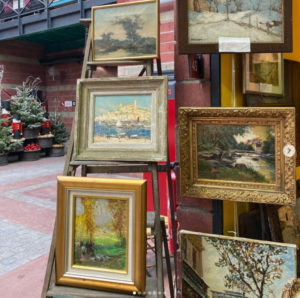 I've found a number of high quality antique fashion lithos and old advertising posters in a couple of stalls on the upper level.  Movie poster collectors should visit stand 119, Allée Gaugin.  Dauphine is accessible by two elevators and an escalator as well as several staircases.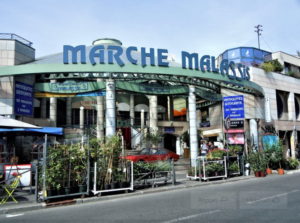 142 rue des Rosiers is the location of Marché Malassis that sells furniture and objects from the 18th and 19th centuries as well as silver, Asian and interesting archaeological pieces.  'Mandana Vintage Paris', Show Room 71, (also Artémise et Cunégonde in Marché Serpette, Allée 1) specialises in Hermès, Alaïa and Dior fashion from the '50s, '60s and '70s.  You're sure to find many beautiful, must-haves here.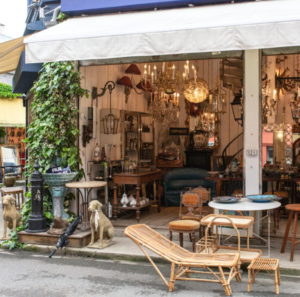 Marché Jules Vallès, in the street of the same name, behind Marchés Paul Bert and Serpette, sells old wares, small items, records, and religious art.  The atmosphere here is more bric-à-brac and thrift shop than high value collectables—but as with all markets, you never know what might turn up if you fossick around a little!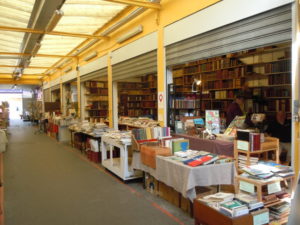 If you're interested in books, postcards and vintage clothing, then head to Le Passage, and for large, bulky furniture items such as mantelpieces, bookcases, cast ironwork and even staircases, then Marché l'Entrepot is the place to head for.
Taking a break in the middle of your shopping day gives you the chance to review what you've seen and if there's something you passed up but can't stop thinking about.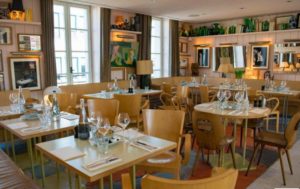 When you're in need of a coffee and somewhere to rest your feet, there are quite a few little cafes at the Marché. The most upmarket is Ma Cocotte (with its Philippe Starck-designed industrial space furnished in flea market finds), right at the entrance to Paul Bert/Serpette, but there's also Le Paul Bert, Bistro Le Voltaire, Le P'tit Landais, La Péricole, Le Petit Navire, and more.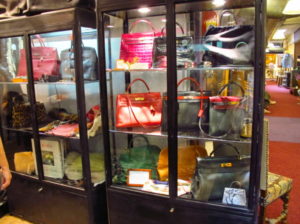 Taking a break in the middle of your shopping day gives you the chance to review what you've seen and if there's something you passed up but can't stop thinking about.
If you plan on seriously looking for large items that you can't personally take home with you, the market has a number of reliable shipping agents you should visit at the market to discuss rates and procedures.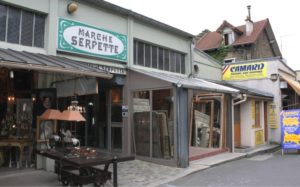 Ship Antiques are located at Marché Dauphine, Hedley's Humpers are in Marche Serpette and Camard is right beside the entrance into that market.  You'll be issued with a "carnet" (a little notebook of carbon-copy receipts), stickers and tags with your official shipping number on them.  One you've agreed on your purchase from a vendor, you'll jot down the price in the carnet, leave them a copy and put a sticker on the item.  The shipper will arrange delivery to you.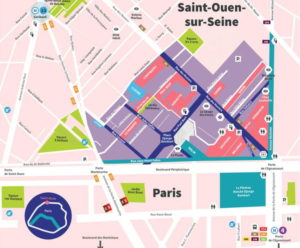 The Marché aux Puces is the biggest flea market in the world, covering over 7 hectares of 15 independent markets with around 2,000 vendors, which can be a daunting prospect if you don't know it.  Start at the Office de Tourisme at 124 rue des Rosiers to pick up a map and useful information.
How to get there:  The Marché aux Puces de Saint-Ouen is in the 18th arrondissement in the north of the city.  Take Line 4 to Porte de Clignancourt, which is the end of the line.  Follow the crowds towards the large concrete overpass that goes over Ave. de la Porte de Clignancourt to Avenue Michelet.  You will pass lots of vendors with piles of clothing, cigarettes, fake perfumes and suchlike.  Ignore all of this and keep on going, as this is NOT the Marché aux Puces.
The rue des Rosiers is the street to look out for running off Ave. Michelet, on your left, which is the street you walk down in order to enter the separate markets.  The individual markets tend to run into each other, and even after many years, it's still not obvious where some stop and others begin.
Hours:  Every Saturday 9.00 – 18.00; every Sunday 10.00 – 18.00 and every Monday 11.00 – 17.00.  Weekends are the best days as many traders don't bother opening on Mondays, or only by appointment.  Note that many traders close for most, if not all, of August.
Get there as early as you can.  It seems obvious, but be careful to conceal wallets, as in any city, pickpockets are at their most active in crowded spaces.  Take cash as well as cards, and there's also an ATM outside the Marché Dauphine if you need extra cash.