AN ENTIRE WEEKEND CELBRATING A NATION'S HERITAGE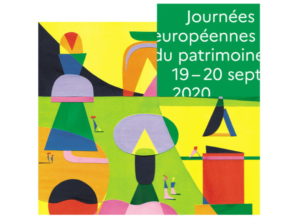 Every year in September, most European countries devote an entire weekend to the celebration and exploration of their cultural heritage through the European Heritage Days program.  This year in France it was held on 19th – 20th of the month celebrating the theme "Heritage and Education:  Learning for Life".
Public and private owners of historic properties, members of associations for the protection and enhancement of heritage, curators, restorers, guardians and chief architects of historic monuments and objects, all mobilised to welcome visitors to hundreds of sites, free of charge.  It's a wonderful opportunity for everyone to celebrate the beauty and history of their own heritage.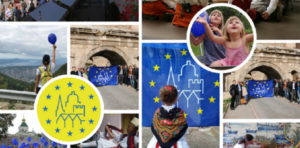 As with La Nuit des Musées in May and June's Fête de la Musique, in France Les Journées du Patrimoine (European Heritage Days) are organised by the Ministry of Culture, the Heritage Days are under the patronage of the Council of Europe and the European Union, supported by public and private owners of the historic monuments and properties.  These bodies benefit from the involvement of the Centre for National Monuments, the network of Cities and Countries of Art and History, the Heritage Foundation, the network of Architectural, Urban and Environmental Councils and various heritage conservation associations such as Les Vieilles Maisons Françaises and La Demeure Historique.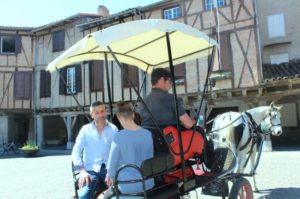 The concept of European Heritage Days started in France in 1984 with La Journée portes overtes dans les monuments historiques.  In 1985 at the 2nd European Conference of Ministers responsible for Architectural Heritage held in Granada, the French Minister of Culture proposed that the project be internationalised under the Council of Europe. The Netherlands held their first Open Heritage Days in 1987 and was quickly followed by many other European countries.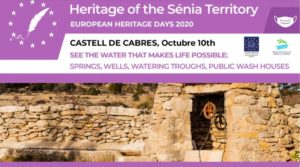 Today, the event has expanded across 48 countries throughout Europe.  For some historic sites, the only time they're open to the public is during the annual Heritage Days weekend.  At last count, it's been estimated that there were around 30 million visitors at more than 50,000 participating monuments and sites across Europe.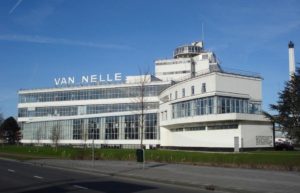 One such example is the Van Nelle Factory in Rotterdam designed by Dutch architect Leendert van der Vlugt, and built between 1925 and 1931. It was designated a UNESCO World Heritage Site in 2014.  It is considered a prime example of the International Style, described by Le Corbusier in 1932 as "the most beautiful spectacle of the modern age" and by well-known British architect Sir Howard Robertson in 1930 as "a poem in steel and glass."  Originally a factory processing coffee, tea, tobacco, then chewing gum and cigarettes, and lastly, instant desserts until 1996.  Nowadays, it houses a wide variety of companies in the design and architectural sector.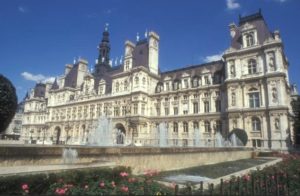 We were lucky enough to be in Paris a couple of years ago during the weekend of European Heritage Days, and managed to get into the magnificent Hotel de Ville.  We had access to most of the building, including the spectacular gilded reception rooms (that rival the Hall of Mirrors at Versailles) but also the Mayor's office, which was quite a treat!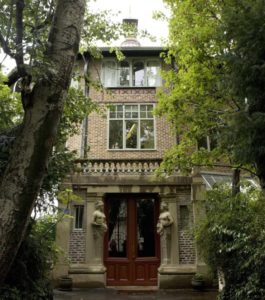 The Élysée Palace threw open its doors again this year, and there were a couple of sites open for the first time, such as La Rotonde de la Ruche in the 15th arr., designed by Gustave Eiffel, which today is an artists' atelier.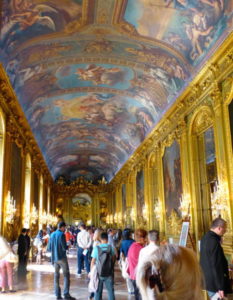 One of the most popular attractions for Heritage Days in Paris that attracts people in droves, is the magnificent Banque de France, located at 2, rue Radziwill in the 1st arr.  Built between 1635 and 1640 by François Mansart as the Hôtel de Toulouse for Louis Phélypeaux, it was confiscated as a "national property" during the Revolution.  It became the "Imprimerie de la République" (printer) in 1795, but Napoleon I decreed the sale of it to the Banque de France in 1808.  It's especially renowned for its spectacular Galerie Dorée.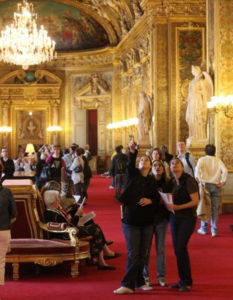 In France, this is probably the most popular weekend of the year.  It actually kicks off on the day before the official Saturday start when schoolchildren are taken by their teachers to perhaps a local historic monument or site to explore its heritage aspects and environment.  This program is regarded as an important part of the "heritage and education" aspect of the regular school curriculum, and run in conjunction with the Ministry of National Education and Youth.  The idea is for children not only to learn about a building or object's history, but also its significance in a local, regional, national or European context.
Each year has a theme, which this year was 'Levez les Yeux' (lit. 'Raise your Eyes', or Look Up)—with the idea of encouraging the visitor to be more observant, particularly in the context of the built environment.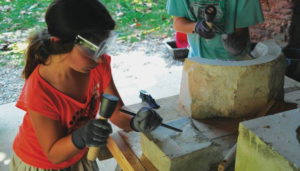 It's also a great opportunity for children to discover conservation techniques and professions they may never have come across before, and become aware of the importance of protecting their heritage not only for their own generation but those to come, and also to marvel at the artistic and architectural beauty that is presented to them.
A program setting out what sites are open is published online each year, but just a few lesser-known places in Paris you could have discovered this year were: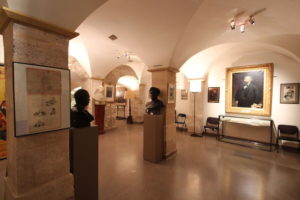 1st arr.  The Musée du Barreau de Paris (The Museum of the Paris Bar), dedicated to the history of justice and to the great figures of the Paris Bar.
4th arr.  Fondation Lafayette Anticipations invited everyone to discover their contemporary art collections, and to see what's going on behind the scenes in their art, musical and publishing workshops.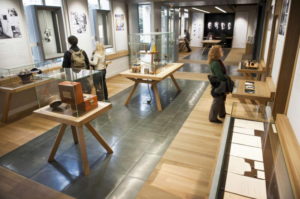 5th arr.  Musée Curie. Located in Marie Curie's former home, which was also her third and last chemistry laboratory, the weekend featured a special exhibition about the history the Curie family, who won five Nobel Prizes between them.  Visitors were able to see her personal laboratory, objects and archives, the amphitheatre where she taught her classes and her private garden.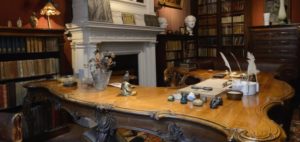 16th arr.  Musée Clemenceau.  The apartment of the great French statesman and President, where he lived for 35 years.  It re-opened in 2015 after a massive restoration carried out for the centenary of the Great War.  A documentation gallery presents numerous objects such as photos, books, journals, portraits and manuscripts that retrace Clemenceau's life and work, including his famous defence of the supposed traitor, Alfred Dreyfeus, his association with writer Emile Zola and life-long friendship with artist Claude Monet.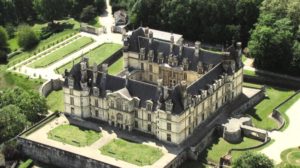 For a change of scene, a day out of Paris could have been to visit a château or more unusual museum.  The 16th century Château d'Ecouen, is now the Musée National de la Renaissance, 20 kms north of Paris at Ecouen, houses a magnificent collection of Renaissance art, and is itself renowned for its Renaissance architecture.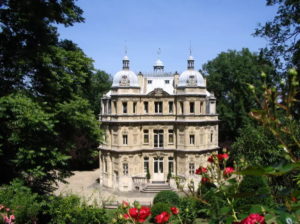 A chateau with a literary connection is the Château de Monte-Cristo, home of writer Alexandre Dumas.  Flushed with the success of The Three Musketeers and The Count of Monte-Cristo, Dumas was looking for somewhere where he could escape the turmoil of the city.  He found the perfect location on the slopes of Port-Marly, not far from Saint Germain-en-Laye (about 22 kms NW of Paris) to build his gothic fantasy, complete with its own small moat.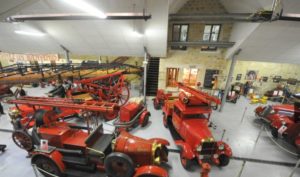 The Musée departemental des Sapeurs-Pompiers du Val d'Oise, about 40kms N.E. of Paris at Osny, near Pontoise, offered a chance to see a wonderful collection of fire engines, fire-fighting and rescue equipment and techniques dating back to the 18th century.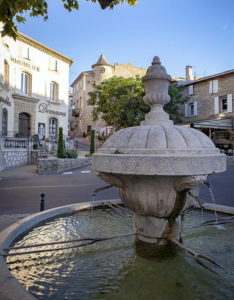 Further afield, if you had found yourself in the south of France, you could have joined a walking tour of the village of Châteauneuf-du-Pape, led by guides from the local tourist office.  Once the summer residence of the Popes who resided in Avignon in the 16th century, you would have visited the remains of the Papal chateau, the village's ancient, narrow streets, 11th century fortifications, ancient lime kilns, and magnificent views, taking in the panorama of its world-famous vineyards.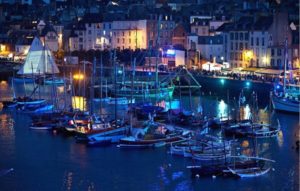 In southern Brittany, near the village of Auray, the Port de Saint-Goustan celebrated the maritime history of the region with a flotilla of traditional Breton boats and historic ships that were open to the public.
In Chambery, just north of Grenoble, lovers of historic trains could have taken a return trip from Chambery to picturesque town of St Jean-de-Maurienne, in the mountainous Savoie dept. of the Auvergne-Rhone-Alps.

The Culoz-Modane railway from Chambery to Geneva and to Lyon was built in 1856 for King Victor-Emmmanuel II then King of Sardinia for his own personal use, and later gifted by the King to France.  This trip was on board one of the original 19th century trains.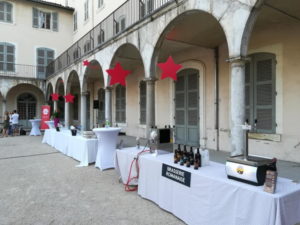 Just south of Lyon in the town of Romans-sur-Isère a small, artisan brewery, Brasserie Romanaise was open to visitors for this weekend.  It's known for producing organic beers, particularly Jacquemart Blonde, that still practice the traditional method of making beer using historic equipment.  No doubt part of the attraction for many would have been the complementary tastings after the tour.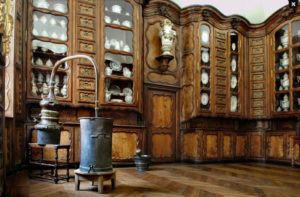 Right across France, as with other participating European countries, you have an almost overwhelming range of fascinating historic places and sights to taken in during this special weekend.
Virtually all events are free, and it's such a great opportunity to discover fascinating, often little-known places, many of which aren't open to the public except on this remarkable occasion.