Afternoon Tea in Paris – Putting on the Ritz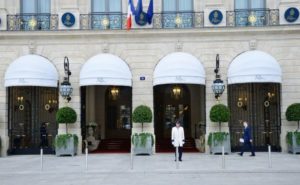 It's not only the British who love a traditional afternoon tea, complete with dainty treats exquisitely presented, and tea sipped from the finest bone china.
The French too love to make a special occasion of afternoon tea, enjoying sweet delicacies and special blends of teas.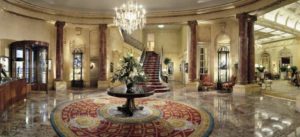 The Ritz Hotel in Place Vendome recently re-opened after a massive renovation costing around $620 million that took four years to achieve, including a delay caused by a fire in the roof just weeks before it was due to re-open.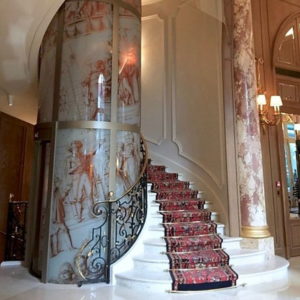 Restored to its former Belle Epoque glory, the hotel retained 90% of its original antique furniture, light fittings and art works.  Numerous suites and public spaces have been named after famous patrons, such as Coco Chanel (who lived in the Ritz for years), Ernest Hemingway and F. Scott Fitzgerald.
Salon Proust, the salon de thé, is named after Marcel Proust, who was at the hotel's inauguration in 1898 and made the Ritz his second home.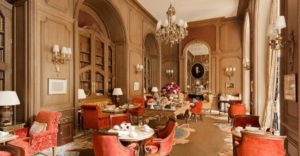 Salon Proust is decorated as a library, and its warm wooden shelves are filled with many rare books and of course, numerous volumes of Proust's works.  There are red velvet armchairs, gold sofas, and bowls of peonies and roses in the centre of the Salon.  Spend time perusing the extensive tea menu, and consider also the Champagne option whereby you can enjoy your afternoon tea as well as a glass of Barons de Rothschild Réserve Ritz champagne.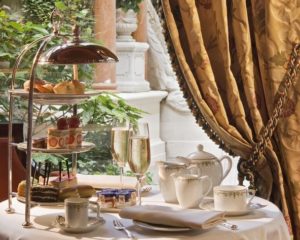 When your chosen tea arrives you will invited to taste it, as with a good wine.  The tea will be perfectly brewed, and no leaves left in the pot, so the tea won't become any stronger.
Unlike a traditional English afternoon tea, there won't be the usual cucumber sandwiches or smoked salmon nibbles, but instead, numerous sweet treats are served on tiered stands, ranging from buns, Florentines, chocolate cake, meringues, almond tarts, and of course, the famous madeleines, so beloved of Proust.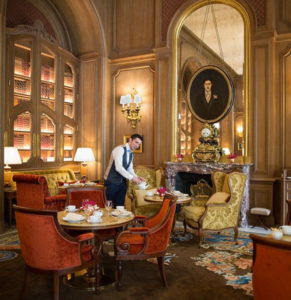 There are so many delicacies to tempt you, but it's likely there will be far too much to eat in one sitting.  Luckily, this happy predicament has been foreseen, and it is now quite acceptable to ask for a "doggy bag".  This takes the form of a chic little white box printed with The Ritz in gold letters on it.
Rarely has afternoon tea been raised to such heights of refinement!
Afternoon tea is served every day from 2.30pm – 6.00pm and bookings highly recommended.  Tel. +33 (0) 1 43 16 30 30
Le Thé à la Française 65€ ;  Le Thé Royal à la Française 85€ (accompanied by a glass of Barons de Rothschild Réserve Ritz Champagne)