A FESTIVAL OF LIGHTS AT THE JARDIN DES PLANTES, PARIS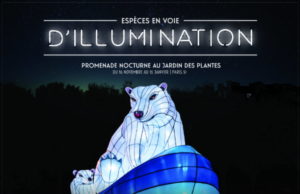 This year's Festival de Lumières at the Jardin des Plantes is the first time the event has been held in Paris and the region.  Called Especes en Voie d'Illumination, 'Species in the Process of Enlightenment', it's an incredible visual feast for adults and children alike that takes the form of a nocturnal walk along the paths and lawns, spread out over most of the park.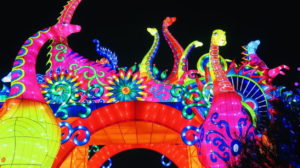 The route starts at the Place Valhubert, opposite the Pont d'Austerlitz, where giant lanterns and light sculptures depict animals and plants that disappeared 65 million years ago, as well as species currently under threat of extinction.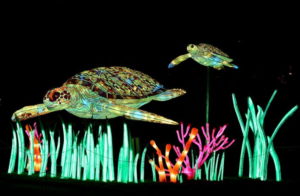 Visitors cross a huge arch of dinosaurs to meet polar bears, woolly mammoths, and other Jurassic creatures as well as turtles and penguins.  Some of these giant images change colour and others even have moving parts.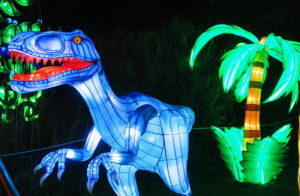 This can be particularly unnerving when confronting an enormous, menacing-looking dinosaur, momentarily forgetting that they are not only extinct, but weren't bright fluoro pinks and blues, so far as one knows!
After visiting polar bears, exotic frogs, adorable pandas and elegant flamingos, to name just a few  creatures, visitors arrive at the end of Allèe Alfred Lacroix.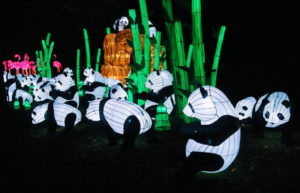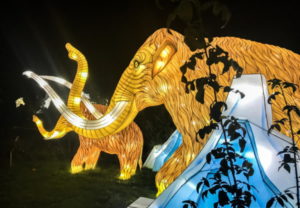 Before heading towards the Menagerie du Jardin des Plantes—by day, the location of a small zoo for children—visitors face the mesmerizing sight of a huge, white "fairy" tree that faces the museum.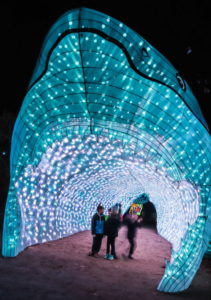 Before entering the Menagerie to explore the rest of the display, visitors are "swallowed" by the open jaws of an enormous white shark that changes colour.
The visit continues throughout the compound of the zoo, where luminous animals rub shoulders with live animals.  For those concerned for the welfare of the residents, only those animals who have shown that they are not disturbed by the lights are in this mix.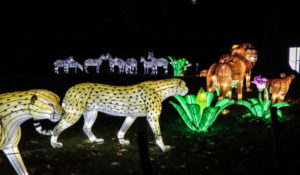 Interestingly, it was found that many animals have been quite indifferent to the presence of the lights.  The other animals are safely sheltered away during the nocturnal hours of the display.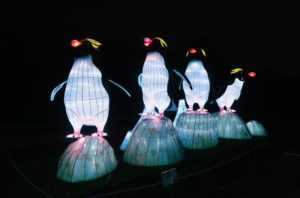 At various times throughout the day there are live shows and talks on the theme of fauna and flora.  There are also workshops aimed at children in the hope of raising awareness about the vital importance of protecting the environment, and the fragile nature of the earth's biodiversity.
This first light festival started on 16 November and runs until 15 January 2019.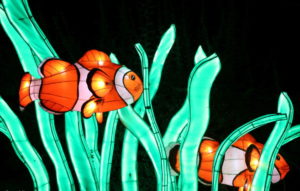 Open every day except 24 December.  Although some of the giant lanterns can be seen during the day, the whole idea is to experience the whole effect after dark.  From 6.00pm to 10.45pm, entry costs 15 € for adults, 11 € children up to 12 years, but free entry for children under 3 years.  It's recommended to allow at least 1 hour and a half, and as Parisian winters are cold at night, don't forget to wear extra-warm clothing!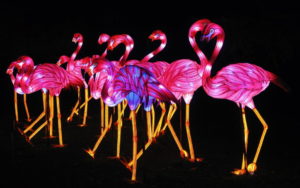 The Jardin des Plantes is located in the Latin Quarter of the 5th arrondissement.  There are a number of metros to choose from:
Jussieu (Lines 10 & 7); Censier Daubenton and Place Monge (both on Line 7); Austerlitz (Line 10 as well as being a main line station)