What's Old is New Again in London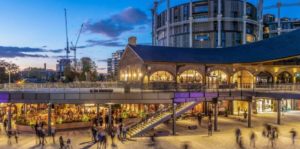 The wonderful thing about a city as big and as old as London, is the extraordinary diversity of attractions in so many different quarters of this endlessly fascinating city.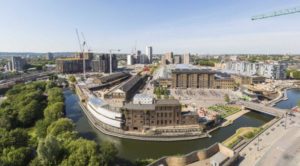 Having lived in London for a few years back in the mid 70s, we love returning as often as we can to revisit favourite haunts, and take in as much live theatre, concerts and exhibitions (and shopping!) as we can manage during our stay.  Aside from all these activities, London always seems to have a new project, building or attraction to check out.  Over the last couple of years, a number of urban renewal projects have been completed in well-located but neglected or underused areas.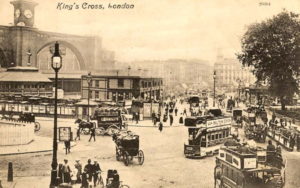 In recent years, one of the city's most ambitious urban renewal projects has been the area surrounding King's Cross station.  This station complex is the biggest inner-city transit interchange in London that also takes in St Pancras station, home to the Eurostar trains.  The King's Cross Regeneration Program is one of the largest rejuvenation projects in Europe—it now even has its own postcode, NIC.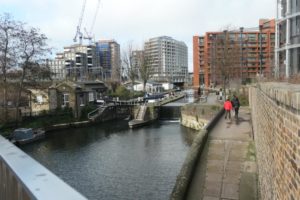 In Victorian times, King's Cross was an important industrial heartland that not only comprised numerous railway lines for passengers and freight, but also the busy Regents Canal that opened in 1820, where goods from all over the country were off-loaded and stored in massive warehouses adjacent to the canal.  After World War II, the area known as the railway lands had declined from being a poor but busy industrial district, into a wasteland of empty warehouses, railway sidings, disused gas works and contaminated land.  By the 1980s the area was notorious for prostitution and drug abuse, unloved and mostly abandoned.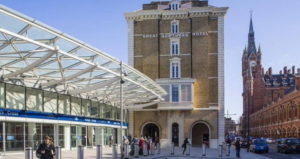 The decision in 1996 to relocate the Channel Tunnel Rail Link (renamed as High Speed 1) from Waterloo to St Pancras became the catalyst for change.  After a few false starts, early infrastructure began in 2007 and development in November 2008.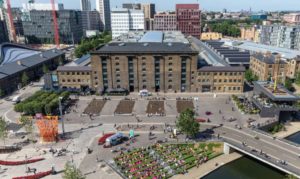 In 2011, Central Saint Martins college,  part of the University of the Arts,  and one the UK's most prestigious art schools, moved into the heritage listed 1851 Granary Complex.
Along with 20 other historic buildings and structures, the Great Northern Hotel next to Kings Cross station has also been refurbished and re-opened.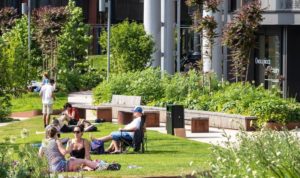 There are 50 new buildings, approx. 2,000 homes, 2 new schools plus the Frank Barnes School for Deaf Children, 10 new public squares and gardens, fountains, 10 hectares of airy public space with trees and plants, a community garden, plus 20 new streets, all spread over 27 hectares.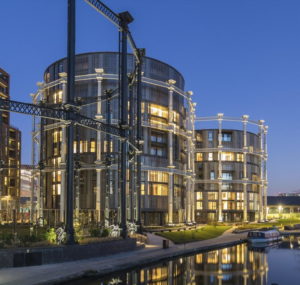 Although the apartments in the development are expensive by any standards, (studios started at 585,000 GBP), it has appealed to an interesting cross-section of London society attracted to the character of the industrial buildings.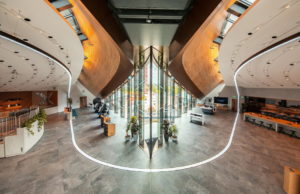 As well, there seems to be a wide variety of people from different backgrounds and skills working in offices and businesses, ranging from small consultancies to large multi-national companies such as Google–which has not one but four office buildings here—Facebook, YouTube, Universal Music, Nike, The Guardian newspaper, the Francis Crick Institute for Medical Research, and media multinational Havas, while Samsung has opened a 2,000 sq.m. space to showcase its products.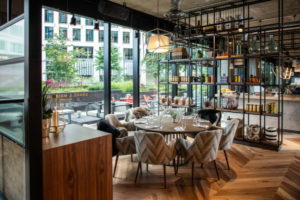 You'll find a number of great of wine bars, cafes and good restaurants, including Michelin-starred Spanish tapas bar, Barrafina, in former warehouses, Restaurant Drake & Morgan, and the Granary Square Brasserie.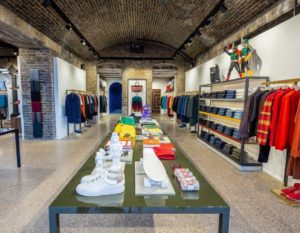 There are 65 retail shops in Coal Drops Yard, the former coal sheds that once handled the eight million tonnes of coal delivered to the capital each year.  Aimed at attracting an affluent demographic, retailers in Coal Drops Yard include the prestigious British fashion labels Paul Smith and Church's shoes.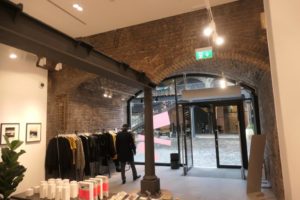 These sit with global brands like Louis Vuitton, ba&sh, COS, A.P.C., Superga, Fred Perry, Nike, Diesel, Aesop, as well as some interesting homewares and lifestyle stores.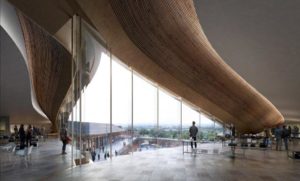 The quarter sees other former derelict warehouses home to 160 shops, creative workshops and service businesses.  Even the huge redundant gasometers, or gasholders, clad in recycled cast iron frames that once formed part of the structure of old Kings Cross station, have been transformed into high-end apartments.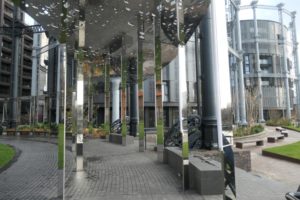 The whole area is now a polished, rejuvenated location combining raw, functional, brick buildings and a certain chic industrial aesthetic.  It's a fun, vibrant place for not only the young, urban hipsters, but families, singles and just about anyone else.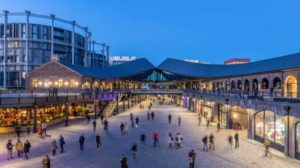 Next time you're in London, spend some time exploring this latest incarnation of London's industrial architectural heritage, transformed into a sophisticated urban environment, well adapted for a contemporary world.