PLACE DES LICES OUTDOOR MARKET, ST TROPEZ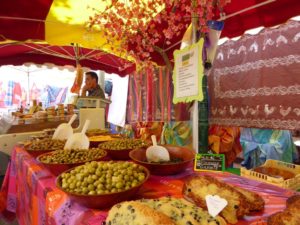 The wonderful market at St Tropez' Place des Lices is reason enough to visit this famous coastal resort town on the French Riviera.  Despite the celebrity reputation of 'St Trop', the market is still a traditional gathering place for visitors and locals alike, selling a huge range of the best Provençal produce, as well as a great range of other must-have goodies.
We've known and loved this market over many years, and if we're heading to southern Provence, we make sure that we plan our visit to take in at least one of the two market days.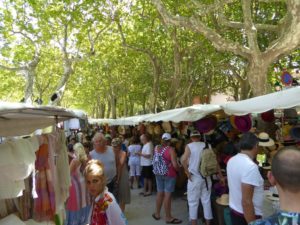 The Place des Lices is a huge, informal public square, just a block or two back from the Old Port.  The square's many tall, leafy plane trees provide deep shade cover, creating an arcade effect that's especially welcome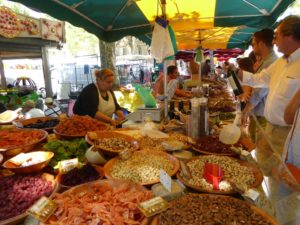 during the hot summer months.
When you enter the square your senses are immediately assaulted by the vibrant, exuberant scene before you.   There are masses of enticing displays of vivid seasonal fruit and vegetables bursting with flavour.
Heady aromas arise from the varieties of breads and local patisserie (you must try a slice of the wickedly rich Tarte Tropézienne).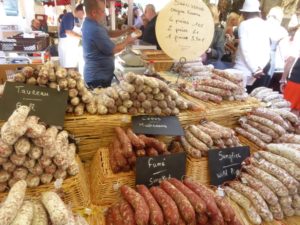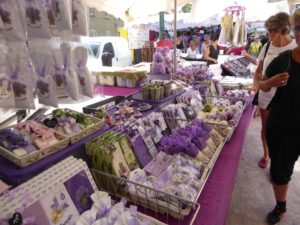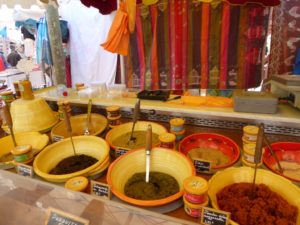 What foodie wouldn't be drawn to the numerous displays of olives—and of course, huge bowls of tapenade—cheeses, sausages and other meats.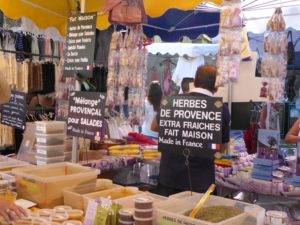 You'll find fragrant herbes de Provence, and of course, masses of beautiful, fresh flowers and plants.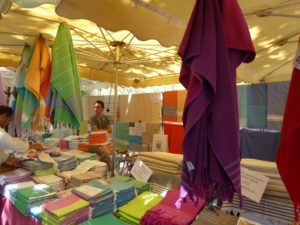 There are also stalls selling a range of quality souvenirs not only for the visitor, but appealing to locals as well.
So nothing tacky or vulgar, nor will you see cheap knock-off "designer" t-shirts here—although we did spy a few 'Hard Rock Café St Tropez' t-shirts a few months ago—something of a surprise, since there's no Hard Rock Café in town!
This is great retail territory for homewares.
You'll come across tablecloths and placemats made from traditional Provençal printed cottons, absolutely delicious gauzy linen curtains, finely woven straw hats and baskets, and there's the lure of painted ceramics that you just know will work beautifully at home.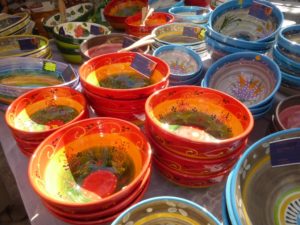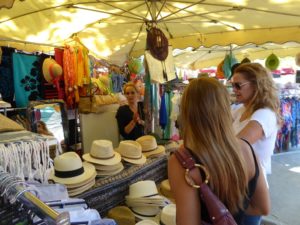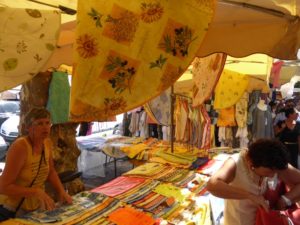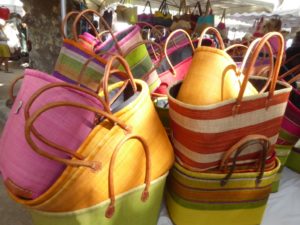 As well as all this, keep an eye out for a couple of antiques dealers, most with the usual bric-a-brac, but last time we were there, a stall was doing a good trade in vinyl records, specialising in sought-after historic jazz recordings.
Another had some very interesting old theatre posters and memorabilia.
The women's and men's fashion items offer stylish linen shirts, pants, tunics, scarves, kaftans and dresses, and that terrific, go-everywhere cotton knit sweater everyone wants—it's the French Riviera look that you wished your local boutiques at home stocked.  Is it any wonder that the locals are oh-so effortlessly chic, which they manage to achieve without looking as though they're trying too hard!
The prices in the market, somewhat surprisingly, are not as high as one might expect, due, we think to the fact that it's so well patronised by full-time local residents.
As one stallholder explained to me, the market vendors understand very well who their long term, constant customers are and what their lifestyles require—so from a pragmatic commercial perspective, they're not especially catering to tourists or the transient "glitterati" that flit in and out in high season, many of whom sail in on the enormous boats (some more like small ships) that line the harbour front.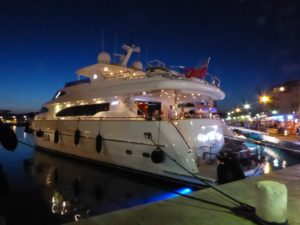 The market is known to have existed for over 200 years, although the Place des Lices is said to date from the 10th century, since the original meaning of Lices is 'jousting ground'.  The much-loved market is an essential part of the life of the town for the locals.  In every sense, it is truly a taste of the Mediterranean!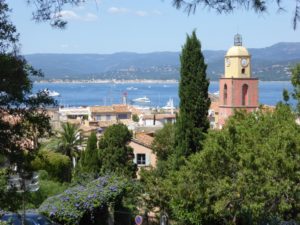 When the market isn't there, the Place des Lices is the gathering place for groups of locals playing pétanque, (the southern version of boules), or relaxing with a coffee or pastis at one of the numerous cafes bordering the square.
The market operates every Tuesday and Saturday, from 8.00am to around 1.00pm.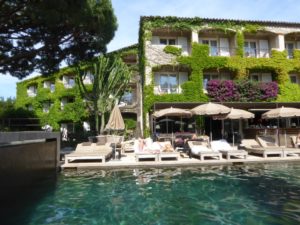 Our favourite place to stay, the absolutely delightful Hotel des Lices, is just a block from the market.