FAVOURITE VILLAGES OF THE LUBERON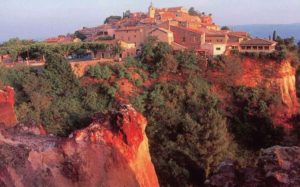 There would be few travellers nowadays who, when they hear or read 'Luberon', don't immediately conjure up the delightful memoirs by the late Peter Mayle.  His first book, 'A Year in Provence' published in 1989 became the model for a new travel genre and spawned any number of imitators on the theme of an outsider taking up residence in a town or region somewhere picturesque such as Provence or Tuscany.  Until then, the Luberon region of Provence was barely known outside France, and then mostly for its typical Provencal produce.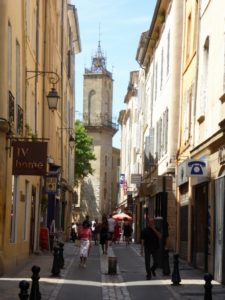 I first discovered the Luberon back in 1989, a little before 'A Year In Provence' hit the bookstores worldwide, while on a weekend excursion with a group of fellow summer school students from the University of Aix-en-Provence.  It was love at first sight, and I couldn't wait to return a few weeks later with Graham to explore more of the enchanting perched hill-top villages and rugged landscape of the Luberon Regional Nature Park.  We have returned many times over the years to well-loved villages and to discover new treasures.  If you're keen to visit this captivating region, do be aware though that virtually none of the Luberon is accessible by rail or bus, meaning a car is the only viable way of getting about.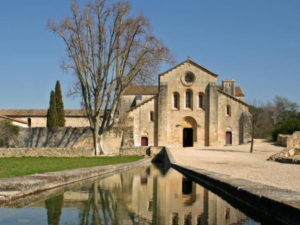 We tend to start our Luberon travels from Aix-en-Provence.  The Luberon hills are only about 25km north from one of the loveliest towns in France and it gives us an excuse to stop briefly at Silvacane Abbey, one of three Cistercian abbeys collectively known as the 'Sisters of Provence'.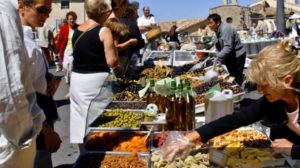 We like to plan our Luberon visits around the weekly market days held in virtually every village.  These range from a handful of stalls, such as at Oppede-le-Vieux to the larger town markets like Cavaillon, to the biggest, which is the Saturday morning market at Apt, with over 300 stalls.  Most markets are held all year-round, adding colour and vitality to even the most wintery village.  Markets tend to be larger in summer, when the locals are joined by excited tourists.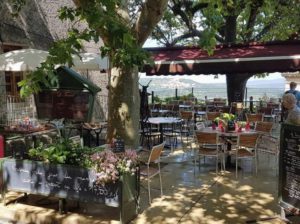 Combining a morning at the market followed by lunch at a local village bistro is the perfect way to spend a half-day—think leafy terraces, tables adorned with fresh cut flowers and colourful napkins, olives, local wines and dishes filled with sunshine.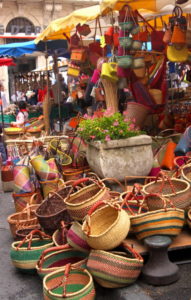 Provençal markets always have the best local, seasonal produce, including wonderful cherries and melons in the season, meat, locally made charcuterie, olives, tapenade, honey, Provençal herbs and spices, cheeses you may never have heard of, olive oils and wines, fragrant fresh breads, ready-to-eat cooked meats and rotisserie chickens, and non-food goodies such as every possible product made from local lavender, great straw hats and baskets as well as table cloths, napkins and placemats made up in the distinctive Provençal-print fabrics—impossible to resist!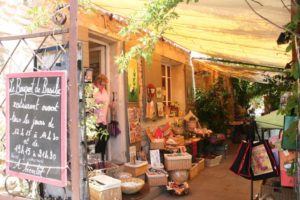 There are so many gems that epitomise everyone's fantasy of the perched, hill-top Provençal village.  Many date back more than 1,000 years or more, of habitation. The great thing for a time-poor visitor is that most of the villages can be explored in a relatively short time, as they are all only a few kilometres from each other.  Everyone has a list of "must sees" and here are just some of ours :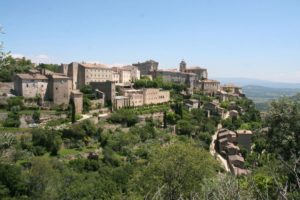 Gordes:  unsurprisingly, is one of the Plus Beaux Villages de France.  There are stunning views as you approach it, and there are some conveniently placed lay-bys to pull into for great photo opportunities.  The village is dominated by its church and chateau, and it's a delight to explore its narrow alleyways, lined with enticing little shops and galleries, that lead to breathtaking views over the gorgeous countryside.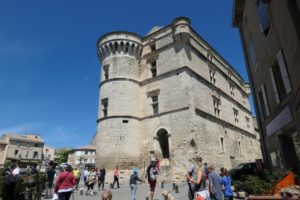 The whole village was awarded the Croix de Guerre in recognition of the extraordinary level of suffering it endured during WW2.  After the war, the village attracted artists such as Marc Chagall and Vasarely.  Gordes market is on Tuesday mornings in the village square where you can buy the best local produce, crafts and traditional fabrics.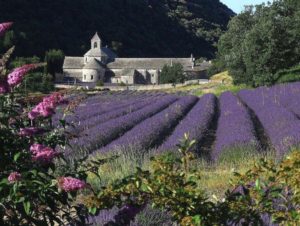 One of the most beautiful sights in Provence, just a few kms out of Gordes, located in a deep, narrow valley, is the magnificent Abbey de Senanque.  A functioning Cistercian abbey founded in 1148, a visit is an absolute must.  If you're lucky enough to be there in the lavender season, it's a sublime sight you'll never forget.  The Abbey shop sells a variety of lavender-based locally produced items.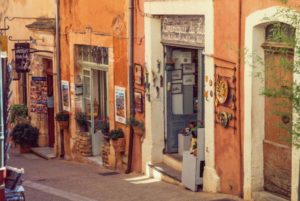 Roussillon:  another of the Plus Beaux Villages de France, only 10 km from Gordes, it's perched on the ridge of steep red cliffs—one of the world's largest ochre deposits—that were the source of artists' paint pigments, providing around 17 shades of ochre.  The cliffs are dramatically illuminated at night during the summer months.  The whole village is painted in beautiful shades of reds, yellows, oranges, pinks and ochres.  It's one of the most photogenic villages in the region.  There's a Conservatoire des Ocres et des Pigments Appliqués, a museum tracing the history of ochre, housed in an old ochre factory.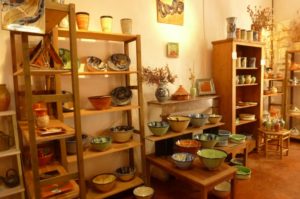 The surrounding rugged panoramas have attracted  a succession of artists over the years, which means that the town has an impressive art scene and a number of galleries. There are also a number of delightful small shops in Roussillon selling the work of its local artisan potters.  The weekly market day is Thursday.
Bonnieux:  Dominated by its church, a mixture of Romanesque and Gothic architecture, this small, perched village is beautifully sited, overlooking the Combe de Lourmarin.  It's an ancient fortified village whose human settlements go back as far as the Neolithic era and Bronze Age.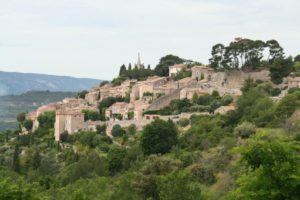 There are a number of Neolithic shelters that can be visited.  The Provençal market is held on Fridays, and there's a potters' market every Sunday.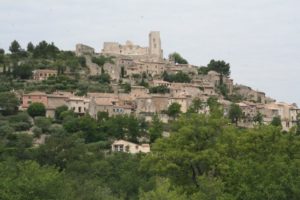 Lacoste:  4 kms from Bonnieux.  From the bottom you head up, up through the centuries until right at the top are the ruins of the Chateau of the notorious Marquis de Sade, renowned author, philosopher, libertine and sexual deviant.  Pierre Cardin bought the ruin in 2001 along with many of the village buildings, and established a summer music festival dedicated to musical theatre, opera and ballet.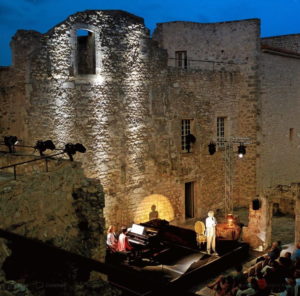 Nowadays the village is also a well-known artists' colony, and a number of buildings in the upper level are owned by the Savannah College of Art and Design.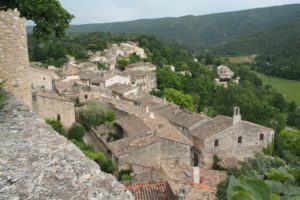 Menerbes:  This jewel of a village—deservedly designated a Plus Beaux Village, with its dignified 18th century houses and sturdy medieval  ramparts, surrounded by vines and green fields, it has been continuously inhabited from the Neolithic era until the Middle Ages.  Archaeological evidence of the Roman occupation has been unearthed at the bottom of the village.  Wine lovers will be interested in the Musée du Tire-Bouchon (Corkscrew Museum) at the foot of the village on the route de Cavaillon, which is a fitting location, given that Menerbes is renowned for its high quality wines and truffles. Peter Mayle lived on the outskirts of Menerbes during the years he wrote is Provence-inspired books.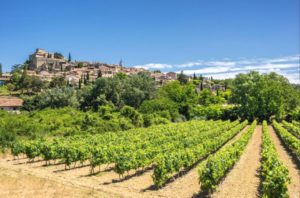 Ansouis:  a very picturesque perched village in the midst of the southern Luberon plain, and easy to see why it's a Plus Beaux Village.  It's dominated by its beautiful medieval chateau that can be visited, although it's a private residence, with a magnificent collection of 17th and 18th century furniture and tapestries.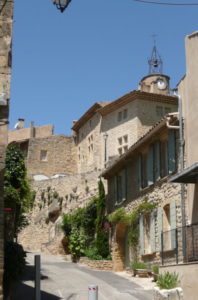 There's a Romanesque chapel with impressive buttresses set in the castle's grounds, the fortified 12th century church of St Martin, the tower clock, a watchtower and beautiful gardens and terraces offering entrancing views over the round tiles of the rooftops of the old village houses.  There are narrow, meandering streets to explore with artists' workshops, boutiques and cafes under shady plane trees, making this village a delightful place to visit.  Sunday morning is market day.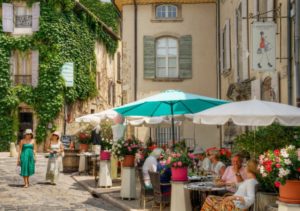 Lourmarin:  Designated as a Plus Beaux Village de France, it lies nestled at the foot of the Luberon Massif.  Although it's not a perched village, it is nevertheless one of the loveliest villages of the region, nestled in the middle of vineyards, olive groves and almond orchards.  You can immerse yourself in the gentle Provençal ambience of the village's typical Mediterranean architecture, meandering streets, fountains, small art galleries, cafes and restaurants.
There's an impressive Renaissance chateau on the fringe of the village.  Its most famous resident was the existentialist writer Albert Camus, who won the Nobel Prize for literature.  He's buried in a somewhat remote cemetery on the outskirts of the village.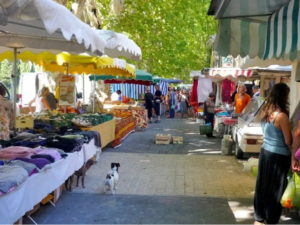 The very good Friday market has perhaps less food than some other markets, but alongside honey, ginger, olive oil, wine herbs and local cheeses, you can find an array of stalls selling traditional Provençal fabrics by the metre, locally made ceramics, kitchenware, baskets, soaps, carved olive wood items, scarves and bags.  Coming up from Aix, Lourmarin is the perfect introduction to the Luberon.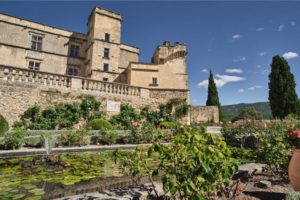 When the world is in such turmoil and uncertainty, it's important to remain positive and look forward to better times.  In the meantime, we can "armchair travel", stay connected and enjoy planning our future adventures—the world's wonders will still be there when the current crisis abates.
Let me know if you're contemplating a visit to Paris in the future, as I may well have some tips and ideas you might like to explore, including suggestions about an apartment stay.