EXPLORING SOME HIGHLIGHTS OF NORMANDY'S NORTH COAST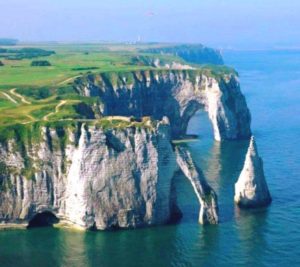 If Deauville is the most recognised resort in Normandy, with its long, sandy beach, grand Belle Epoque hotels and typical Norman houses, it's only the introduction to so many outstanding attractions that the region has to offer with its beautiful, varied scenery and rich history.  Boasting gorgeous countryside, coastline and woodlands, as well as impressive castles, splendid churches, plus picturesque ancient towns and villages, Normandy is the perfect destination for the visitor.  Here we'll look at just a small selection, not far from Deauville.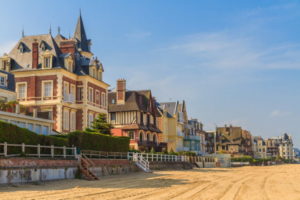 Trouville-sur-Mer is right next door to Deauville, separated by the River Touques.  Although Trouville is smaller, the two towns are very similar, both having a large casino, a nice beach and good shops.  This historic fishing village was one of the first ever coastal resorts to be developed in France, indeed, long before its more famous neighbour.  As sea bathing caught on in the first half of the 19th century, it also attracted a crowd of artists in search of rest and inspiration.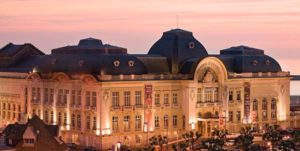 Trouville-sur-Mer is perhaps more family-friendly than Deauville and has retained the authentic charm of a bygone era.  Stroll along its beach and boardwalk and check out the extravaganza that is the casino.  It's easy to see why Belle Epoque Trouville was chosen as the location for some of the much loved 1958 film 'Gigi' starring Lesley Caron, Louis Jourdan and Maurice Chevalier.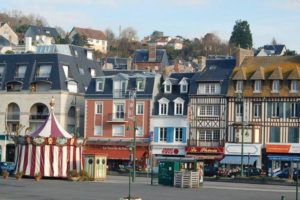 Trouville was a favourite of those French literary giants, Flaubert and Proust, while Monet and his teacher, Boudin, painted memorable scenes of the 19th century bourgeoisie in their finery promenading along the broad beachfront.  Although the artists were some of the first to go to Trouville, from the mid-19th century on, the rich and fashionable flocked there too.  They had sumptuous villas built along the seafront and palaces of entertainment, such as the casino, located right on the seafront, now forming a rich architectural heritage to enjoy.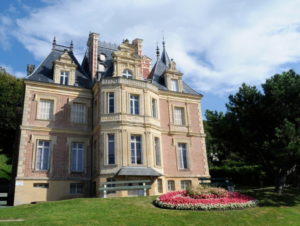 One of the grand late 19th century villas, Villa Montebello, now houses the town's museum, focussing on the fine arts and tracing the history of Normandy seaside towns.  Built for the Marquise de Montebello, it imitates the style of a 17th century château and offers an incredible view over the bay from its hilltop location facing the sea.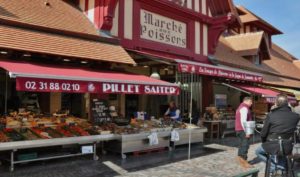 Trouville-sur-Mer is still known as a lively fishing port, and a visit to the classic covered fish market, surrounded by lively seafood restaurants, cafes and brasseries, is a must-see.  Built in 1925, it has been a listed historic monument since 1992.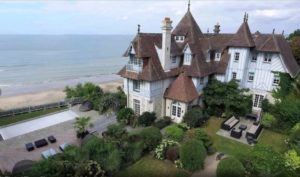 A little further along the coast, heading towards Honfleur, is the quiet seaside town of Villerville.  It developed as a resort in the late 19th century and has a number of lovely villas from the Belle Epoque, including at least one built in 1875, designed by Charles Garnier, architect of the Paris Opera.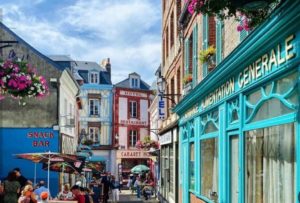 Since those days though, Villerville has been almost forgotten, and the result is a much quieter town than its neighbours, having had very little commercial development, as well as its proximity to the countryside.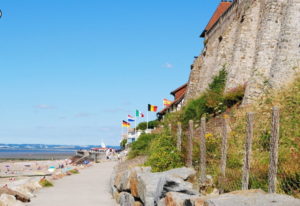 Behind the beach there is a long promenade, and also the natural area called Les Raves, which is now a protected area of woodlands, play areas and footpaths that lead to the beach.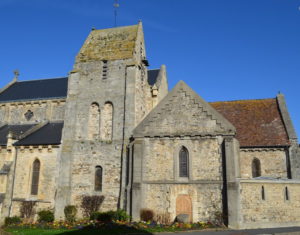 Villerville has small historic centre, with narrow streets of attractive half-timbered houses, many of which are now cafes and shops.  The town also has a traditional lavoir (a communal washing area), now mostly used for a weekly brocantes market, and a 12th century church, Notre Dame de l'Assomption, with a stone roof.  These stone-roofed churches are now very rare and this one has been roofed with great slabs of stone rather than the small stone tiles that are usually seen on churches.  The town is now known in the area as a "village des livres" (village of books), and its main street has many bookshops.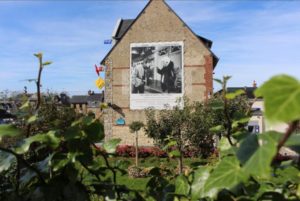 The town has inspired a number of artists and musicians, and indeed some settled there including Gabriel Fauré and Charles Gounod.  It also served as the location for the 1962 film 'Un Singe en Hiver' (A Monkey in Winter) starring Jean Gabin and a young Jean-Paul Belmondo.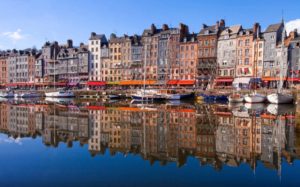 Barely 17kms from Deauville, the enchanting town of Honfleur has always drawn tourists and artists.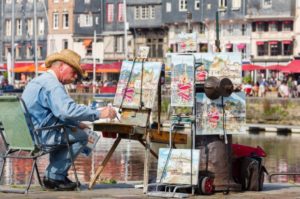 It has the atmosphere of both a river port and a sea port, which is now referred to as the Vieux Bassin, lined with colourful half-timbered houses, cafes and restaurants along the Quai Sainte-Catherine, and picturesque streets leading off into the historic town.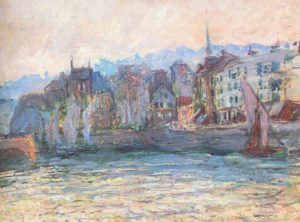 Its shifting light patterns on the estuary of the Seine inspired the greatest Impressionist painters including Claude Monet and Eugène Boudin, a native of Honfleur.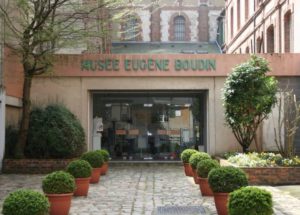 Honfleur has several dozen galleries and art workshops offering classic and modern works and takes particular pride in its Impressionist roots.  There is a Eugène Boudin Museum, dedicated to the life of the artist and his work and displays paintings and drawings by him as well as Dufy, Courbet, Jongkind and Monet.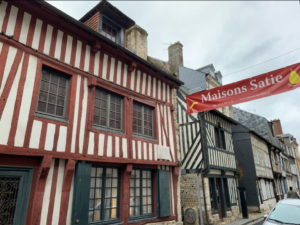 Another native of Honfleur was the eccentric avant-garde composer Erik Satie.  You can visit 'Les Maisons Satie', an intriguing complex of two half-timbered houses that pays homage to the whimsical spirit of this great composer, who was born in one of the two houses.  Visitors will encounter various bizarre exhibits such as a giant mechanised monkey, a white self-playing piano, and oversized pear with flapping wings, and an anthem-playing carousel ride pedal-powered by participating visitors.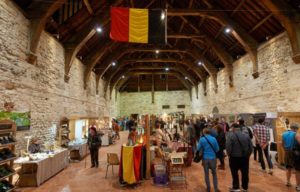 Another interesting historic landmark is the Greniers à Sel—vast stone salt granaries—built in 1670 on the orders of Louis XIV's finance minister to store up to 10,000 tonnes of sea salt, mostly used to preserve cod and other fish for long periods.  Nowadays, the building is used for exhibitions, concerts and conferences.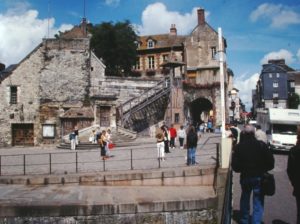 The original purpose of the town was trade.  The harbour was selected for its strategic location on the southern bank of the Seine estuary.  During the Hundred Years' War, the king fortified the port, although that didn't stop the English capturing and taking over the port for several decades.  Before the Revolution, Honfleur's shipowners made their fortune from trade, especially with North America.  Samuel de Champlain, one of the famous explorers associated with the port, departed from Honfleur to establish the Canadian city of Quebec.  Other shipowners traded in cod-fishing as well as the slave trade.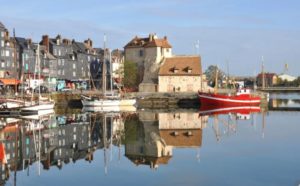 Although the commercial ships and fishing boats are now moored at larger docks, the Vieux Bassin is a favourite place for yachts and other pleasure craft.  Shops vie for space along the quays in this extraordinarily picturesque setting, while restaurants set up their outdoor tables on the cobblestones.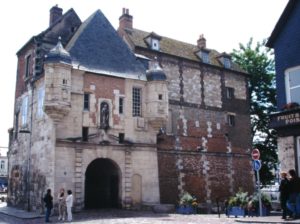 The neighbourhoods on each side of the Vieux Bassin all have their own character.  The area to the east is full of interesting historic buildings including the splendid timber church of Sainte-Catherine, and Honfleur's main art museums.  The area to the south is more low-key but has gems such as the Church of Saint-Léonard and restored fountains.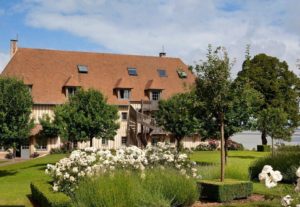 A few minutes out of Honfleur is La Ferme Saint Siméon.  Now a luxury 5 star hotel and restaurant—a member of the prestigious Relais & Chateaux group—it was a favourite spot for Monet and his contemporaries to set up their easels on the hill to capture the beautiful light of the Seine estuary, and indulge in the excellent food of Mère Toutain, the owner of this 17th century farm.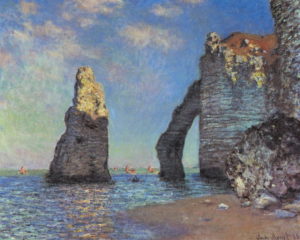 One of the great beauty spots on the Normandy coast is Étretat, about 46kms north of Honfleur.  Erosion has carved the white falaises (cliffs), rock formations and arches of Étretat into unusual shapes, and as a result, this very scenic location attracted many of the Impressionist painters.  In particular, an amazing needle-like shape, known as the Aiguille.  The best view of it is by taking a walk up to the 18 hole golf course to the west of Étretat, while a walk to the east will bring you to the Jardins d'Étretat, a beautiful  garden on the clifftop affording stunning views over Étretat and its bay across to the Aval arch, immortalised by Claude Monet and Eugène Boudin.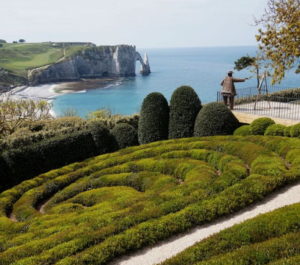 This magnificent garden was first created by one Mme Thébault, an actress who was a friend of Monet's.  Her idea was to create a garden that would reflect Monet and his fellow painters' impressionistic approach but mixed with avant-garde elements.  In 2017, Alexandre Grivko, a famous landscape architect, replanted the garden with over 100,00 plants with the goal of bringing together historical and artistic elements of the old garden and contemporary architectural ideas.  This unique garden is a must-see in this part of Normandy.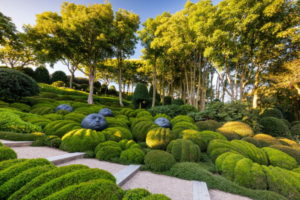 Now covering 7,000 sq.m., the garden is an open-air museum with a unique collection of modern art placed throughout the garden with its impressively-scaled plant compositions.  Plants have been sculpted into shapes evocative of the landscapes and natural features of Normandy such as cliffs and arches of the coast, oyster farms and marine whirlpools, allowing visitors to contemplate nature and its setting through the prism of art.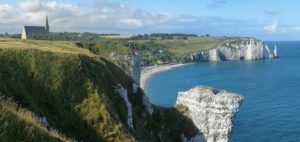 Writers Guy de Maupassant, Victor Hugo and Gustave Flaubert were also great enthusiasts of the region around the town.  If you walk to the small Chapelle de Notre-Dame de la Garde, you will see some of the most impressive views of the arche de la falaise d'Aval.  There is also a footpath from the town that follows the clifftop which has stunning views.  At sunset, Étretat's cliffs are lit up to magical effect.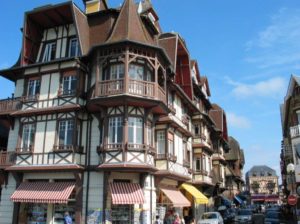 However, there is more to Étretat than the cliff formations and beach.  Historically a fishing village, today the attractive small town has medieval houses, pretty restaurants and shops, and several grand Belle Epoque mansions.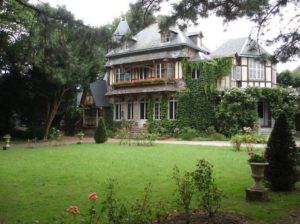 Don't miss the covered market in Place Foch with its reproduction medieval wooden structure, and 19th century villa Le Clos Lupin, named for the popular French books—originally written for children but enjoyed equally by adults—about Arsène Lupin, gentleman thief and master of disguise, written by Maurice Leblanc.  For those signed up to Netflix, there's now a series based on Arsene Lupin and his adventures to enjoy, starring one of our favourite French actors, Omar Sy, as Lupin.  The only downside, in our view, is that it's dubbed rather than subtitled.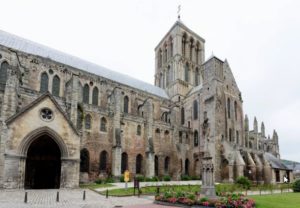 About 16kms further north of Étretat, about an hour from Deauville, is the coastal town of Fécamp, with the ruins of a 10th century castle and its Gothic Benedictine Holy Trinity Abbey dating from the 12th century, that has an exquisite choir and Renaissance altar.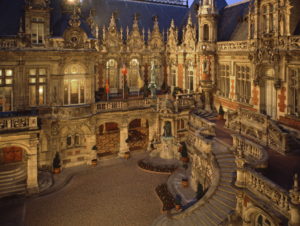 The main attraction though is the magnificent Palais Bénédictine and its museum, dedicated to DOM Benedictine liqueur, which has been produced at Fécamp since 1510.  The liqueur's actual formula is a closely guarded secret, but known to be a blend of 27 herbs and spices, saffron, Angelica root and honey, and distilled here at the Palais in the original copper pot stills.  Tours of the distillery, cellars and museum, finishing with a tasting, are available, although not free, and bookings are obligatory.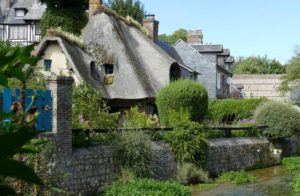 Our final destination of this brief look at great places to explore north of Deauville is the beautiful village of Veules-les-Roses, designated as one of the Plus Beaux Villages de France.  Located about 40kms further north of Fécamp, or little over 100kms north of Deauville on the coast, or an hour's drive, it's a must-see if you're in this part of Normandy.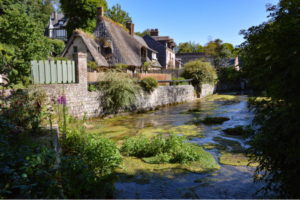 The village sits on the banks of what is said to be the shortest river in France, the River Veules, with little narrow streets, black and white half-timbered, thatched roofed cottages and a number of very picturesque water-mills.  A little path on the western edge of the village leads to the Cressonniere, water-cress beds, which date back to the 14th century.  Water-cress was once a very important winter salad crop which was said to help prevent scurvy.
The region north of Deauville has a great deal to offer, and this is just a small selection to tempt you that we know well.  There is a lot more to reveal to the curious visitor.