BELLE-ÎLE-EN-MER – THE IMPRESSIONISTS' FAVOURITE ISLAND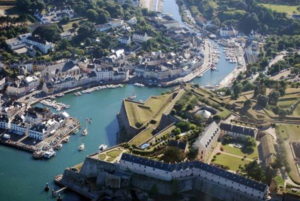 Like many people familiar with the rugged coastal landscapes of Monet and other Impressionist painters, we had long been curious about this small island, 15 kms off the southern coast of Brittany.  As its name suggests, Belle Île is certainly one of France's most beautiful islands.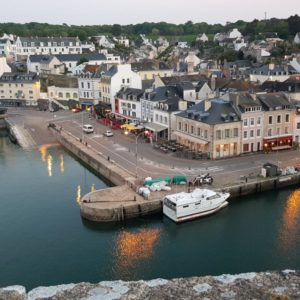 With stunning cliffs that plunge into turbulent seas below, quaint seaside hamlets, pastel-coloured houses, vivid green countryside, rugged coastline and temperate climate, it's easy to see why it became such an inspiring location for painters such as Matisse, the Australian John Peter Russell, as well as Claude Monet.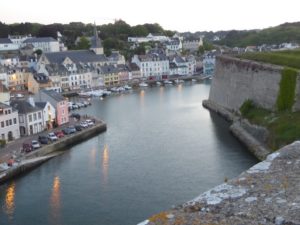 Belle Île is easily accessed by regular ferries from Quiberon on the mainland, which ply back and forth each day during the season to the main town of Le Palais.  There is a long term carpark in Quiberon with a very efficient regular shuttle bus to and from the wharf, timed to coincide with the ferry timetable.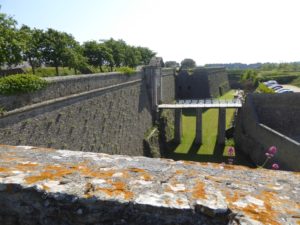 Most of the island's accommodation is the vicinity of this town, including the 17th century Vauban star-shaped citadel, the former fortress that dramatically looms over the port town.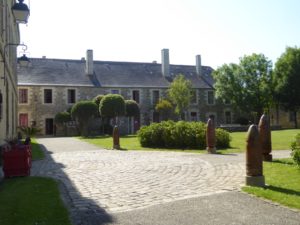 A museum within the complex explains the island's often tempestous history.  Belle Île was occupied by British troops from 1761-63 before being handed back to France in exchange for Menorca.  During WW2 the Germans took over the island, and at the end of the war, the citadel was stripped of its military functions and abandoned.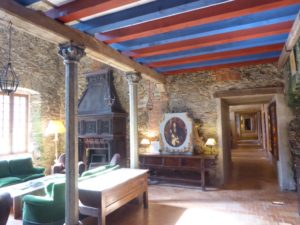 Privately owned since 1960, the Vauban citadel has been converted into a 4 star hotel, while retaining many of the original historic features.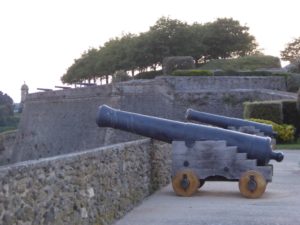 Its enormous, thick stone walls, military memorabilia, and numerous cannons lined up on the battlements ensures that you are very aware of its original function, not only as a huge fortress, but also as a prison that held numerous famous revolutionaries.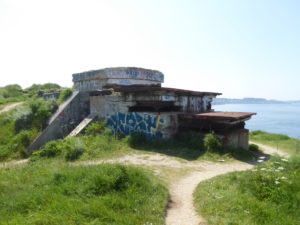 Interestingly, there is little reference on the island to the Nazi Occupation, despite the impressive remains of large concrete radar stations, gun emplacements, bunkers, ditches and other fortifications, which one comes across almost by accident.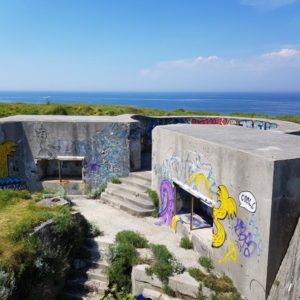 There are no road signs or interpretation signage at these sites, and virtually all are defaced with graffiti and overgrown with rampant weeds.  Perhaps being such a painful period in their recent past the islanders would simply prefer to ignore any vestiges of it.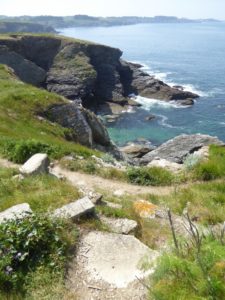 It's known that there is a Dutch ship, which had been flying a German flag, and sunk by the British in 1944, lying in 20m of water off Pointe de Taillefer which faces the Quiberon peninsula.  For those interested in the WW2 history of this region, a visit to the museum housed in an anti-aircraft bunker built inside the Fort de la Cité d'Alet in St Malo, is the place to go.
Although there are a number of hotels dotted along the coast, none are huge or international-style glamorous resorts, although one or two specialise in thalassotherapy spa treatments, much loved by the French.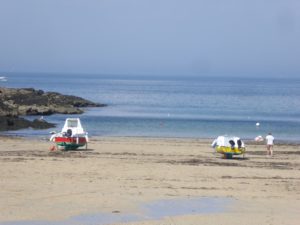 Rather, Belle Île attracts families and those who prefer more low-key accommodation, local restaurants serving generous portions of wonderful, fresh seafood, including local lobsters, langoustines and tuna, relaxing on one of the 60 beautiful beaches, taking long walks along incredibly dramatic coastal pathways, or sailing excursions on one of the numerous pleasure boats moored in local marinas.  Bike, scooter hire or a rental car for a day is the best, most convenient way to explore the whole island, since the local buses seemed somewhat scarce. Rumour had it that there are a few taxis, but we never saw any!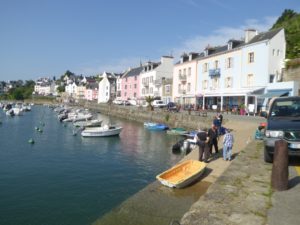 Sauzon, a fishing port located on an inlet on the north coast, and probably the most picturesque village on the island–listed as one of the most beautiful villages in France (les Plus Beaux Villages de France)–is not to be missed.  A couple of crêperies offer outdoor terraces, perfect for a relaxing lunch while taking in the views of the bay. There are also a number of lovely sandy swimming beaches, surfing beaches and pretty coves such as Baluden beach.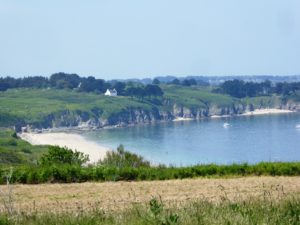 The island is particularly busy during August since the inauguration a few years ago of the Festival Lyrique en Mer, an internationally renowned festival dedicated to the works of Verdi, Mozart, Puccini and Rossini, and featuring some of the world's best opera singers and emerging stars of tomorrow.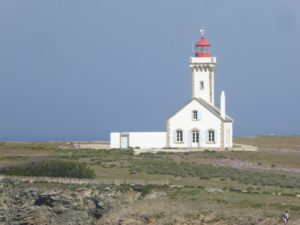 With such a rugged coast there are a couple of dramatically sited lighthouses on the island, such as the Phare des Poulains on the northern coast, where waves crash in from two sides onto spectacular rock formations and a famous local landmark, the Grotte de l'Apothicaire ('Apothecary's Cave').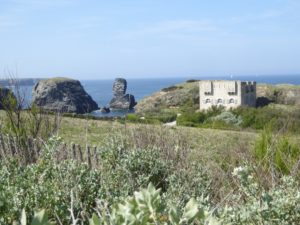 In the vicinity of the lighthouse is a small, isolated stone building.  The actress Sarah Bernhardt bought the abandoned military fort in 1894 and restored it to become a retreat away from her hectic life as the adored queen of French theatre.  The house is now a museum dedicated to the life of the great tragédienne, still referred to in France as "the divine Sarah".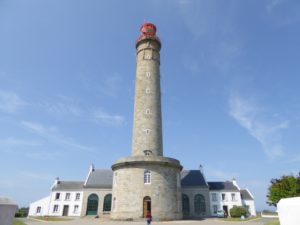 Another impressive lighthouse is at Bangor on the Côte Sauvage, or 'wild coast'—aptly named given the rough Atlantic waters and mysterious sea caves visible from the cliff-top.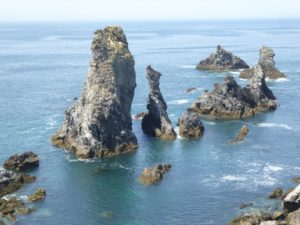 The famous aiguilles (needles) of nearby Port Coton, whose cluster of ragged points appear to be razor sharp, inspired Monet who painted a number of dramatic seascapes from this location.
It was on Belle Île in 1886 that he first met the 28 year old Australian painter John Peter Russell.  They were both searching for new landscapes and different atmospheres to inspire them, and each found a kindred spirit in the other.
'He came and hovered around me yesterday while I was working and finally asked whether I was Claude Monet (the prince of Impressionists),' Monet wrote in a letter to Alice Hoschedé in September of 1886. 'It was a great delight for him.  He was nice and we went on a walk together, and this evening I am having dinner with him at his house.'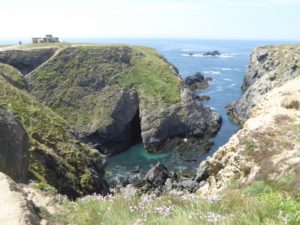 During this 3 month visit Monet painted a series of 39 canvases.  He wandered along the wildest part of the island, setting up his easel along the jagged coastline to paint in the open air and capture the infinite variations of light.
"I am in a wonderfully wild region, with terrifying rocks and a sea of unbelievable colours; I am truly thrilled, even though it is difficult, because I had got used to painting the Channel, and I knew how to go about it, but the Atlantic Ocean is quite different". (Letter from Monet to Gustave Caillebotte).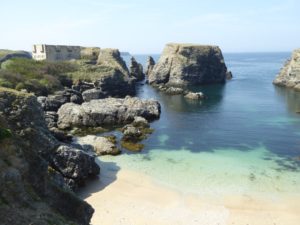 Similar experiences during the same period inspired Russell to rethink his ideas about painting.  He loved the churning seas, spectacular storms and changing qualities of the light.  Following his marriage in 1888 to Marianna Mattiocco, a former muse and model for his friend Auguste Rodin, the couple moved permanently to the island and set up an artists' colony.  In 1889 Russell and Monet held a joint exhibition in Paris of their Belle Île paintings.
In 1897 and 1898 Henri Matisse visited Belle Île, and spent time with Russell.  Matisse's style changed visibly after his stay on the island and said that "Russell was my teacher, and Russell explained colour theory to me."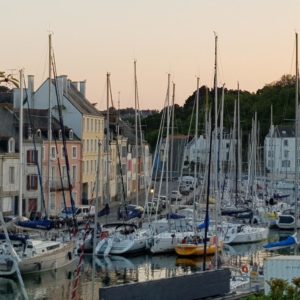 With its great diversity of landscapes, interesting history, beautiful scenery and ease of access, Belle Île is a great addition to an exploration of Brittany—one of the most fascinating and varied regions of la belle France.
As a happy coincidence to our recent visit to Belle Île :  The Art Gallery of NSW has a new exhibition starting 21 July and running until 11 November, titled 'John Russell: Australia's French Impressionist' .  Of course, if you're headed to Paris, make time to visit to the Quai d'Orsay, where you can see a number of Russell's paintings in the permanent collection.