BEFORE VERSAILLES THERE WAS VAUX-LE-VICOMTE – TRAVELS WITH YOUR NAVIGO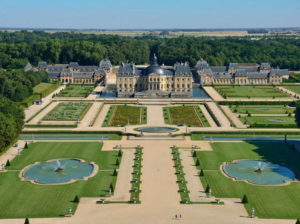 As discussed in a recent blog, there are many exciting possibilities for exploring Paris and its regions if you're armed with a Navigo travel pass.  The 17th century masterpiece Vaux-le-Vicomte is just one of 100 châteaux about an hour or less from Paris, many of which are open to the public.  A Navigo pass makes a visit to this magnificent château easy to achieve.
Vaux-le-Vicomte was inaugurated with great fanfare and pomp with a grand fête and  dinner for the Court and royal family.  The lavish festivities concluded with a spectacular fireworks display—introduced by a giant whale full of fireworks on the Grand Canal—in the presence of the Sun King, Louis XlV.  The magnificence of the celebrations caused the envious king to arrest the owner, his Superintendent des Finances, Nicolas Fouquet, soon after this extravaganza.  He was charged, among other things, for being too ambitious, and accused of funding the works through the misappropriation of public funds.  The real cause for offence though was daring to own a palace that outshone any royal residence at that time.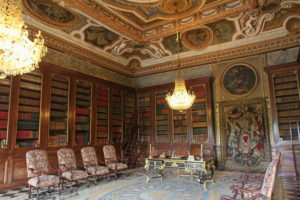 Standing at the confluence of two rivers, the original, small château was purchased in 1657 by Fouquet, an avid collector and patron of the arts.  He commissioned three of the most talented people of the day, the architect Louis Le Vau, the painter and sculptor Charles Le Brun and the landscape designer André Le Nôtre.  The resultant château was elegant, refined and dazzling.  It became a drawcard for many great creative figures of the time such as La Fontaine, Molière and the great tragic dramatist, Corneille.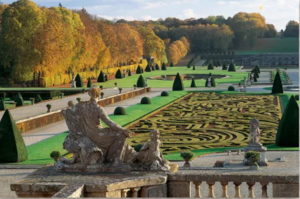 The awe-inspiring but fateful fête on 17 August 1661 was also the occasion of the debut of Molière's ballet-comedy 'Les Fâcheux'—'The Impertinents'—perhaps a prophetic title in the light of events that soon followed!  The whole impressive event had been designed by Fouquet to flatter the king, but as it turned out, the plan backfired.  Instead, Fouquet was imprisoned for life, and his official post went to his great rival, Colbert, who had orchestrated Fouquet's downfall.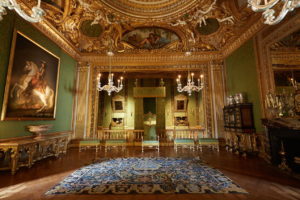 The admiration and adulation showered on Fouquet after the fête was a bitter blow to Louis' self-esteem.  In revenge after Fouquet's arrest, Louis confiscated much of the interior decoration, including 120 tapestries, rugs and statuary, as well as numerous orange trees.  In a backhanded acknowledgement of Fouquet's unique achievement, Louis immediately commissioned the same team of designers, builders and craftsmen to come up with a much larger, grander project, the palace and gardens of Versailles.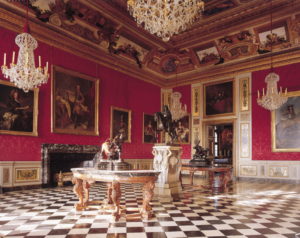 Although Vaux-le-Vicomte is still privately owned, visitors can enjoy this exquisite jewel of 17th century Baroque architecture, restored to its former glory with its wonderful collection of furnishings, artwork and décor.  The beautiful gardens and fountains alone are reason enough to visit.  The availability of electric golf carts for hire means the 33 hectares of formal French gardens are accessible to every visitor.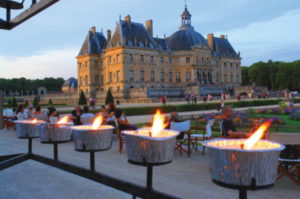 Candlelit visits are available every Saturday evening from May to October, when over 2,000 candles light the interior.  During these Saturday candlelit evenings, for an extra 24€ visitors can enjoy a glass of champagne and nibble on macarons while relaxing in canvas chairs at the outdoor bar. You can also dine outdoors by candlelight between May and October, twith 3 course menus starting at around 60€.
Just as an aside:  in 1979 the château featured in the James Bond film 'Moonraker'.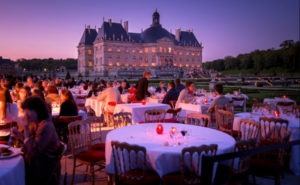 Vaux-le-Vicomte is located in the departement of  Seine-et-Marne.  From Paris Gare de l'Est, take the direct train on Line P, direction Provins, get off at Vermeuil-l'Etang, and take the château's shuttle bus from the station.
NOTE: The château is closed from January to mid March, although it is open during December when spectacular Christmas festivities take place.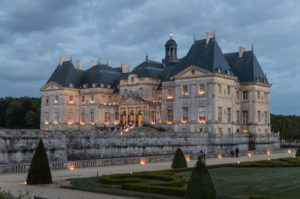 Voltaire summed up the fête, said to be one of the finest fêtes of the 17th century, thus:  "On 17 August, at six in the evening Fouquet was the King of France: at two in the morning he was nobody."