Your Paris SALES Battle Plan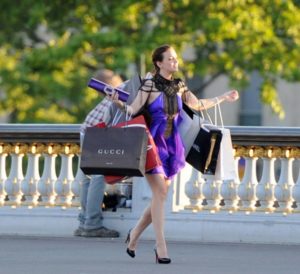 To make the most of your sales shopping, you need to plan your strategy like a military operation.
Paris offers so much more than the Big Three department stores—Galeries Lafayette, Printemps on the Right Bank, and my personal favourite, Bon Marche on the Left Bank.
Knowing which Paris districts offer the sort of fashion you're interested in will help you focus and save valuable time.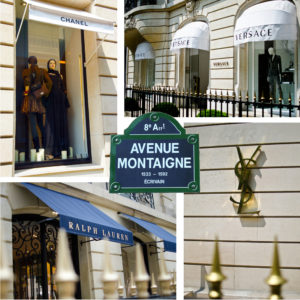 The 'Golden Triangle' of Rond-Point/Champs-Elysees, ave. Montaigne, ave. Georges V offers the top haute couture and ready-to-wear luxury fashion—Louis Vuitton and the gang.  If this is your fashion Nirvana, you'll also need to check out the Faubourg St. Honoré from one end to the other.
The Palais Royal is often forgotten by visitors, but here you will find Stella McCartney, Jimmy Choo, Christian Louboutin—need I say more?
You also won't find too many tourists in the delightful rue de Passy in the heart of the 16th arr., another home of very chic classic and casual BCBG (Bon Chic, Bon Genre, i.e., "well bred", the French equivalent of an English 'Sloane Ranger').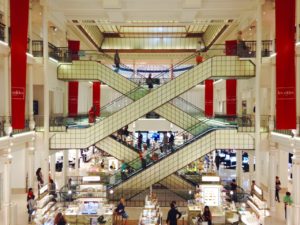 Saint Germain des Pres, 6th arr., but also including Sevres-Babylone area on the edge of the 7th arr., has all the chi-chi upmarket designer boutiques that you see in any international airport and big city.  Don't forget the smaller streets though, which offer lots of local labels you won't find at home—such as rue du Cherche Midi, around the back of the beautiful Hotel Lutetia, a block or so from Bon Marché, the chic-est of the Paris department stores in my opinion.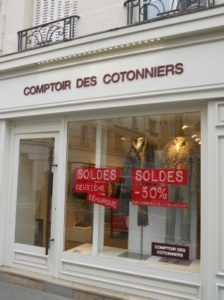 The Marais (both the 4th and 3rd arrs.) has masses of hip and avant-garde boutiques, many of which you may not be familiar with, but also the universal labels of Cos and Uniqlo.  Explore streets such as rue des Rosiers, rue des Francs-Bourgeois and rue du Temple.  Some shops to check out: The Kooples Sport, Suite.341, Erotokritos, and the fair trade concept store, Merci—these last two are in the 3rd arr.
If more cutting-edge or even vintage fashion is your passion, then you need to explore the village atmosphere and BoBo spirit (Bourgeoise Bohemian) of So-Pi (South of Pigalle), starting around the rue des Martyrs which links to 9th arr. and Montmartre.  Check out Chezelle, Chiffon & Basile, shoe and handbag designer Karine Arabian, as well as L'Oeuf for costume jewellery.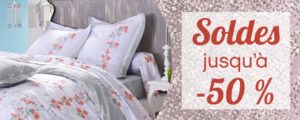 It's not just fashion that goes on sale.  Anything that has a price-tag, across every category goes on sale, from furniture, cosmetics, home decor, hardware—everything.  Exquisite French bed-linen that normally carries a heart-stopping price tag suddenly becomes affordable (tip: know your bed linen sizes in centimetres).  If you're heading straight home from Paris, it's no great stretch to imagine how such luxuries can lie very nicely on the bottom of the suitcase…
Lastly, don't forget to collect your receipts at the end of each day in each store and head to their De-taxe department for your tax refund form.  Look on this as another price reduction!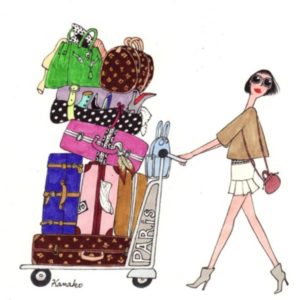 So, if you're heading to Paris with serious shopping in mind, plan your dates around Les Soldes, and bring an empty suitcase—or buy a spare at a great sale price!