WHEN SHOPS TRANSFORM INTO 'CONCEPT' STORES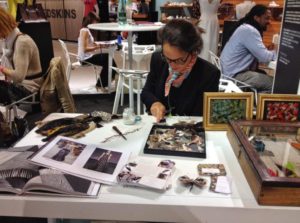 Paris has long been famous as a world capital of fashion and design, but it is also a city with a wealth of exciting design concept stores bursting with products unique to France.  It's a country and a society with a history of commitment to artisan craft skills, a deep appreciation of the handmade object, innovative use of natural materials and the creative expression of the individual artist or designer.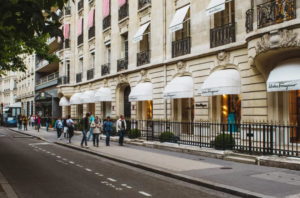 When one thinks of French design, probably the first things that spring to mind are the great fashion houses of Chanel, Dior, YSL, Louis Vuitton and others of that ilk.  But the French themselves are more inclined to gravitate towards lesser known names, individual designers with perhaps only one or two small retail stores, and a different take entirely on fashion and décor to that of the internationally famous brands.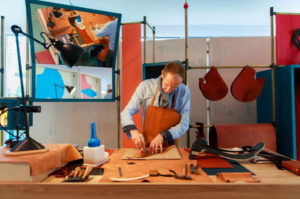 They will seek out unusual, even quirky, objects for their homes, or fashion items that say something about them as individuals rather than just as a consumer.  This attitude, in turn, encourages the emergence of new talent as well as a respect for established artisan craftspeople that only produce limited quantities of pieces that would probably be regarded as unviable or economically marginal in other societies.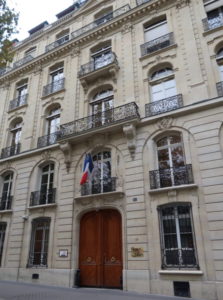 There is an organisation in Paris, the Chambre de Metiers et de l'Artisanat de Paris (CMAP), which has been set up to assist various players in the craft industry, including apprentices, craftspeople and future buyers.  Its mission is to represent, promote and defend the interests of 47,000 Parisian artisans and to promote the development of Parisian craft companies.  They offer administrative, logistical and legal support at every stage of the professional life of artisans in apprenticeships, business creation, training, economic development and business succession.  The increasing number of concept stores that have opened throughout the city in recent years is a natural extension of this support.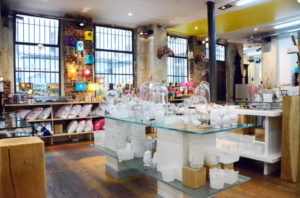 By "concept store" I mean a retail shop that goes beyond simply selling products, as I've already suggested.  Instead, a "concept store" focuses on offering a carefully chosen, even unique, range of products that suggests a certain theme or lifestyle that appeals to a certain audience or demographic—rather like a good magazine layout.  A "lifestyle store" can sell a wide variety of product categories under a single brand, designed to associate that brand with a certain aspirational lifestyle.  In a concept store, merchandise is arranged differently to say, a department store or conventional store, with dissimilar products often displayed together.  From a retailer's perspective, creating successful "store theatre" requires a lot more skill and creative vision to pull it all together successfully.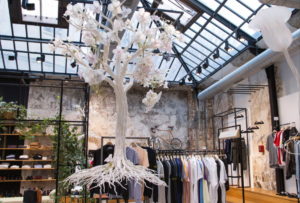 The range of products may include clothing, homewares, furniture, stationery, gifts and books, and many have an in-house café in order to enhance the appeal to a specific target audience.  Despite the popularity of online shopping stores, they cannot recreate the pleasure that comes from feeling and handling products before purchase.  A good "concept store" aims to cultivate experiences that simply can't be replicated online.  Having said that, these days the online and physical worlds often collide in concept stores, with intelligent product displays, interactivity and digital technology used to create a more personalised shopping experience.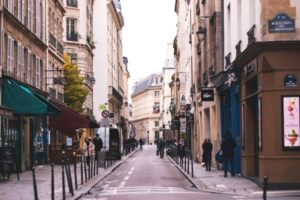 These special stores are usually not found on the grand boulevards or famous shopping areas where cashed up locals or tourists frequent.  Rather, they're in neighbourhoods where the locals hang out, where visitors probably wouldn't penetrate unless they've been given an address or recommendation by a local, or someone in the know.  These are locations you are sure must exist but are hard to find on your own, unless by sheer chance or a suggestion from someone who knows the city well.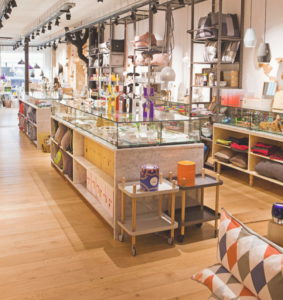 The Marais is a hub of arts and design in Paris, so it's not surprising that many of the best concept stores are in this neighbourhood.  When the archetypical concept store Colette closed its doors in 2017, loyal locals and visitors alike mourned the end of an era.  This shop, located in the 1st arr., was a Paris institution as well as a trailblazer in the world of concept stores, becoming the example that all others were measured against.  The name that now first comes up is likely to be Fleux.  This is not your average concept store.  A true Parisian favourite since its inception in 2005, Fleux is well worth a visit.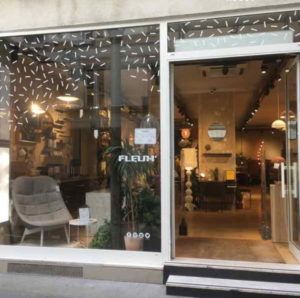 Set in the Marais, the heart of the city's art/design district, Fleux is made up of 6 different neighbouring boutiques, creating a veritable village of design.  Each one has a slightly different theme, offering carefully selected collections from a number of designers and artists.  From home furnishings and décor, to plants and fashion.  Fleux has you covered.  Take a stroll along rue Sainte-Croix de la Bretonnerie in the 4th arr., and shop to your heart's content.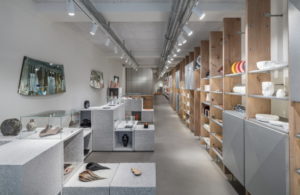 A little further along this street at no. 46 you'll come to À Rebours.  Housed in a 100 sq. metre space, the store is a showcase for unusual and quirky items from housewares to décor, books and gifts of all kinds.  Established by Lafayette Anticipations, a foundation set up by Galeries Lafayette dept. store, À Rebours is a self-described "outpost for conscious trade" and focuses on sourcing unique pieces, all of which are sustainably produced, many of which would not be possible to stock in a larger store because of the very limited numbers produced.  You'll find items you won't find anywhere else. metro:  Hotel de Ville.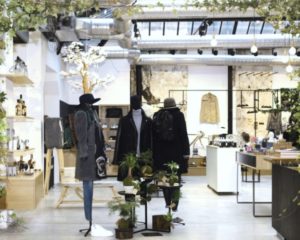 Archive 18-20 is a Parisian women's and menswear fashion label.  It's quite a young look that's somewhere between luxury and streetwear, between dressy and casual wear and even somewhere between masculinity and femininity—there's nothing conventional here!  You'll find excellent workmanship that avoids the rigour of tailoring.  Located behind the gate of an old Parisian building in a large, high-ceilinged space under a massive glass roof, you'll discover a selection of unusual, individual pieces by established and emerging creators, vintage objects and fashion, plus the almost-obligatory café.  Just behind BHV dept. store, and as its name suggests, the address is:  18-20 rue des Archives in the 4th arr.  Nearest metro:  Hotel de Ville, or simply stroll through the Marais, heading towards the Pompidou Centre.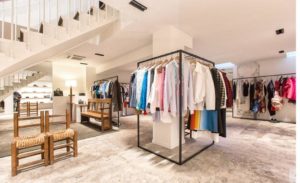 The Broken Arm, at 12 rue Perrée in the 3rd arr., in the Haut (upper) Marais, combines two of the most identifiably Parisian things under one roof:  delicious food and interesting fashion.  A destination for Parisian fashionistas, the décor of this chic concept store's décor is Scandinavian minimalism in order to focus on the merchandise:  exclusive pieces from the hottest designers catering for both men and women, along with independent magazines, books and edgy music.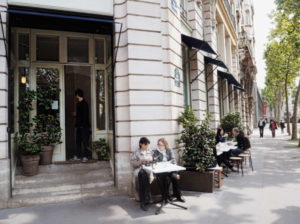 Their nice little café shouldn't be missed, as the food is very good and the atmosphere perfect for perusing your newly acquired books and fashion pieces.  Rue de Perrée runs alongside the Square du Temple.  Nearest metros:  either Filles du Calvaire or Temple.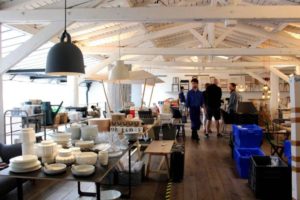 One of my favourite shops in Paris is Merci, at 111 Bvd Beaumarchais in the 3rd arr., which since 2009 occupies a redundant 19th century fabric factory.  It covers 1,500 sq.m. over 3 levels, with 10m high ceilings and flooded with light from its glass skylights, Merci has become one of the best-loved lifestyle stores in Paris.  Visiting Merci is rather like stepping into a magazine editorial—there's so much inspiration and discovery, whether for the home or ready-to-wear.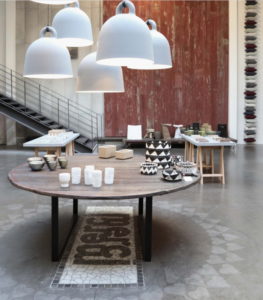 Products are chosen for functionality as well as their good design, mixing both unusual, high value objects with the ordinary or utilitarian, from vintage furniture to modern accessories by well-known and emerging designers.  The store is particularly known for their natural linen soft furnishings, table and bed linen etc., which fits with their company motto of "sustainable luxury."  There's also a 2nd hand bookshop in the café, perfect for relaxing and pondering some additional purchases.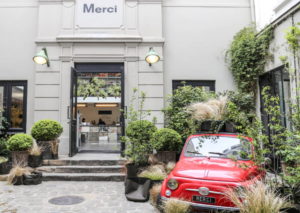 A nice thing to bear in mind is that a large percentage of the store's profits from sales are donated to a charity that educates socially disadvantaged women and children in Madagascar.  You know you've reached the right address when you see their iconic, bright red vintage Fiat parked out the front.  Nearest metros:  Saint Sebastien Froissart or Filles du Calvaire.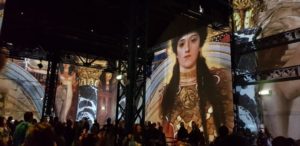 One district that is now attracting interesting individual designers and shops is the 11th arrondissement, particularly the Oberkampf area.  The incredible success of the brilliant L'Atelier des Lumieres that opened its first monumental digital art show in 2018, has been the catalyst for the neighbourhood to undergo a transformation.  To read more about L'Atelier des Lumieres, check out my blog post from 17.05.2018:  https://parisplusplus.com/paris/atelier-des-lumieres-the-new-digital-art-centre-in-paris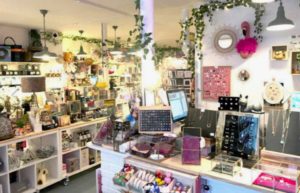 There are now cafes, art galleries, and small concept shops such as Bonjour Concept at 92 bis rue Jean-Pierre Timbaud, just a few minutes from L'Atelier, which is full of fun and playful objects, decorative items and gift ideas from around the world, although most are 100% French and made-in-Paris products.  Nearest metros: Parmentier or Couronnes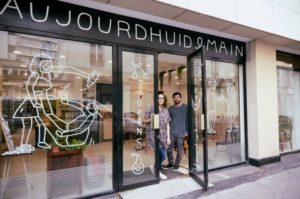 After a stimulating couple of hours at the latest show at L'Atelier des Lumieres, you'll be in need of a little sustenance.  An interesting option nearby is Aujourd'hui Demain, France's first vegan concept store.  Opened by two young entrepreneurs in 2016 with the help of a crowd-funding campaign, it's firstly a café, but as well has an épicerie (deli), patisserie, groceries, stylish fashion, including non-leather shoes, and natural beauty products—all vegan.  A veritable animal-lovers' haven, where everything sold or prepared is 100% vegan, so no animal products nor anything tested on animals.  They also have a good selection of food and lifestyle books.  Located at 42 rue du Chemin Vert.  Nearest metros: Richard Lenoir or Saint Ambroise.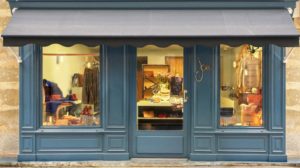 Right in the middle of Paris in the 2nd arr., a stone's throw from the Palais Royal in the Montorgeuil area, is Joée, a lovely boutique with a limited selection womenswear from individual French designers with their own handwriting, all well-made and in top quality fabrics such as linen, silk, cashmere and fine wool, produced in small numbers and the occasional one-off, that you won't find anywhere else.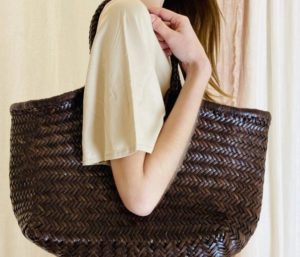 They have great accessories such as great bags by Dragon Diffusion, shoes, scarves, and a selection of jewellery, especially the collection by Perrine Taveniti.  Address:  69, rue d'Argout.  Nearest metro:  Sentier.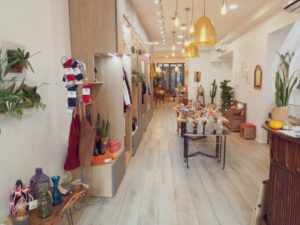 In the same neighbourhood at 216 rue Saint Denis you'll find Les Boudeuses.  Something of an Aladdin's cave, this concept store devoted to women has the lot:  interesting French fashion labels and accessories, beauty counters, perhaps a manicure, shop for ultra-trendy home decor pieces, a very pleasant café where you can get anything from breakfast, lunch, to an aperitif, or maybe a meditation or yoga class, a wine tasting or mini concert.  As an aside:  just across the street is one of Italy's best-known fashion stores, Rinascimento.  Nearest metro:  Sentier.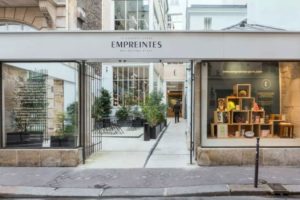 If you'd love to find some interesting French-made décor pieces to take home, head to Empreintes (footprints/impressions).  This highly regarded concept store stocks finely crafted items, all handmade, individual one-off or limited editions made by French craftspeople in their workshops.  Located at 5, rue de Picardie in the Haut Marais (3rd arr.), this street connects the busy rue de Bretagne to the shopping alleys and streets surrounding the lively Carreau de Temple.  Contrary to standardised commercial enterprises, dedicated to the never-ending "always more, and faster" motive, Empreintes takes a different perspective, inviting you to take time to discover the handcrafted objects.  Explore each "shop within the shop", which highlights each fine craft category, from the jewellery boudoir-like space to great dressers displaying tableware.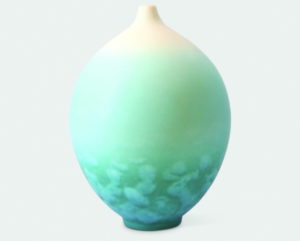 In the late 1930s, the building was the premises of the Woloch family.  On the ground and first floors were the workshops, while the 2nd and 3rd floors were the accommodation of the Woloch family, renowned for their expertise in chiselling, hammering and crafting precious metals, who became the jewellery partners for Chanel.  The building was empty by 2008, and in 2016 it was purchased by Ateliers d'Art de France, the professional fine craft federation.  Today, its four floors feature tableware, lamps, jewellery, décor items, figurative pieces and sculpture that are all handmade by the members of the federation.  Nearest metros:  Arts et Métiers or Filles du Calvaire.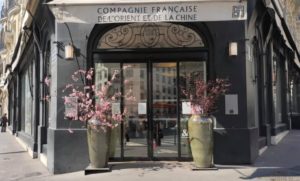 One outstanding concept store that always draws me in if I'm in the neighbourhood is Compagnie Française de l'Orient et de la Chine.  Owned by a Parisian real estate developer and art patron, this sleek, elegant shop merges the best of Asian craftsmanship with Parisian chic, all put together by a couple of young French and Asian designers and craftspeople.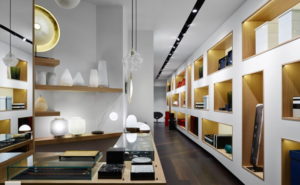 There's a beautiful collection of tableware, household linens, lighting, furniture, stationery and jewellery using traditional celadon, lacquer, Vietnamese embroidery, wood, ceramic and porcelain.  You'll see massive French timber dining tables, smart black-lacquered chairs, calligraphy scroll wall-hangings, huge celadon and ceramic pots, and divine cushions, all individually designed and crafted for the shop.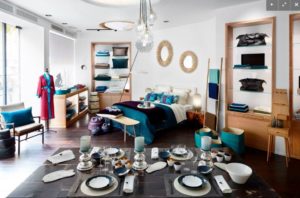 This is a unique concept in Paris, where East meets West in a beautiful fusion of fine craftsmanship and design.  It's unusual that such stores are located on major boulevards:  10, Bvd Raspail, cnr. rue de Grenelle, 7th arr.  Nearest metro, Rue du Bac.  There is another branch of this store at 170 Bvd. Haussmann in the 8th arr., nearest metro, Saint-Philippe-du-Roule, but I've always preferred the store on Bvd. Raspail, for no reason other than convenience and neighbourhood appeal.
There's such a wealth of shopping opportunities on offer in Paris.  So when you're in the mood for a little retail therapy yet feel you'd like to explore something beyond the usual suspects, you now have some great options to check out while discovering perhaps parts of the city you mightn't have ventured to before.
The vision of the incredible Colette, the first and probably still the best concept store in Paris, which sadly closed two years ago, was "to always be new, fresh, surprising and streets ahead of the rest".  It's an aim all other concept stores try to emulate, to the continued delight and sensory stimulation of us, their customers!