RUE OBERKAMPF – A VIBRANT PARISIAN NEIGHBOURHOOD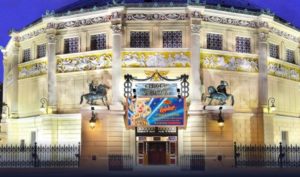 Beyond the iconic Place de la Republique—where Parisians gathered in their thousands after the 2015 attacks on their city—is a fascinating network of streets crammed with some of the city's hippest venues, chic bars, great bistros, old craft workshops and up-and-coming designer boutiques.  In Paris' 11th arrondissement, rue Oberkampf and the streets around it offer an interesting mix of all of these, plus an increasing number of high-end food shops and any number of art galleries.  Located between Le Marais and Menilmontant, this is a young, dynamic district that has become one of the capital's liveliest areas.  It's a neighbourhood that is still incredibly local and not bombarded by tourists trying to take the perfect selfie in front of a great monument!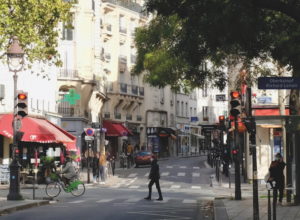 A suggestion for discovering some of the most interesting streets in Paris is to explore the "rue-faubourgs" (suburb streets), former streets that led from the city centre to its exterior gates.  These are the arteries through which Parisians had to pass to enter or exit the city and have always been the commercial arteries in which many labourers, craftsmen and small businessmen settled down.  On these roads and the little side streets that branch off them, modest workers drew on the landscape of these areas, which you can still see today, despite the inevitable changes brought about by modern life.
One such area is the Oberkampf district, accessible by the metro station of the same name.  If today rue Oberkampf is a destination, for centuries it was mostly a means of getting somewhere else.  For over 300 years it was known as the Chemin de Menilmontant—"the way to Menilmontant"—stretching from the Temple quartier in Paris up to this hilltop village.  It was only after Menilmontant and neighbouring Belleville became part of the capital in 1859 that the street got its own name in 1864.  It was named after Christophe-Philippe Oberkampf, an 18th century industrialist whose cotton printing factory in Jouy-en-Josas invented the fabric toile de Jouy.  By the 19th century, the street had indeed become industrious, teeming with shops and packed with metal and leather workers.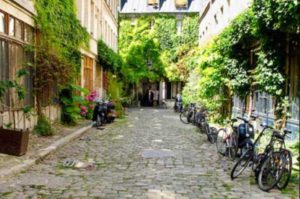 Today, if you step off the metro at Menilmontant onto Bvd de Belleville and turn down rue Oberkampf, you will soon discover the vestiges of this busy, industrial past.  At no. 154, an opening in a building will draw you into a cobblestoned passageway leading into la cité Durmar.  Originally a lane lined with market gardeners, over time the little houses the farmers built next to their plots became workshops for craftspeople.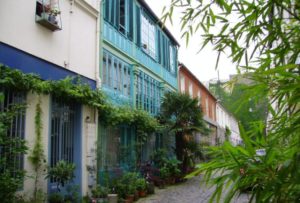 A little further along at no. 104-106 is another remarkably well preserved passageway, cité du Figuier, with its stone culvert running down the middle and its 19th century buildings where workers lived and worked.  Note that cité in this instance means "dead end".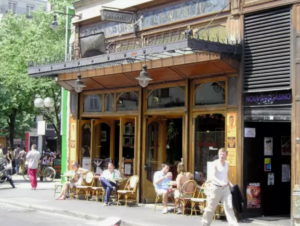 Many locals would've spent some wild evenings during the Belle Époque just across the street from here at the Café Charbon, at no. 109.  Founded in 1863, this magnificent café still boasts its original décor with mosaic floors, zinc bar and wall paintings and is now very much an Oberkampf institution.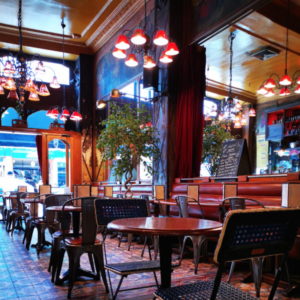 Rue Oberkampf stretches more than a kilometre from Bvd des Filles du Calvaire up to Bvd de Belleville, but it was just north of rue Saint-Maur, that its transformation into one of the city's trendiest streets began in the 1990s.  Artists, architects and other creative types began moving into abandoned industrial workshops and rehabilitating historic sites like la Cite du Figuier.  Café Charbon became the focus of Oberkampf's nightlife once again, attracting patrons from across the city.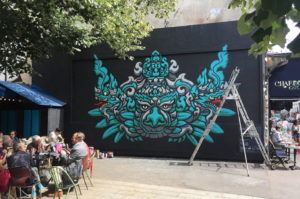 The southern wall of Café Charbon, overlooking the verdant café patio of La Place Verte, at no. 105, was soon appropriated by two French street art pioneers for a project dubbed le M.U.R., (Modulable, Urbain, Réactif) where new artists continue to paint fresh murals every month.  In 1992, restaurateur Michel Picquart and chef Olivier Gaslain opened Le Villaret at 13 rue Ternaux, a quiet street parallel to rue Oberkampf, transforming the Oberkampf neighbourhood into a foodie destination.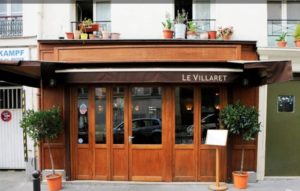 At the same time, across the city chef Yves Camdeborde acquired La Regalade in the 14th arr.  Soon, that restaurant and Le Villaret invented a new kind of dining.  "At that time, there were either Michelin-starred gastronomic restaurants or the ubiquitous brasserie, but between the two there wasn't much," recalls Gaslain.  "So we filled that void with bistronomie,"—a contraction of bistrot and gastronomie.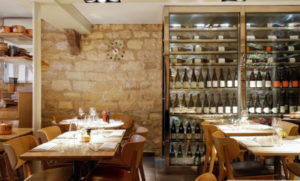 They have since inspired a wave of small restaurants offering cuisine using ingredients worthy of three-star restaurants yet at affordable prices.  Gaslain says that "bistronomie is about more than food, it also connotes a kind of conviviality, a bit like the bouchons of old in Lyon—when the restaurant fills up there's a unique ambience that permeates the room that people never seem to get enough of."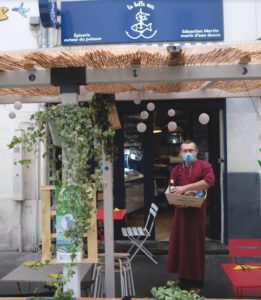 With younger, more affluent residents moving into the former working class area, it has become a real gastronomic destination, with many high-quality food addresses.  The old axiom 'know your customers' may be a cliché, but in Oberkampf entrepreneurs are transforming their businesses to meet the needs of an evolving clientele.  Take La Belle Mer on the corner of rue Jacquard and rue Oberkampf, which has revolutionised the traditional fish shop by offering not only fresh, sustainably-sourced seafood, but also a takeaway menu of prepared dishes, from lobster rolls to moules-frites.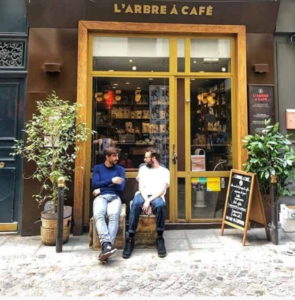 Other shops echoing the same sentiments about the nature of food is L'Arbre a Café, importers of grand cru, biodynamically farmed coffees, which opened at 61 rue Oberkampf in 2019.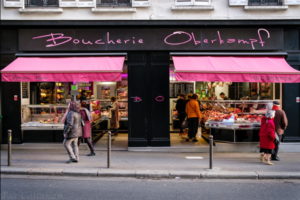 In the same vein are the butcher La Belle Bête at no. 59, and the bakery French Bastards at no. 61, plus other newcomers.  These businesses are working to sustain neighbourhood life and allow residents to do all their shopping in shops that stand for both quality and eco-responsibility.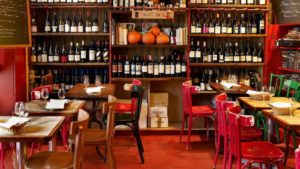 More great food shops to look out for include La Cave Verre Volé, at no. 38 rue Oberkampf, that stocks one of the finest collections of natural wines in France.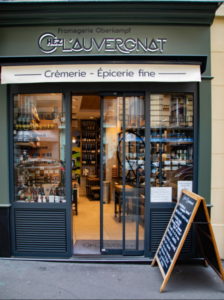 Chez l'Aubergnat is a cheese shop founded half a century ago at no. 60, now run by a second-generation fromager, which sells perfectly ripened cheeses, wines, charcuterie and prepared dishes that celebrate the best of French terroirs; and Boucheries Francis at no. 82, that offers superlative cuts of heritage breed pork, lamb and beef, and the finest French-raised Wagyu, all individually preserved in vacuum-packs.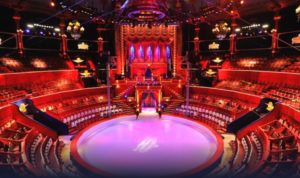 Although the 11th arr. doesn't have many recognisable landmarks other than Place de Bastille, it does however include one of the most famous buildings in Paris, namely Le Cirque d'Hiver-Bouglione (the Winter Circus), at 110 rue Amelot, at the intersection with rue des Filles Calvaires.  Every winter, this listed Historic Monument hosts famous traditional circus shows, exhibitions of dressage, concerts and other events including exhibitions of Turkish wrestling and even fashion shows.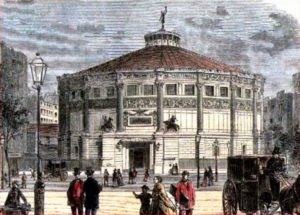 It was opened by Emperor Napoléon III on 11 December 1852 as the Cirque Napoléon, and renamed Cirque d'Hiver in 1870.  It's an oval polygon of 20 sides, with Corinthian columns, and exterior bas-reliefs of Amazons depicted as mounted warriors.  Henri de Toulouse-Lautrec repeatedly found inspiration in rehearsals and performances at the Cirque d'Hiver, and Georges Seurat painted an afternoon performance, with a distinctly middle-class audience.  This painting, titled 'The Circus', can be seen in the Musée d'Orsay.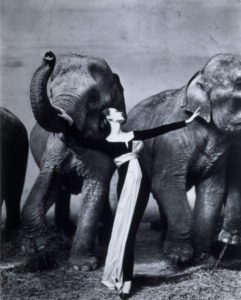 In August 1955, photographer Richard Avedon took his famous photo of the American supermodel Dovima, with the circus elephants—'Dovima with the Elephants'—to show a floor length black evening gown by the House of Dior, which became one of the most iconic fashion photographs of the century.  The gown was the first evening dress designed for Christian Dior by his new assistant, Yves Saint-Laurent.  The original photo sold for well over US$1 million in 2010, and a copy of it can be seen in the Victoria & Albert Museum, London.  The 1956 film 'Trapeze', directed by Carol Reed, was filmed in part at the Cirque d'Hiver.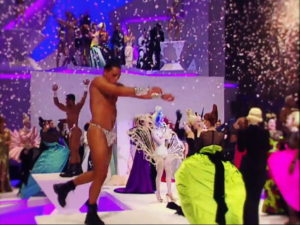 In 1995, Parisian designer Thierry Mugler held a special fashion show at the circus, to celebrate his company's 20th anniversary. Performers and special guests included James Brown, Tippi Hedren and many of the decade's top supermodels, including Naomi Campbell.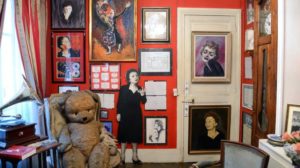 Not far from rue Oberkampf, over at no. 5 rue Crespin du Gast, stands the little Édith Piaf Museum.  Based in an apartment in the district of Ménilmontant, where the singer lived for a time, you can see personal objects and other memorabilia relating to the much-loved singer of 'La Vie en Rose'.  The Museum is open only by pre-booking, so check the website.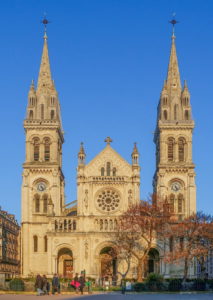 The Église Saint-Ambroise is the main church attraction within the Oberkampf neighbourhood.  In terms of scale, it isn't as grand as Notre Dame or the Sacre-Coeur Basilica, but with its elegant 68m high twin towers and ornate interior, it is still incredibly beautiful.  Located at 71 Bvd Voltaire, on the corner of rue St Ambroise, it was built between 1863 and 1868, shortly after the construction of the new Bvd du Prince-Eugene, which was later renamed Bvd Voltaire.  It replaced a church called Notre-Dame de la Procession.  On 18 March 1996, the church was occupied by about 300 African immigrants who demanded regularisation of their immigration status.  After 4 days, the group was ordered to leave by the authorities.  A similar situation arose at the Église Saint-Bernard in the 18th arr.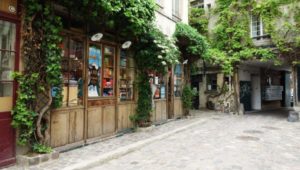 One of those hidden gems that you'd miss unless someone mentioned it to you is Passage l'Homme, which remains one of the best kept secrets of the Oberkampf district.  On rue de Charonne between a bookshop and a café, there is a gap in the wall where you can enter the Passage l'Homme.  It is 122m long, and although it is surrounded by some rather noisy streets, once inside, the space is entirely calm.  All you can hear are the tapping of feet on the cobblestones and the occasional squeak of a window pane from the apartments above.  Residents of this little passage put an effort into maintain a range of plant life down on the street, which creates a most delightful ambience.  During the Middle Ages, local craftsmen preferred using these little private roads for their work as they found the main streets too chaotic.  Over time, the passages became more residential, and locals sought properties here because of their peace and quiet, compared to the adjacent main streets.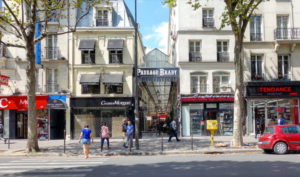 Paris meets India at Passage Brady!  This little treasure trove is in the heart of the Oberkampf district.  Built in 1828 by a merchant named Brady, this is one of the rare Parisian arcades composed of two parts which are separated by Bvd de Strasbourg.  Originally, it was a covered passage with an elegant rotunda to compensate for its irregular design, but in 1854 the passage was split in two by one of the busiest Parisian streets, Bvd de Strasbourg.  The Art Nouveau inscription with the name of the passage at the entrance is the only reminder of its original form.  Today, on one side the arcade is covered by an ornate glass roof, and on the other it is open to the sky.  The Passage Brady has been listed as a Monument Historique since 2002.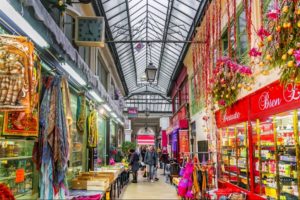 A visit to Passage Brady is a visual, sensory and aromatic delight.  In 1973, Antoine Ponnoussamy, an Indian from Pondicherry on India's east coast, opened the first Indian shop 'Supermarket Bazar Velan', and soon after, many other Indian shops and restaurants followed his example.  Commonly referred to as Little India, it's home to numerous Indo-Pakistani, Bangladeshi, Mauritian and Reunion businesses.  People come here to eat authentic Indian food, buy fragrant spices, special teas, incense, religious statues, colourful saris, the latest Bollywood movies and even to hire colourful costumes!  As there aren't many signs to it, the Passage is not very easy to spot, but it is accessed either via 22 or 33 Bvd de Strasbourg or 43 rue du Faubourg Saint-Martin (for the open-air section).  Metros:  either Château d'Eau (Line 4) or Strasbourg-Saint Denis (Lines 4, 8, 9).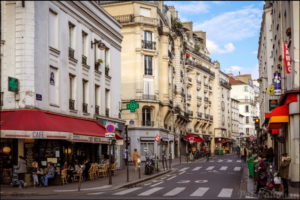 With creativity and an avant-garde sensibility, a new generation of entrepreneurs and artisans have led the renaissance of this former working class neighbourhood, while still managing to preserve many of the old, traditional crafts and food businesses.  The area has had a new lease of life with the injection of enthusiasm from these new enterprises that have ensured the rejuvenation, and therefore a viable future, of a most interesting quartier that most visitors have never even heard of.