The Road To Gastronomic Heaven In Paris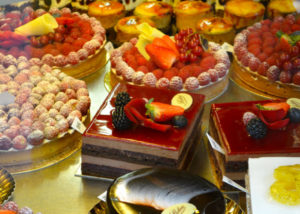 Whenever we're in Paris, we love to explore some of the wonderful food areas of the city.  We're very fortunate that one of the best outdoor markets in Paris at Place Monge in the 5th arr. is right on our doorstep.
Rue Montorgueil  on the Right Bank has also long been a firm favourite.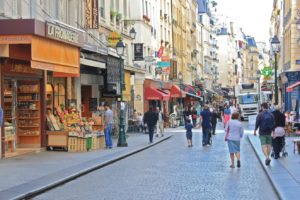 Extending from rue Reaumur in the north down to the Forum Les Halles in the 2nd arrondissement, this street has retained its food focus despite the closure in 1975 of the old central food market.  You can find an enormous variety of wonderful food—the dish Sole Normande was said to have been invented here in 1837.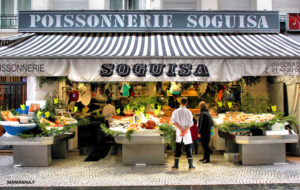 Seafood in particular had been famous for at least a century before the writer Honoré de Balzac wrote rhapsodically in 1843 about eating Cancale oysters in rue Montorgueil.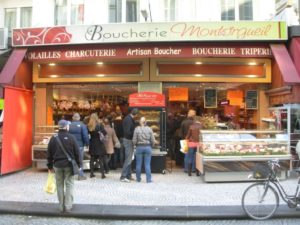 Then there's the vast array of the best seasonal fruit and vegetables, butchers, chocolatiers, enticing patisseries and boulangeries, as well as beautiful fresh flowers.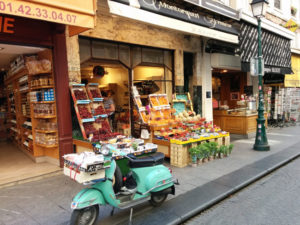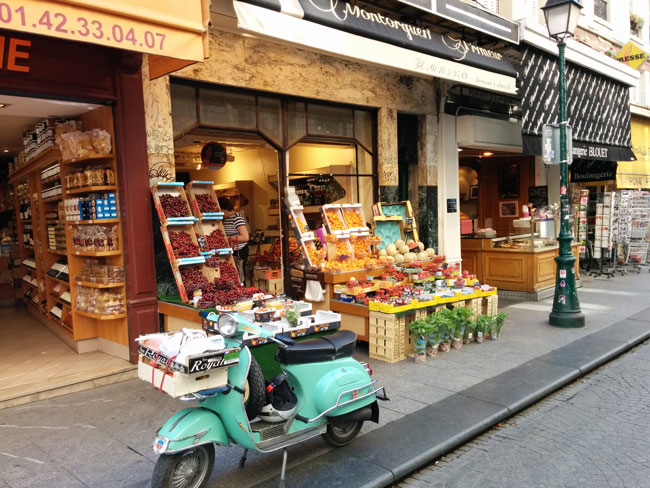 The street is also a mecca for gourmets and professional chefs sourcing supplies of pistachio paste, Breton butter, artisan cider, the finest foie gras from Périgord at Terroir d'Auvergne at no. 98.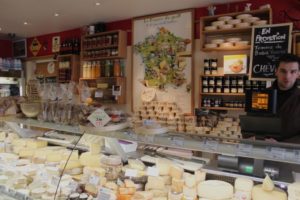 Perhaps search for a special cheese from La Fermette at no. 86.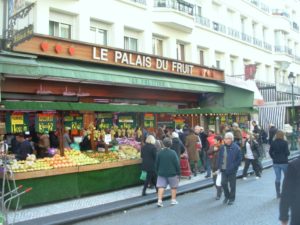 The highly prized first white asparagus of the season can be found at Palais du Fruit at no. 74.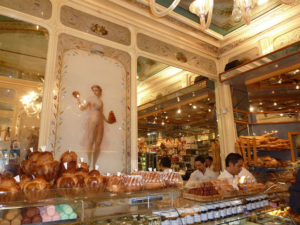 The patisserie La Maison Stohrer at no. 51 is reputedly the oldest in Paris having set up shop there in 1730, and said to be where the wickedly rich baba au rhum was invented—and don't miss the shop's beautiful ceiling.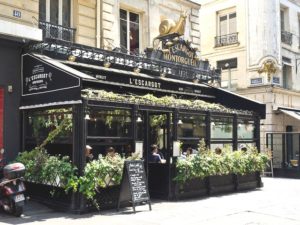 As well as these gastronomic feasts for the eye, there are any number of traditional brasseries and sidewalk cafes where you can sit and plan your next gourmet dinner from the enormous selection of treats available in rue Montorgueil.
Most shops are open every day, so plan a visit to the wonderful rue Montorgueil the next time you're in Paris and feel like a slice or three of gourmet heaven!
Nearest metro:  Sentier (Line 3). Metro Les Halles at the opposite end, and nearby Etienne Marcel (Line 4) are possible alternatives.