PASSY – WHERE QUIET VILLAGE CHARM MEETS CULTURE & LUXURY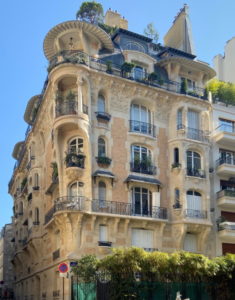 The 16th arrondissement of Paris is best known to visitors for its great landmarks and museums, from the Musée Marmottan-Monet, the Palais Galliera and Musée Guimet, to the Place de la Trocadero and the Palais Chaillot,  affording dramatic views of the Eiffel Tower on the opposite bank of the Seine.  But the 16th also has corners of quiet, residential areas that feel worlds away from the big-ticket attractions and the bustle of the city.  The Passy neighbourhood is one such place.  With quiet streets lined with handsome residential buildings, small museums, smart boutiques, pleasant market streets abuzz with top quality fresh produce, patisseries, leafy squares and parks, Passy has a quiet, understated charm that makes it one of the most desirable neighbourhoods in Paris.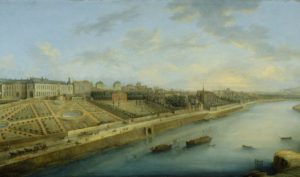 Passy is situated on the Right Bank of the Seine, southwest from the Place de la Trocadero and east of the Bois de Boulogne.  Once an independent village on the outskirts of Paris where quarry workers and timber industry labourers lived, and later, wine merchants, while in the 17th century it was prized for its hot springs.  A number of very upmarket spas were developed in the area catering to the wealthy and upper classes, not only within France but also England, since the English often rented homes in the area during the winter months. Today, it's home to many of the city's wealthiest residents.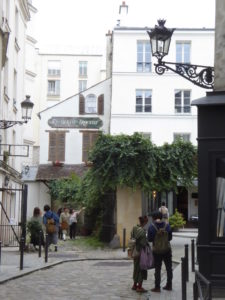 In 1860, the village was incorporated into Paris, along with a number of other neighbourhoods.  Nevertheless, the area's village origins can still be discerned on a walk around its quiet, pleasant lanes and streets.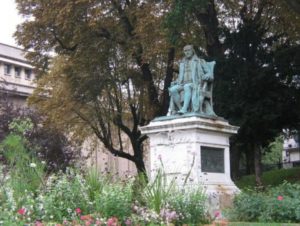 Several notable people have lived in Passy over the centuries.  The novelist Honoré de Balzac lived here for a few years, as did Georges Clemenceau, Italian composer Gioachino Rossini, and Benjamin Franklin when he served as Ambassador to France from 1776 to 1785 and he was followed by Thomas Jefferson who also served as Ambassador to France.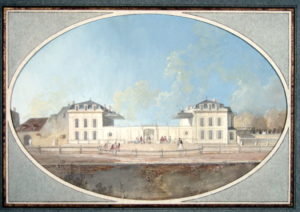 Passy was appealing partly because it was situated on a lofty hill and was an area known for its expansive gardens, beautiful parks and numerous châteaux where many eminent people resided.  Franklin was befriended by a very wealthy aristocrat named Jacques-Donatien Le Ray de Chaumont, who owned the Hôtel de Valentinois, formerly the estate of the Duc de Valentinois, and convinced Franklin to reside on his estate, rent-free.  This meant that Franklin living in Passy as the new ambassador would have a fully staffed mansion for himself and his family, and Passy itself was half way between the places he visited often—Paris and Versailles.  Note: the house that is on the site now is a later Haussmann-era building, despite the plaque stating that it was once Benjamin Franklin's residence.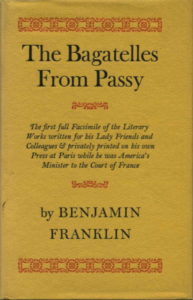 The house also contained a printing press that Franklin put to regular use to print leaflets, handbills, editions of 'Independent Chronicle' and numerous essays satires and a collection of humorous writings called 'The Bagatelles from Passy'.  He called it the Passy Press and developed a typeface known as "le Franklin".  When Franklin returned to America, the new American Ambassador to France, Thomas Jefferson, wrote: "When he left Passy, it seemed as if the village had lost its patriarch."  To this day, a street in Passy bears the name rue Benjamin Franklin.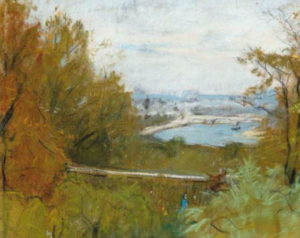 The painters Berthe Morisot, Camille Pissarro and Albert Gleize were also residents of Passy, and a prominent avant-garde salon called Les Artistes de Passy met in the neighbourhood during the early 20th century.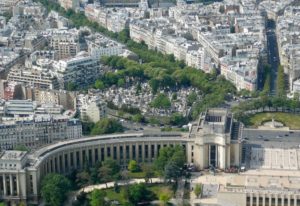 The Passy Cemetery is the final resting place for a number of prominent citizens, aristocrats and artists.  Covering 1.70 hectares, the current cemetery dates from 1821 and quickly became the aristocratic necropolis of Paris—and it's the only cemetery in Paris to have a heated waiting-room for mourners!  It's smaller than the more famous Pere Lachaise and Montparnasse, and replaced the old cemetery, which closed in 1802.  Sheltered by hundreds of trees, mostly chestnuts, the cemetery is in the shadow of the Eiffel Tower across the Seine, and is located just behind the Trocadero.  This quiet, peaceful haven is well worth a stroll, especially on a sunny day.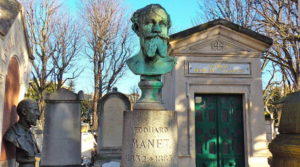 Famous figures buried there include composers Claude Débussy, Gabriel Fauré, Jacques Ibert and André Messager, artists Berthe Morisot and Édouard Manet, car manufacturer and industrialist Marcel Renault, Bao Dai, the last Emperor of Vietnam, fashion designers Jean Patou and Hubert de Givenchy, Jacques Guerlain, perfumer and creator of the House of Guerlain, and interestingly, some of the passengers and crew of the Titanic.  The main entrance is at 2, rue du Commandant-Schloesing.  Nearest metro: Trocadero (Lines 6 and 9).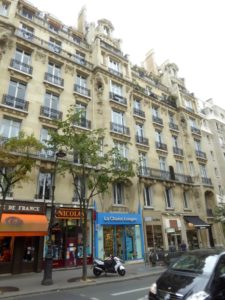 The main street is rue de Passy.  Studded with good shops, restaurants, and fine patisseries and boulangeries, it's perfect window-shopping territory, and a high fashion enclave catering to classic luxury.  Recently though, there has been an infusion of new shops tending towards younger, trendier designers such as Isabelle Zadig & Voltaire, agnès b, Un Jour Ailleurs, hip cashmere boutiques, Hircus and Kujten, and one of our favourite Parisian knitwear labels, Majestic Filatures at no. 42 (women) and no. 65 (men) rue de Passy.  At 53 rue de Passy is a small shopping centre, Passy Plaza, containing about 26 shops such as Uniqlo, H&M, Monsoon. Lacoste, Maje, L'Occitane and Zara Home.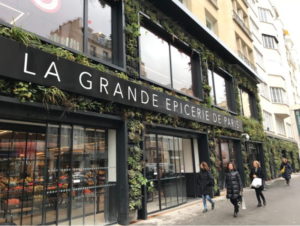 For something really special, there's a branch of Le Bon Marche's food store, La Grande Epicerie at no. 80 rue de Passy.  This is a true food heaven, with beautiful displays of the most delectable goodies imaginable, ranging from fruit and vegetables, meat, fish and exquisite patisserie and bread.  The basement has immense vaults filled with wines, and of course, cheese and ham to accompany them.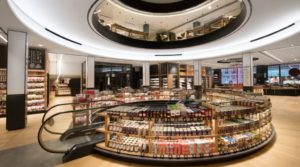 The first floor has a universe of sweet and savoury dried products, chocolates, pre-dinner snacks and exotic oils.  Outside, two floors of the building have grass-covered facades on rue de Passy and Avenue Paul Doumer, have been created from mint, thyme and rosemary and a range of other compatible plants.  Needless to say, there is an excellent in-house restaurant, Le Rive Droite.  Gastronomic heaven indeed!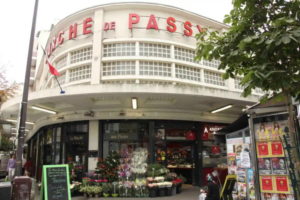 Locals are very well catered for with food.  Just opposite La Grande Epicerie there is a very good little covered market, the Marché Couvert de Passy, in rue Bois le Vent, just off Place de Passy.  The rounded entrance, dating back to the 1960s, belies that there has been a covered market here since 1855.  Upon entering, you are confronted with gorgeous flower displays, then you'll become aware of the smell of ripe cheeses, floating over from the cheese stand, Androuet, to your right.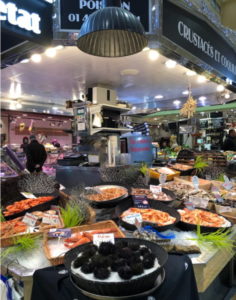 Vendors sell everything from wonderful seafood and meat, there's a Portuguese corner, an excellent charcuterie, an outstanding fruit and veg. stand called Maison Bertholin that sells black truffles from the Dordogne in the season, and of course, great bread.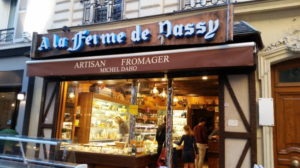 At the vibrant heart of Passy is a delightful, mostly pedestrianised street, rue de l'Annonciation, that runs off Place de Passy.  Lined with casual brasseries ideal for lunch, restaurants such as Michelin-starred La Causerie, patisseries and gourmet shops such as A La Ferme de Passy, artisan cheese shop.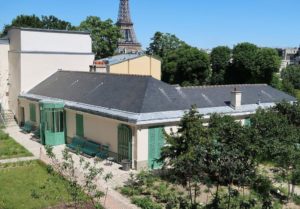 There are a couple of interesting museums in Passy to enhance your visit to the area.  At the western end near the Bois de Boulogne, at 47 rue Raynouard is Maison de Balzac.  Having fled his creditors, Balzac rented the top floor of the house from 1840-1847 under his housekeeper's name, M. de Breugnol.  The 5 room apartment was located on the top floor of 3 levels, and opens out onto the garden.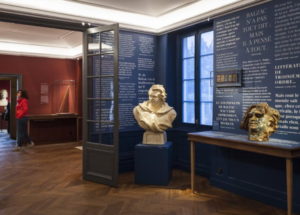 Here Balzac wrote 'La Comedie Humaine', and some of his finest novels.  Since 1971 the museum contains personal memorabilia, some furniture owned by Balzac such as his writing desk and chair, his turquoise-studded cane, as well as a library of the writer's manuscripts, engravings, books annotated and signed by Balzac, books devoted to Balzac and other books and magazines of the period. There are also illustrations, paintings and documents relating to his family and contemporaries.  Maison de Balzac is the only one of the novelist's Parisian homes that remains today.  The modest house, with its courtyard and garden is free to visit, although there is a fee for temporary exhibitions and events organised by the museum on themes relating to the writer.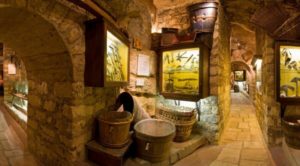 Not far from Maison de Balzac is another museum that many of us would consider an essential to add to our list of things to visit in Passy: the Musée du Vin located at 5, square Charles Dickens, open Tuesday-Sunday (closed Mondays).  It's tucked around a corner of an alley, so watch for the signs.  Built within limestone quarries from the Middle Ages that once served as cellars for the Minims monastery, the museum's underground collections hold more than 200 wines, as well as thousands of historical artifacts, including a massive set of machinery which was once used to produce cognac.  Information panels explain how reds, whites, rosés, champagne and cognac were—and basically still are—produced.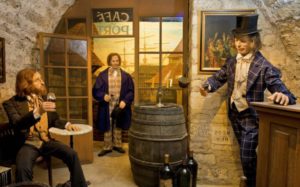 The museum pays tribute to generations of vintners, sommeliers, coopers and wine experts, while also displaying traditional and sometimes eclectic vintnering tools, many of which are no longer in use.  Continuing through the tunnels, mannequins simulate the tedious process of making the perfect bottle of champagne, and further along, visitors are also treated to wine chemist's box from the court of Versailles, which measured the alcohol content and richness before serving French royalty.  There's also a display of a pyjama-clad Balzac escaping from his creditors into the cellars from an exit of his house nearby, and a battlefield re-enactment depicting Napoleon's love of the great red wine Chambertin Grand Cru de Nuits la Côte.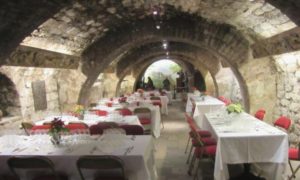 In the mid-20th century, the cellars of the museum were used to store wine for the nearby restaurant at the Eiffel Tower, and there's a display case with numerous glasses that were made in connection with the inauguration of the Tower in 1889.  After winding through various displays of wine openers, mock café settings and bottles from the 19th century, your palate is surely ready for the degustation (tasting) at one of the dark wooden tables underneath the arches of the cellars.  Wines are from the museum's own vineyard, Château Labastidié, near Florentin, just 13 kms from Albi in southwest France.  The tasting is accompanied by a three-cheese tasting plate, all for a very reasonable price.  The museum also conducts 2 hour wine-tasting classes that includes 5 wines and full guidance on how to identify and appreciate them.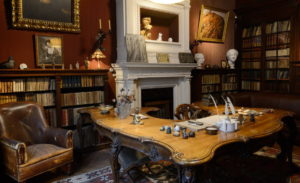 If you're interested in the early 20th century history of France, a visit to the Musée Clemenceau, 8 rue Benjamin Franklin, in Passy, would be a very rewarding experience.  A house museum since 1931, the apartment is where the great French stateman lived for 35 years until his death on 24 November 1929 offers an insight into the man and his times.  On the first floor, a documentation gallery presents numerous objects that retrace his life and work:  portraits, photos, books, journals, newspapers and manuscripts, but also the famous overcoat and gaiters that he used to wear during his visits to the Front during WW1.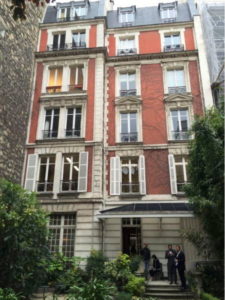 Georges Clemenceau, known as the "Tiger", was one of the politicians who had the most impact on the Third Republic, and was also a defender of Dreyfus in the infamous Dreyfus affair.  He was a prolific writer, a close friend of Claude Monet and a keen traveller until the age of 88.  His story is fascinating and multifaceted.  It's open afternoons 14.00hrs – 17.30hrs, Tues-Sat., closed Mon. & Sun., and during August.  There is a modest entrance fee which includes an audio guide (available in English).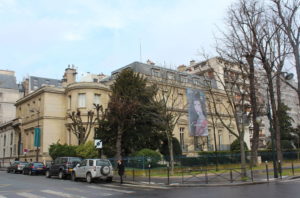 The most famous museum in Passy is of course the Musée Marmottan Monet, which houses the world's biggest collection of the works of Monet—including the landmark 'Impression, Soleil Levant'—but also other Impressionists, including Berthe Morisot, Degas, Pissarro, Sisley, but also Delacroix, Boudin, Gaugin, Rodin and Chagall representing the modernist period, to name just a few.  The museum itself is very beautiful, housed as it is in a magnificent townhouse with perfectly preserved Empire-style décor that was once owned by Paul Marmottan.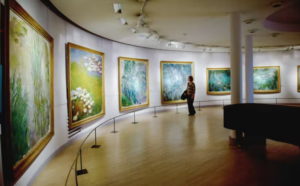 This is one of our favourite places to return to in Paris, even if there isn't a special exhibition to see.  Allow plenty of time as it is truly captivating and not a place to clock-watch or rush through.  For more comprehensive information about the Musée Marmottan Monet, have a look at my blog post of 16 May 2021, 'The Musée Marmottan Monet – A Little-Known Gem in Paris': https://parisplusplus.com/category/paris/paris-not-to-be-missed   It's easy to get to the museum.  Either take the metro to La Muette (Line 9), or alternatively, there are buses that stop close by—bus lines 22, 52 and 63 are all useful and the 32 stops right outside, on rue Louis Boilly.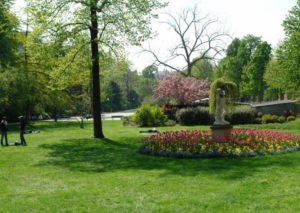 After the sheer pleasure of the Musée Marmottan Monet, a gentle stroll through the Jardin du Ranelagh directly opposite is the perfect way to end a visit to this very special museum.  The garden was started in 1860 during a period of the city's reconstruction and upheavals carried out by Baron Haussmann.  He named the garden after the English diplomat Lord Ranelagh whom he admired, and commissioned Jean-Charles Alphand, the main designer of the Parisian parks and woodlands during his regime to design it.  Covering an area of more than 60,500m, this leafy park and garden is a haven of greenery, with elegant pathways bordered by flowering plants, numerous species of trees and shrubs, ornate statues, including a group dedicated to Jean de la Fontaine, and playgrounds for children.  There is a puppet theatre, Les Marionnettes du Ranelagh, where shows are held on weekends and on holidays, and a carousel.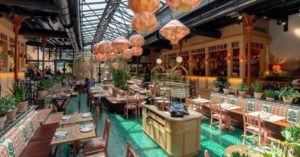 The streets bordering the park have the largest concentration of embassies and international institutions, including the OECD, in Paris.  If you exit the park at the Chaussee de la Muette aiming for rue de Passy, make sure you have a look at restaurant Andia.  Housed in a former railway station, it has an enormous glass-roofed dining area filled with plants and decorated with paper lanterns.  Specialising in Chilean and Asian-fusion cuisine, and although a little pricey perhaps, it's a very pleasant and relaxed place for a long lunch, to mull over your visit to the Marmottan Monet and a visit to Passy.