PARIS ON A PLATE: PLACE MONGE MARKET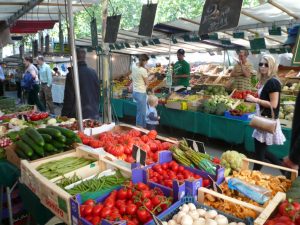 The numerous outdoor markets of Paris are one of the many reasons why we love coming to Paris!    If great food and the freshest produce are passions of yours too, next time you're in Paris, make sure to get to Place Monge on a market day.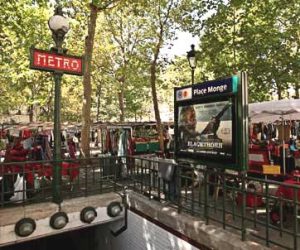 This friendly market is located in the Latin Quarter of the 5th arrondissement on the picturesque Place Monge, right at the metro station (Line 7).  Operating since 1921, the market is held three times a week on Wednesdays, Fridays and Sundays, with around 40 stalls gathered around the pretty fountain in the square.  Like most, but not all Parisian markets, it's a mornings-only affair, starting quite early, and by lunchtime everything is closing up.  Within a couple of hours the whole square has been hosed down, stall frames removed and visually returned to normal.
The Sunday market here is particularly popular, with Parisians coming from all over the city to buy the very best, freshest produce.  Many stalls are designated as organic (biologique or simply "bio").
Regulars have their favourite vendors, and we enjoy watching long queues form at particular stalls, while another which seems to sell identical produce, has just a handful of customers in comparison.
To our eyes, it all looks so fresh and appealing!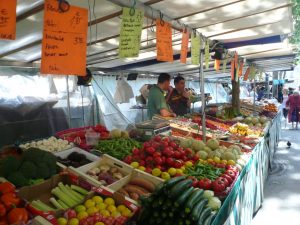 The weekend market at Place Monge forms one end of a delightful axis, linked by rue Mouffetard, one of the best food streets in Paris, with Sunday morning community singing and dancing down the hill in front of St Medard, our local Church, dating from the 16th century.
Although the market is mostly food, there are a couple of non-food vendors, selling anything from good value cashmere sweaters, fashion accessories and men's shirts to colourful straw baskets.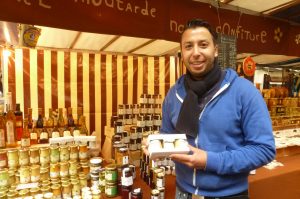 A regular vendor we always visit is a young Moroccan man, Tarik Assrir, who sells a range of delectable flavoured mustards—think Green Tarragon, Honey & Balsamic and Cassis, to name a few.  As well as regular sized jars, Tarik also has tiny pots for about 2€ each, which make perfect, very portable gifts and also provides an opportunity to try a new flavour without commiting to a large jar.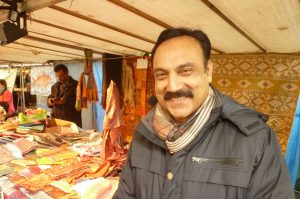 Another favourite stallholder is Salaria Gamaruddin who sells the most beautiful, incredibly well-priced pashminas and scarves.  These are not just for women, and he has many that are perfect for men—just ask us!  We joke with Salaria that we could set up business in competition!  Beautiful quality items that he imports from his hometown of Kashmir in India.
Both Tarik and Salaria are absolutely delightful people, who always greet us like long-lost friends whenever we're there.  It's one of the nicest aspects of being "part-time regulars".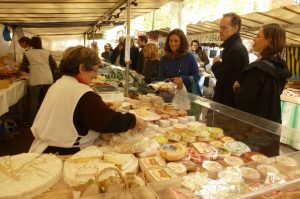 The market has only the best quality fruit, vegetables, artisan breads, cheeses, seafood straight from Normandy, fresh and freshly roasted poultry and a variety of meat—pre-cooked or ready for you to cook at home.  A number of these butchers also make their own sausages and charcuterie, offering terrines, pâtés, rillettes and ballotines—nothing out of a factory here!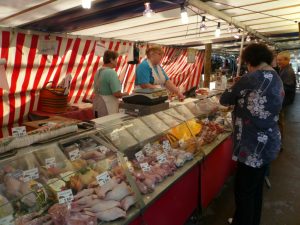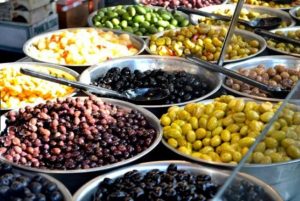 One stall sells only aromatic herbs, onions and eggs, while another offers about ten varieties of potatoes, yet another has a huge variety of marinated olives, herbs and spices.
With the delicious aroma of the Lebanese vendors who sell hot fatayer (the pastry triangles filled with cheese and spinach) and fragrant creamed garlic dip, or the poultry farmer from Brest carving roasted free-range chickens into segments, it's all impossible to resist.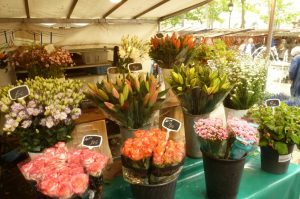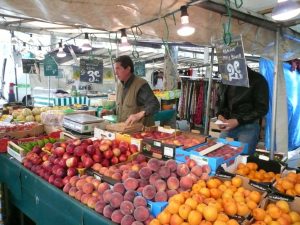 Laden with so much beautiful produce, there's still room for a huge bunch of beautiful, super-fresh flowers.  Typically, these are so inexpensive we find it hard to credit that there's still a profit for the vendors.  This holds true for flower shops too, not only at markets. We've often said that if the French were down to their last 5€, they'd spend half of it on flowers.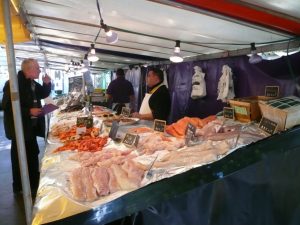 The outdoor markets are a vital part of the identity of Paris, and each has its own character. They're a key part of the social life of their neighbourhood, with friends meeting their favourite vendors, discussing what's in season, or placing an order for something special.
To spend a stimulating morning at a market is to catch a glimpse of what it's like to live like a local, and experience an important aspect of French culture and character of the people.