In the Footsteps of Julia Child
In France, cooking is a serious art form and a national sport. (Julia Child)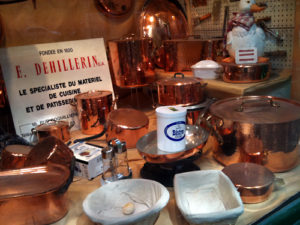 When one of the great American cooks, Julia Child, first set foot in Paris, she knew she'd landed in food heaven. As she discovered, this accolade not only referred to the myriad cafes, bistros and temples of haute cuisine, but also embraced the numerous shops catering to professional as well as enthusiastic home cooks. Food heaven indeed.
Find something you're passionate about and keep tremendously interested in it. (Julia Child)
There are a number of terrific shops dedicated to creating all things edible, and most of these are grouped conveniently in a number of streets in and around the 1st arrondissement, making the neighbourhood something of a mecca for kitchenware.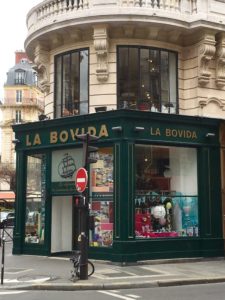 La Bovida, 36 rue Montmartre, 1st arr., around the corner from the Church of St Eustache.  The emphasis here is on the aesthetic as much as the practical.  Three floors of state-of-the-art cookware as well as sections devoted to wine, such as professional corkscrews and tasting glasses.
 Deco Relief, 6 rue Montmartre, specialising in things to make sweets and desserts, such as moulds, cake decorations, chocolate transfer sheets, dipping machines, cutting 'guitars' and other tools.
Mora, 13 rue Montmartre – mostly equipment and utensils.  Mora has been there for over 100 years, specialising in items for patissiers and chocolatiers.  Also has a big selection of serious cookbooks.
 Dehillerin, 18-20 rue Coquilliere, 1st arr., near the old Bourse.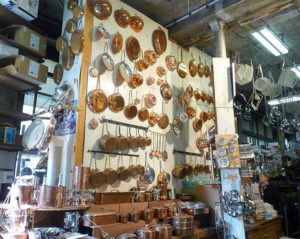 Two stories of cramped aisles packed with cookware and specialty accoutrements. Famous for their magnificent copper pots/bowls/pans, and superlative knives.  These are not 'designer' items found in high end, fashionable kitchenware shops, but the super-resistant, efficient tools used by professional chefs.  Worth a detour, as the Michelin Guide would say.  E. Dehillerin is said to be where Julia Child bought all her kitchen equipment.  Like Mora, has been around for over 190 yrs.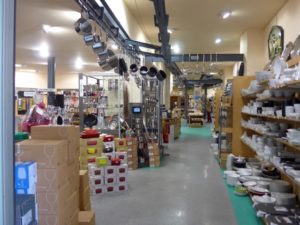 Simon, 48 – 52 rue Montmartre. Known for spices and specialty syrups. Lots of things stacked and piled on every surface.  Now owned by G. Detou, who are just around the corner.  Outstanding customer service,  with helpful, knowledgeable product advice.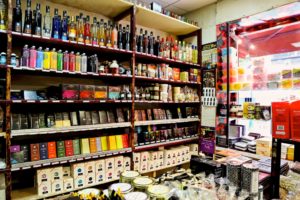 G. Detou, 58 rue Tiquetonne, 2nd arr., not far from metro Etienne Marcel. It has been described as "une caverne d'Ali Baba". Specialises in hard-to-find products such as candied violets, silver dragees, Spanish saffron, Trablit coffee essence, and chocolates from across France in big tablets and sacks!
Outside the 1st arrondissement, you might also like to check out:
 Artgato, 5 ave du Docteur Arnold Netter, 12th arr. As the name suggests, they specialise in the art of le gateau, with kitchen accessories for professional and amateur dessert and pastry chefs, including silicone Eiffel Tower cake moulds.
A party without cake is just a meeting.  (Julia Child)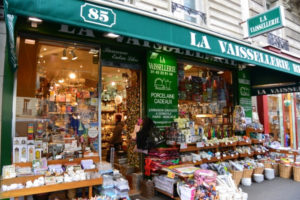 Another great source for kitchen and tableware is a chain of very inexpensive shops called La Vaissellerie, with 5 branches scattered across the city.  They are all quite small shops, full to overflowing, specialising in white porcelain (much of it Limoges), glassware, and all sorts of cute kitchen utensils.  One of our favourite things we use every day is a trivet in stainless steel that folds up concertina-style.  Prices are ridiculously cheap, but the quality and design are very good indeed.  Impossible to come away empty-handed.  We often go to the branch at 92 rue Saint-Antoine in the Marais, about 200m along the street from metro St Paul.  Another branch we like is at 85 rue de Rennes in the 6th arr., as this street also has other kitchenware shops.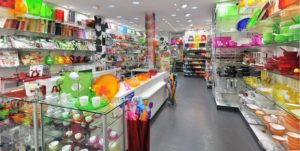 A great shop we also like is called Plastiques at no. 103 rue de Rennes.  Cute things like insulated lunch boxes (yes, everyone has that sort of thing at home, but probably not half as appealing as those at Plastiques), and good place-mats, among other things.
Like a modern day Julia, you're sure to go home with some unexpected treasure from one of these great shops that you didn't know you wanted (or knew existed) until you saw it here!
The only time to eat diet food is while you're waiting for the steak to cook. (Julia Child)