HUBERT DE GIVENCHY – THE GREAT MASTER OF STYLE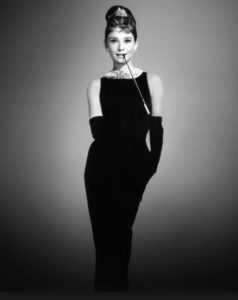 Today we were saddened to learnt of the death of one of the greatest fashion designers of the 20th century, Hubert de Givenchy, at the age of 91.
He is perhaps best remembered for his long association with Audrey Hepburn, his muse and close friend for over 40 years, for whom he created the timeless looks that became instantly identifiable with her and made them both style icons. He once said their relationship was a true collaboration, "like a kind of marriage."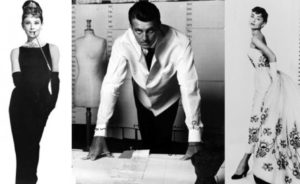 Although Coco Chanel is acknowledged as having nvented it, Givenchy is credited with being the designer who made the LBD (the Little Black Dress) a must-have staple in any woman's wardrobe—who could forget the opening scenes of 'Breakfast at Tiffany's'?  The style instantly became associated with Hubert de Givenchy.
Handsome, very tall and always impeccably dressed, Givenchy was born into an aristocratic family in the city of Beauvais in 1927–his elder brother Jean-Claude inherited the title of Marquis.  Although Givenchy initially studied law, he changed his career path and entered the famous École Supérieure des Beaux-Arts in Paris.  After graduation he designed for Jacques Fath. In 1946, working alongside the still-unknown Pierre Balmain and Christian Dior, he left the house of Lucien Leong to work for the avant-garde designer Elisa Schiaparelli.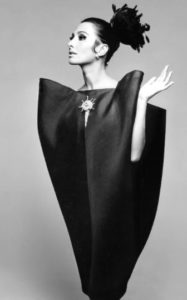 His own creative idol was the Spanish designer Cristóbal Balenciaga, whose innovative style, perfectionism and absolute reverence for construction, revolutionised the female silhouette—Givenchy declared that Balenciaga was "the architect of haute couture."  Givenchy was the founding chairman of the Cristobal Balenciaga Foundation, which opened a museum dedicated to the designer in Getaria, Spain, in 2011.
Givenchy left Schiaparelli in 1952 to found his own fashion house at 8 rue Alfred de Vigny, next to the Parc Monceau.  His first collection was marked by innovation, notably the concept of "separates", a breakaway from the more conservative designs of Dior.
He was a part of the elite group of Parisian designers such as Dior and Yves St Laurent who redefined fashion in the 20th century.  He was the first designer to launch a separate ready-to-wear collection, a revolutionary move which gave a whole new meaning to the very concept of fashion.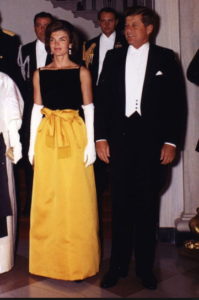 His reputation spread rapidly, becoming one of the most successful and artistically distinguished couturiers in Paris.  His regular clientele included such famous women as Lauren Bacall, Ingrid Bergman, Marlene Dietrich, Greta Garbo, Maria Callas, Princess Grace of Monaco and most notably Jacqueline Kennedy Onassis, who adopted the Givenchy look for her White House years.  But there was always Audrey Hepburn.  He developed his first perfume range for her, L'Interdit and Le de Givenchy, and she became the face of the fragrance.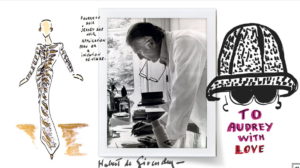 He would only come out of retirement  for Audrey.  In 2015 Givenchy dedicated a sketchbook of his designs that he created for her on and off screen, entitled 'To Audrey With Love'.  In 2016 a documentary was shown at the New York Fashion Institute of Technology to mark the numerous milestones of his creative life.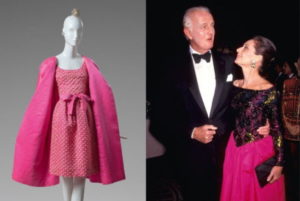 Givenchy sold his fashion label, which included couture, ready-to-wear, accessories and menswear, to luxury conglomerate LVMH in 1988.  Although the fragrance lines were sold first to Veuve Clicquot, they too eventually ended up with LVMH.
Even after his retirement in 1995, Givenchy remained active in the arts as an antiques expert for Christies, the Palais de Versailles and the Musée du Louvre.  For several years he managed the French branch of the World Monuments Fund.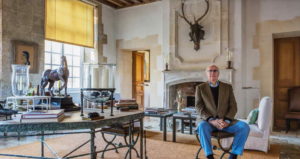 He was a well-known admirer and collector of the work of Giacometti, who custom-made many pieces for Givenchy's home, the 16th century chateau Le Manoir du Jonchet in Romilly-sur-Aigre, in the Touraine region of the Loire Valley.  He died there in his sleep on Saturday 10 March.
Givenchy had asked that his friends and admirers, instead of sending flowers, make a donation to UNICEF in his memory.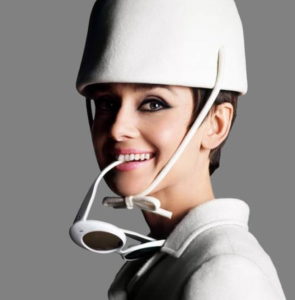 His driving ethos as a designer was 'Look for what's best. That is your goal, your driving principle.'
VALE, HUBERT DE GIVENCHY