DISCOVER THE CANAL SAINT-MARTIN NEIGHBOURHOOD IN PARIS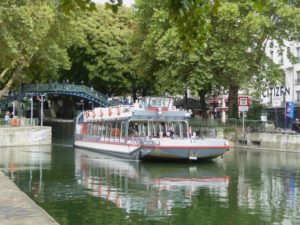 For many visitors to Paris, if they know of its existence at all, the attraction of a leisurely boat ride along the Canal St. Martin lies in its being a great way to relax after a frenetic few days packed with sightseeing, or a few too many shopping trips.  Delightful as a canal trip is, there is a whole lot more to this northern part of Paris to discover.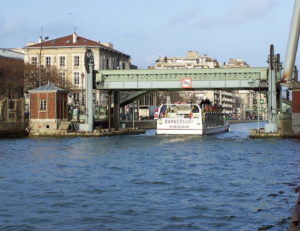 The 4.60km long canal was commissioned in 1802 by Napoleon I to bring fresh water into the city to support a growing population, and at a time when diseases like dysentery and cholera were rampant.  The new canal connected the river Seine to the Canal du Ourcq and beyond that, the river Ourdq, which meanders through eastern France.
After its completion in 1825, the Canal Saint-Martin served as a means of transport for food and other goods into the heart of the city, with two ports, the Bassin de la Villette in the 19th arr., and the Port de l'Arsenal in the 12th, where it opens into the Seine, dedicated to this purpose.  The construction was funded by a new tax on wine.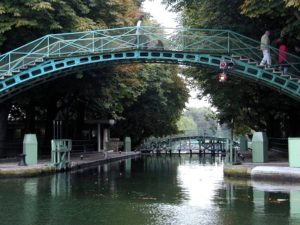 Barely half a century later Napoleon's nephew, Napoleon III, commissioned Baron Haussmann to modernise the city of Paris, including the sewer system and many of its main arteries.  Instead of simply building a bridge over the Canal Saint-Martin, Haussmann sent the canal underground to create the new Boulevards Jules Ferry and Richard Lenoir that now run above the subterranean canal.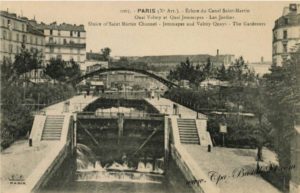 The canal is bordered by the Quai de Valmy on the right bank, and the Quai de Jemmapes on the left.  The entrance to the canal from the huge terminal basin at la Villette is at a double lock near Place de la Bataille de Stalingrad, up in the corner where the 10th meets the 19th arr.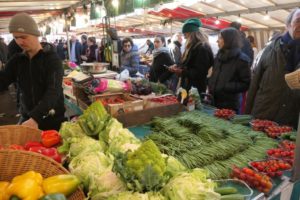 The canal passes through three more double locks before disappearing under three successive voûtes (tunnels)—du Temple, Richard-Lenoir (location of one of the biggest and best outdoor markets in Paris), and Place de la Bastille.  The canal passes pretty much directly under the column, emerging into the Port de l'Arsenal, the main port for resident Parisian boats and those visiting the city.
Nowadays, this cavern-like passage makes for an extremely interesting canal boat ride.  The narrow strip of parks bordering Bvd. Jules Ferry and Bvd. Richard Lenoir are perfect for pleasant strolling on a warm day under the shady trees lining the quais, with benches where you can rest and play areas for children.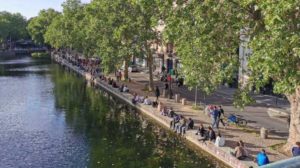 Life was busy along the banks of the canal, where industry thrived and the merchandise delivered by boats was stored in giant warehouses.  However, by the 1960s, traffic had dwindled to a trickle, and the canal narrowly escaped being filled in and paved over for a new, wide motorway.  Fortunately, good sense—and the story goes, an inadequate budget—prevailed.  To protect its future, the Canal was designated an Historic Monument of France in 1993.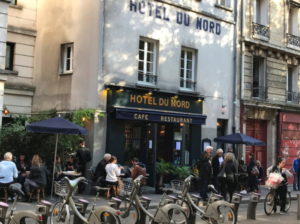 For the later decades of the 20th century few visitors ventured along the Canal Saint-Martin, although it was featured in a number of films, such as Hotel du Nord in 1938, Les Malheurs d'Alfred in 1972, and the much-loved Amélie in 2001—there's a scene where Audrey Tautou skims stones along the murky waters of the canal.  Edith Piaf sang about the canal in Les mômes de la Cloche and Georges Simenon's novel 'Maigret and the Headless Corpse' (Maigret et le corps sans tête) is set in and around the canal.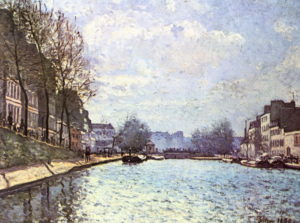 Alfred Sisley, one of the last Impressionist painters, was particularly attracted to water scenes such as bridges, seasides, rivers, and since he lived nearby, he took great pleasure in, and inspiration from, the Canal Saint-Martin.  He is known to have painted at least four scenes of it—and very likely more.  One of which, dating from 1870, that was originally donated to the Louvre can be seen these days at the Musée d'Orsay, along with another painted in 1872.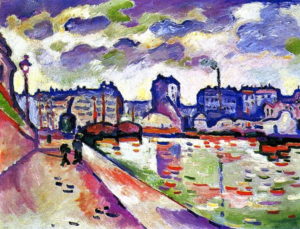 Another painter known to have painted numerous scenes of the canal was Georges Braque.
The banks of the Canal were rehabilitated in the early 1990s along with the small public gardens and avenues that had been built above it.  The canal is drained and cleaned every decade or so, and not surprisingly, tonnes of trash and treasure (mostly trash, by all accounts) are uncovered.  This regular cleaning is a popular spectacle for Parisians, fascinated to watch the curiosities of the discarded objects being brought to light.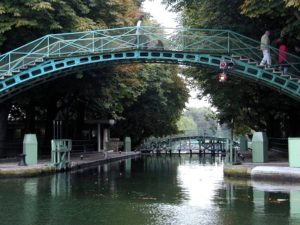 The neighbourhood's growing popularity and rather bohemian reputation has seen a boom in the number of new bistros, boutiques and services over the last few years.  The tree-lined quais and romantic iron footbridges that cross the canal make it an ideal place to soak up a truly Parisian atmosphere that's still not given over to tourist-oriented merchandise or ubiquitous elegant international designer boutiques.
Described as a bo-bo (bourgeois-bohemian) neighbourhood, the Canal Saint-Martin originally appealed to a younger Parisian attracted by cheaper rents, la branché ('trendy' in French), the younger, more adventurous approach to food in the burgeoning restaurant scene, as well as the canal itself.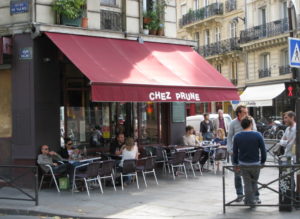 One of the first cafés in the neighbourhood was Chez Prune at 36, rue Beaurepaire in the 10th arr., ideally located on a corner opposite the canal with an outdoor terrace, usually packed with locals.
A lot has certainly changed in the last decade or so, and the Canal Saint-Martin has well and truly stepped into the Parisian limelight.  Long gone are the warehouses and the noise of industrial activity.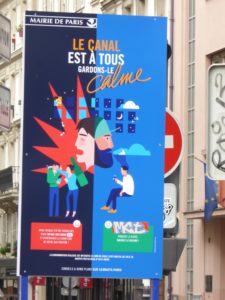 Instead, you will find détente (relaxation), culture—including a cinema, bookshops, old barges converted into exhibition spaces, even a new swimming area at the Bassin de la Villette, the largest artificial lake in Paris.  There are always lots of locals simply hanging out with friends and perhaps playing a game of petanque.
A visually unmissable landmark is the beautiful Rotonde de la Villette (the Rotunda) at Place de la Bataille de Stalingrad, one of the last surviving buildings of the Mur des Fermiers-Generaux (the general farmers' wall) that stretched 24kms around much of Paris, built to minimise tax avoidance on goods entering the city.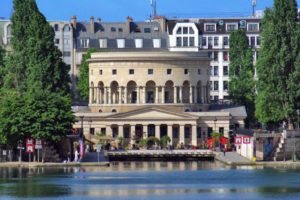 Built in the Palladian style in 1788 just before the Revolution, it served as a customs house for all goods entering Paris from the roads coming in from Flanders and Soissons.  Designated an historic monument, nowadays it's a constant hive of activity used for community events, concerts, exhibitions and suchlike with a bar and café.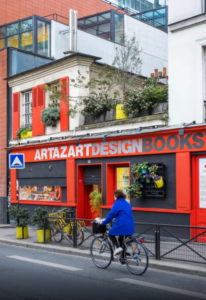 A stroll along the canal and into the nearby streets will reveal an enticing mix of independent shops and a number of up-and-coming designers catering to a fashion-conscious local clientele, rubbing shoulders with vendors of quirky one-off original creations, interesting bookshops specialising in art and design such as Artazart at 83, quai de Valmy, and as you'd expect, a great mix of enticing bars and cafes.
One of the first retailers in the area, Antoine et Lili, occupies a couple of brightly painted shops bordering the canal at 95 quai de Valmy.   They now have a number of branches, but this is the original location.  Not just fashion but home décor objets.  Loosely defined as a chic, bohemian style, very colourful, fun and a with a real "artisan" look.  This is one of the neighbourhood's landmark destinations.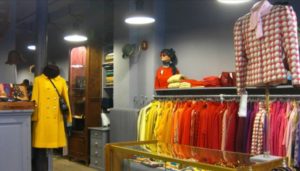 Lovers of haute couture can while away hours browsing through the 200m2 space devoted to vintage Hermes, YSL, Lanvin, Dior and similar 'big names' at 'Thanx God I'm a V.I.P.' (also known as TGV) at 12 rue de Lancry.  If you prefer a more contemporary note, flip through the interesting collection of fashion chosen for their thoughtful impact on social and environment issues at Centre Commercial, 2 rue de Marseille.  Or for something cute and cheery, perhaps for a last minute gift, you'll find it at Pop Market, 50 rue Bichat.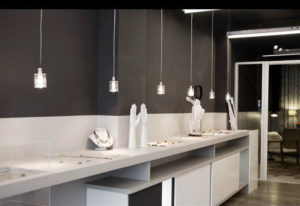 For beautiful, whimsical jewellery, have a look at Medecine Douce, where you'll find imaginative designs mixed with surprising materials such as leather, silk, precious and semi-precious stones.  Boutique and workshop at 10, rue de Marseille, 10th arr.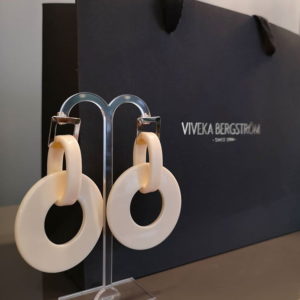 Nearby, visit Viveka Bergström at 23, rue de la Grange aux Belles, also in the 10th for stunning Art Deco-inspired costume jewellery.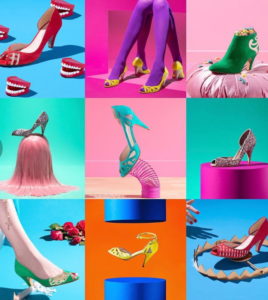 One of those addresses little known outside of Paris is Patricia Blanchet for fabulous shoes, boots and booties.  Distinct Parisian styling that's different from the usual ubiquitous designer styles, in just the right heel height—not too high, not too low.  The shoes come in an array of supple, beautifully hued leathers and suedes, including metallics and exotic skins and trims.  Located at 20, rue Beaurepaire, in the 10th.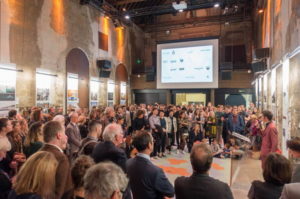 You might like to head over to the Maison de l'Architecture en Ile-de-France at 148 rue du Faubourg Saint-Martin, to check out the architecture-related exhibitions, often featuring works by young Parisian artists, housed in the renovated 18th century former convent of Les Récollets.  Afterwards, while you're there, drop into Café A, and if you're lucky, grab a spot on the terrace for lunch or a glass or two of good quality organic or biodynamic wine.  This café also puts on a cool programme of entertainment—small concerts at weekends, but also cine-concerts put together by a DJ from underground music station Radio Nova.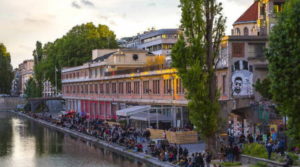 Along Quai de Valmy, closer to the top of the canal, is Le Point Ephémère, a popular Canal Saint-Martin venue for exhibitions concerts and events.  It also has a terrific rooftop garden restaurant open during the summer months.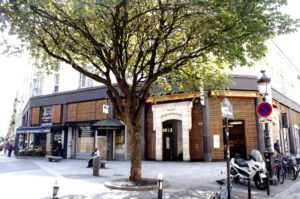 A popular spot to visit in the neighbourhood is the Marché Couvert Saint-Martin, a covered market originally constructed in 1859 and then rebuilt in 1880.  It was also known as the Marché de la Porte Saint-Martin.  The stone gates at the entrance are from an earlier market in that location. You will find a Moroccan restaurant, organic groceries, a number of stalls selling ready prepared food to take away.  Needless to say, there's the expected excellent range of fresh produce, perfect for acquiring some goodies for an improvised picnic in le Jardin Villemin on the banks of the canal at the corner of rue des Récollets and Quai de Valmy.  The market is located at 31-33 rue du Château d'Eau in the 10th arr., and operates Tues-Sat. 9.00am – 8.00pm and on Sundays from 9.00am – 2.00pm.  Nearest metros:  République, Gares de l'Est and du Nord.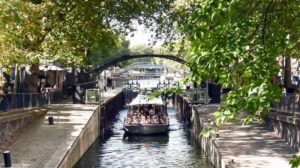 Tired from all that walking and shopping?  Take a canal ride in either direction.  The trip takes around 2 1/2hrs (some take 3 hrs) passing through 4 double locks and 2 swing bridges.  A couple of companies run the canal boat trips such as Canauxrama, www.canauxrama.com and Viator,  www.viator.com
A few hours spent around the Canal Saint Martin makes a great change of pace from exploring most of the city's great attractions.  The neighbourhood offers an experience of Paris that otherwise remains hidden or relatively unknown to the visitor, adding yet another dimension to the enjoyment of the City of Light.
The metro lines serving this area are Lines 11 and 5, running along Boulevard Richard Lenoir.