DISCOVER SOME OF THE BEST FLEA MARKETS IN FRANCE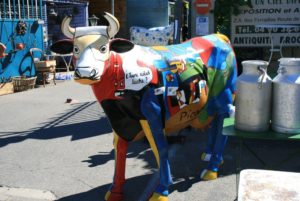 France is a great place to pick up bargain vintage wares.  If a visit to a flea market, rummaging through racks of vintage fashion, or just the thrill of the chase, hoping to find that diamond in the rough, is your idea of a great day out, then France has a wealth of unforgettable experiences waiting for you, right across the country.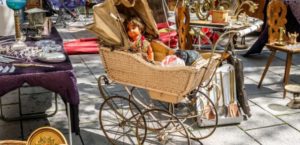 The concept of "one person's trash is another's treasure" certainly holds true in France.  The flea market is a big part of French culture—many would say a national hobby—and can be a fun addition to your holiday experience.  Each year, more than 15,000 flea markets and vide-greniers are held in France.  They are a way of life and not just about securing a bargain.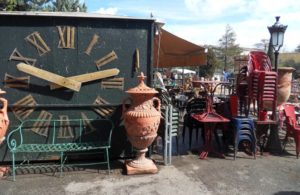 Anyone who has been to one before will know that marchés aux puces or brocantes are a treasure trove of interesting items and collectables, ranging from genuine antiques, furniture, tapestries, paintings, jewellery, clothes, books, old records, militaria, toys, and every other sort of paraphernalia imaginable.
There are numerous terms to describe these sales of second-hand goods.
A marché au puces is the general term for a flea market, but a brocante is also a term often used.  Other commonly used terms are foire and braderie, (meaning 'market' or 'fair') and just like brocante, they are a sale to the public of used items.
The goods on offer can be good quality antiques, including paintings, through to collections of objects or an assortment of pre-loved homewares.  Most of these markets are held on a regular basis, either weekly or monthly, but there a number that are only once or twice a year.  There is a calendar of brocantes, covering a year, for each region.  This small yellow book is available at local tabacs, book shops, some supermarkets or order online.  There is an online guide, said to be not as good as the book itself, however it has a useful map of France: https://brocabrac.fr/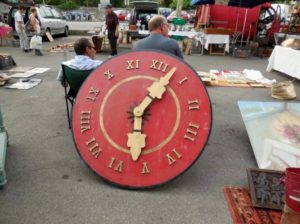 In recent years, brocantes have become quite fashionable, and vintage sellers have become wise to the fact that tourists flock to them looking for a bargain.  Items don't tend to be priced, and haggling is expected.  The French word brocanteur means 'broker', so don't be shy about going in to battle for the price you want.  It's part of the fun!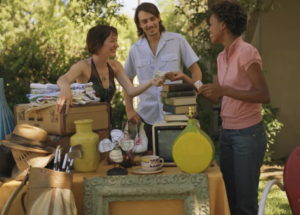 If you only learn one phrase in French, make it "désolé, c'est trop cher"—"sorry, it's too expensive"!  A good starting point is to offer a price that is slightly lower than you really are prepared to pay.  After some bargaining back and forth and much head-shaking, eventually you will likely be offered a price closer to your goal.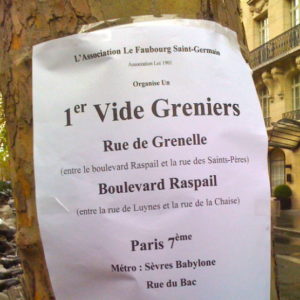 A vide-grenier literally means 'clearing out the attic'.  These are often set up on the footpath of a neighbourhood, or grouped around a metro station.  Every arrondissement in Paris has regular vides-greniers, and almost all French towns and villages have them on a less frequent basis.  To find out when these are held, keep you eye out for posters and leaflets around town, head to the local tourist bureau or have a look at www.vide-greniers.org  This website lists vide-greniers across the country as well as all the Paris districts.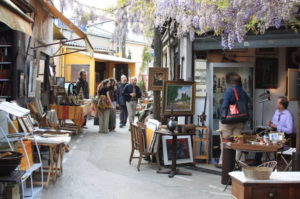 In Paris, there are two notable flea markets.  The biggest and most famous is the Marchés aux Puces de Saint-Ouen and recognised as one of, if not the, largest in Europe.  Operating for over 150 years, it's spread over seven hectares with more than 2,000 exhibitors across fifteen markets—it's massive and can be daunting!  Each market caters to different levels of goods, ranging from museum-quality antiques (with appropriately museum-level prices!) through to more modest second-hand items.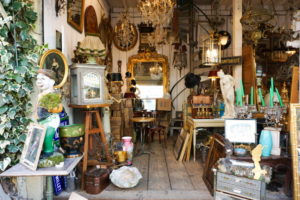 The market operates all year round from 10.00 – 17.30 on Saturday, Sunday and Monday, although we've observed that many traders don't bother about Mondays.  There are numerous quite decent cafes and bistros in the market precinct.  Located at 140 rue des Rosiers, Saint Ouen, 18th arr.  Metro: Clignancourt (Line 4) or Garibaldi (Line 13).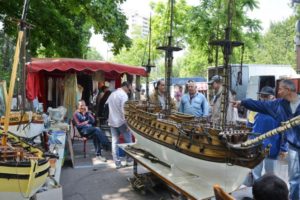 The Marché de Porte de Vanves is a weekend flea market open all year round with around 400 vendors. Open Saturdays and Sundays from 07.00 – 14.00.  Here you'll find furniture and objects of the 18th and 19th centuries, Art Deco, '50s retro, tools, tableware including glassware, vintage clothing, antique jewellery, old books, coins and militaria, among other categories.  Located at Ave. Marc Sangnier and Ave. Georges Lafenestre, in the 14th arr.  Metro: Porte de Vanves (Line 13)
Further afield from Paris, there are regular flea markets in cities, towns and tiny villages the length and breadth of France.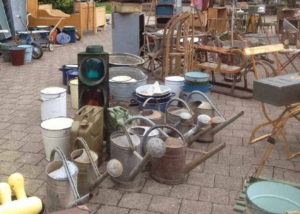 The town of Orléans, a gateway to the Loire region, has a moderate-sized, but wide-ranging flea market on Saturday mornings, starting from 6.30am.  Vendors display their wares in boxes or simply heaped on blankets on the ground.  Most items have a regional origin, such as fishing rods, wine-making equipment, planters, baskets, glass domes (used to protect young plants), as well as good quality linens, crates of kitchenware, utensils and antique crockery.  This is a market easily accessible as a day trip by TGV from Paris. Located in Boulevard Alexandre Martin.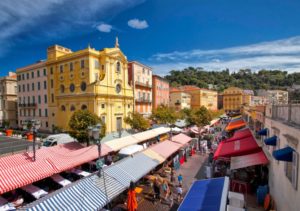 If you're heading to the Riviera, plan on being in Nice on a Monday.  For over 100 years there has been a brocantes market at the sun-drenched Cours Saleya, just behind the Promenade des Anglais, where you'll find around 200 market vendors selling their wares.  A huge variety of goods ranging from silver, jewellery, travel goods, paintings etc., and if you're lucky, you might find ceramics made in one of the famous regional workshops such as in Vallauris, just behind Antibes.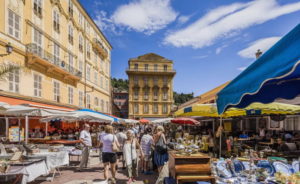 Although this is quite a high quality market, and a hotspot for international flea market hunters, bargains can still be found, particularly in the adjacent Place Pierre Gauthier, where odds and ends are piled high on the ground.  This market operates from morning to mid-afternoon on Mondays, whereas with the market held Tuesday to Saturday the focus is on food.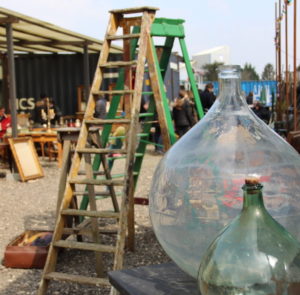 On Sunday mornings in Villeurbanne, on the outskirts of Lyon, is one of the biggest flea markets in France with around 400 vendors.  Held on an industrial patch of wasteland next to a canal, the setting of the market is not very appealing, but is regarded as one of the best with a focus on rustic collectables, many with a strong local connection—agricultural items, rustic garden accessories, furniture, copperware, implements for wine-making, wooden blocks and spindles for the textile industry and chocolate moulds, as well as all sorts of general collectables such as books, toys, paintings etc. Prices are said to be reasonable.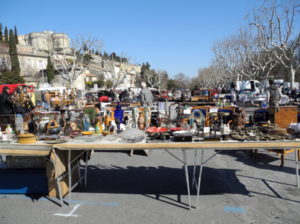 Villeneuve-lès-Avignon, just across the river Rhone from Avignon itself, a moderate-sized, appealing flea market is held on Saturday mornings in Place Charles David, with around 100 vendors offering a wide range of items, many with a Provencal focus, such as ceramics, garden pots and accessories, handiwork, linens, utensils, "boules" sets.  Open every Saturday from 6.00am to 3.00pm.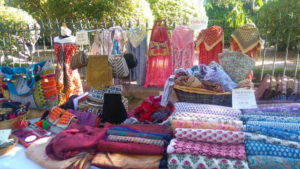 Arles has a medium-sized, but interesting flea market held on the first Wednesday of the month, that operates all day.  It offers a wide variety of collectables, but goods are very much in tune with the southern part of Provence.  You can find traditional vintage Arlesian clothing such as black vests, short jackets, white blouses, colourful shawls and full skirts, while some of the best buys are the vintage, richly hued Provençal fabrics known as indiennes.  This corner of Provence is known for its santons, the ceramic figurines in Provencal dress, as well as such things as door handles with images of Camargue bulls, ceramic cigales (cicadas) and nail-studded boules.  Located at Boulevard des Lices.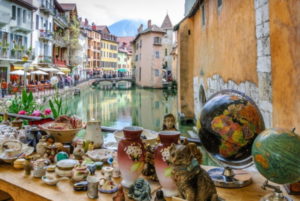 The flea market in the beautiful town of Annecy is held in the charming Vieux Quartier. The town's spectacular location on the edge of Lac d'Annecy, crystal-clear canals and pastel-coloured houses, ringed with snow-capped mountains, is enough reason to enjoy exploring this delightful market of over 200 vendors, with its focus on regional, rustic wares.  Here you'll find Savoyard milk jugs in all sizes, with their simple appealing motifs, wooden tools and utensils such as butter moulds and cheese-making equipment, cowbells, paintings of mountain scenes, dolls, wooden chests and armoires.  Although not huge, the quality of this market's merchandise is impressive—and a more picturesque spot is hard to imagine. Held on the last Saturday of the month, 8.00am – 6.00pm.
As well as regular weekly or monthly flea markets, there are many that are held only once or twice a year.  These markets are highly popular with professional dealers, locals and visitors alike and attract huge crowds.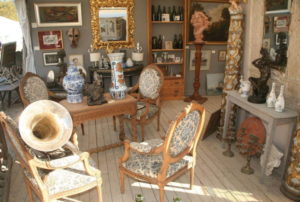 Twice a year, one of the most important antiques and collectibles fairs in France, the Foire de Chatou Antiques Fair takes place on the famous Île des Impressionistes (island of the Impressionists) in Chatou, on the outskirts of Paris.  This most stylish of Fairs is organised by the SNCAO-GA, the professional body of antique dealers, over 700 professional traders who offer an eclectic range of items including classical art to modern design, from retro slot machines, antique silverware, psychedelic lamps, paintings, vintage furniture and antique objects.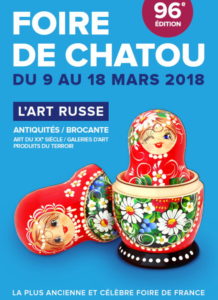 This well-known and highly regarded fair attracts more than 35,000 visitors over 12 days of intense rummaging and haggling.  Every edition of the Foire de Chatou features a specific theme:  for the 96th fair in Spring 2018, the theme was Russian Art.  Goods ranged from Communist propaganda posters, icons, light fixtures, antique books, copper vodka cups, jewellery, and of course the famous matryoshka dolls.  The Spring fair this year had as its theme "Antique Tropics", and took place from 15 March to 24 March.  The next fair, the 99th will take place from Friday 27 September to Sunday 6 October 2019.  Easy to access from Paris on the RER Line A train, go to Rueil-Malmaison, take Exit 1 and take the free shuttle bus to the venue.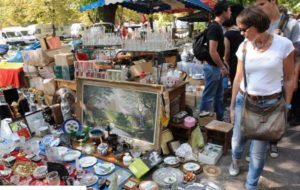 An overview of the best of the regional flea markets must start with the Lille Braderie, the capital of the Hautes-de-France.  This is one of Europe's largest flea markets and it takes over the entire town centre for two days of the first weekend of September, and attracts around two million bargain-hunters.  The old town's narrow, cobbled streets are closed to traffic, while almost every centimetre of the footpaths and squares are laden with everything from '70s-era furniture, vintage clothing, antiques, books and treasures as far as the eye can see.  The local restaurants also get into the spirit of the occasion, serving up record quantities of moules-frites, and hold a competition to see which restaurant can build the highest tower of mussel shells.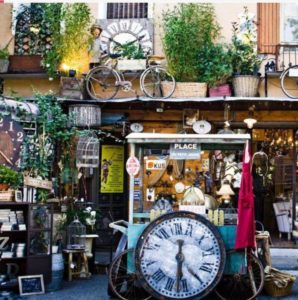 After the Lille Braderie, France's best-known brocante is in the beautiful Provençal town of L'Isle-sur-la-Sorgue in the Vaucluse region, about a 40 minute drive east of Avignon.  Famous for its picturesque watermills and canals, the town may be small but has more than 350 antiques and second-hand shops, and draws collectors and buyers from around the world.  The bi-annual antiques fairs are held over the Easter weekend and on 15 August, its enormous size dwarfing the weekly Sunday market.  These two events are a combination of food market, flea market and antiques fair offering everything from silverware, Provençal pots and ceramics to old boules sets and piles of antique linen.  Lots of professional vendors display their stalls with panache, and as you might expect, prices aren't exactly bargain-basement.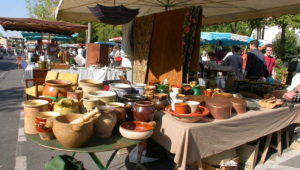 The most affordable place to rummage is the shady Parc Gautier, where smaller, less polished bric-a-brac is sold on trestle tables—typically, things such Pernod or Orangina jugs, soda siphons, coffee tins, etched wine glasses, enamel cookware, factory lights, children's books.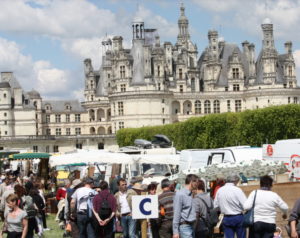 The Grande Brocante de Chambord, in the Loire Valley is held every May Day, in the shadow of the region's grandest chateau.  With more than 500 vendors from all over France taking over the grounds and spilling out into the lanes of the 16th century village, this is a major event in the flea market calendar.  Sellers start setting up around 5.00am, so it's worth heading there early to grab a deal before anyone else.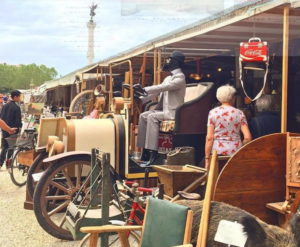 The Foire à la Brocante des Quinconces, Bordeaux sets up twice a year, in spring (April/May) and autumn (Nov./Dec.).  The oldest flea market in the Bordeaux and Aquitaine region, is held in the main square in the city's centre.  Over 200 vendors selling a treasure trove of junk, classic and unusual collectables including vintage clothes, jewellery, books, decorative objects, furniture as well as quality antiques. For specific dates check out www.bordeauxquinconces.com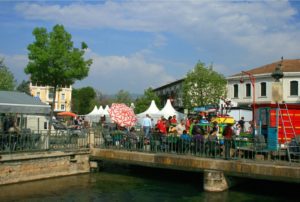 If you're looking for something different to do on your next visit to France, a morning spent browsing the wares at one of the many marchés aux puces around the country is a rewarding experience.  But be prepared to end up taking home an impossible-to-resist bargain, a sought-after addition for a collection, or even a treasured piece of French history.