CHRISTIAN DIOR: DESIGNER OF DREAMS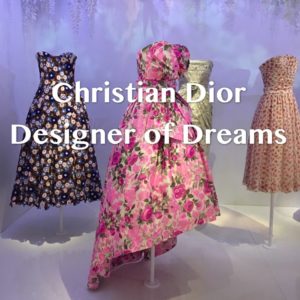 CELEBRATING 70 YEARS OF THE HOUSE OF DIOR
This monumental exhibition spanning 3,000 sq. m. and featuring over 300 haute couture gowns, has just closed at the Musée des Arts Décoratifs.
It was a sensory overload of haute couture that took the visitor on a voyage of discovery starting with the founder of the House of Dior and progressed through the illustrious couturiers who succeed him.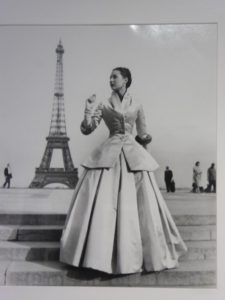 In 1947 Dior's first collection burst onto a war-weary world like a brilliant comet.  The new silhouette of wasp-waisted, longer length full, pleated skirts, that he called the "New Look", were a radical departure from war-time austerity.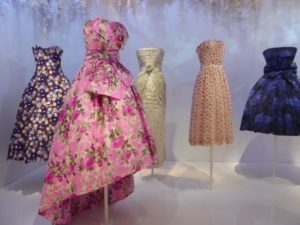 His new designs used an extravagant amount of the most precious fabrics in glorious colours not seen for years, & entailed hours of highly skilled handwork, precise tailoring & exquisite finish.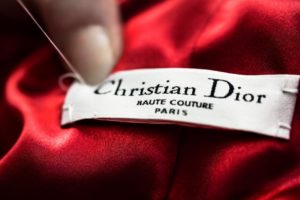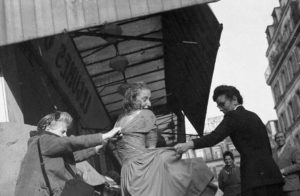 The New Look did not  meet with universal approval, with models on occasion being assaulted in the streets by people (usually women) who were deeply offended at what they regarded as blatant profligacy when there were still acute shortages of many commodities.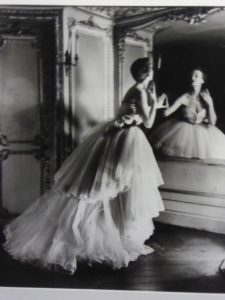 However, Dior's show brought him instant fame and heralded the return of Paris as the world capital of fashion.  It was not only a very important contribution to the rebuilding of the French economy, but also a sense of optimism for women around the world that better times were on the horizon—a new era of idealised, hour-glass femininity.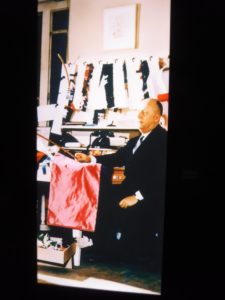 The  exhibition was reverential —almost a sense of "deification"—in this lavish celebration of the Master's creative genius, with dramatically lit boxes containing mementoes from his early life, such as his "lucky" golden star and a miniature pack of cards.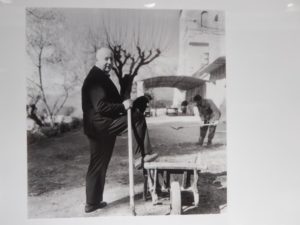 One room explored the inspiration Dior drew from gardens, including that of his childhood home in Normandy (now the Christian Dior Museum), a Monet painting of irises, objects d'art and documents.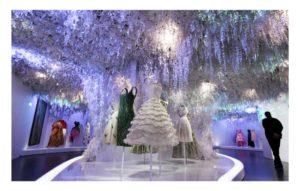 In another, the ceiling and walls were decorated with thousands of tiny paper flowers, tendrils and vines.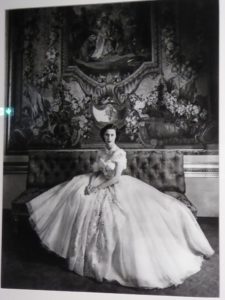 There were rooms full of patterns, canvas toiles, accessories, photographs of celebrities such as Audrey Hepburn, Elizabeth Taylor, Grace Kelly and Princess Margaret wearing Dior gowns, and hundreds of sculptural creations.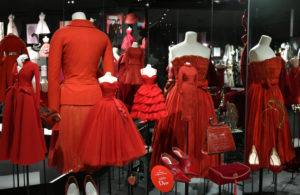 The show's staggering use of colour acknowledged Dior's often-stated belief that a touch of colour could transform a look.
One of the fascinating threads of the exhibition was the friendships and professional collaborations Dior forged with contemporaries such as Man Ray, Alexander Calder, Marc Chagall, Salvador Dali and Giacometti.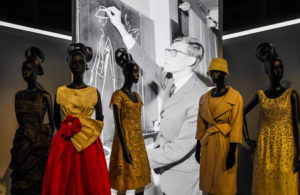 Many original Dior garments were on show, often juxtaposed with an example of one of his successors such as Yves St Laurent and especially John Galliano, whose fantastical creations sometimes stole the show, reminding viewers of his extraordinary technical brilliance, although glossing over his "bad boy" reputation and dismissal in disgrace in 2011.
The whole show was a magnificent feast for the eyes and a fitting homage to the creative genius of the Master who changed the course of fashion history.